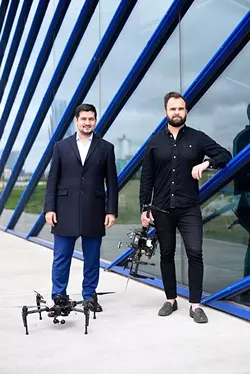 Garett Fisbeck
Ersin Demirci and Nick Brown pose for a photo with drones at the Boathouse District, Monday, April 11, 2016.
More than 44 countries are represented by more than 175 short films at U.S. Drone Film Festival's inaugural event April 30 at Oklahoma City Museum of Art, according to event founder Ersin Demirci.
"One of the main reasons I wanted to organize this event is to let people know all of the good things that drones can do, and to eliminate fear," said Demirci, an Oklahoma State University doctoral candidate.
"I have flown drones since 2012," he said. "The drone industry is a big business, and according to Business Insider, it will increase by more than $12 billion over the next five years."
While there is only one Oklahoma entry so far, the rest of the world is well represented. Demirci said he received entries from Israel, Japan, Kenya, Turkey and many Western European countries. All entries are five minutes or less and were at least 50 percent shot with a camera-equipped drone.
Twenty-three drone film festivals are being held around the globe in 2016, according to Skytango, a startup business that serves as a marketplace for drone flyers and others.
In size, the local event rivals or surpasses those on the east and west coasts. In 2015, San Francisco's Flying Robot International Film Festival drew 153 submissions from 35 countries. New York's Drone Film Festival screened 44 films in 2016, its second year.
About 30 entries will be shown at OKC's festival in categories such as action, narrative, landscape, architecture, people's choice and critic's choice. Demirci said viewings will be interspersed with a series of Ted-style talks.
The keynote speaker is Jamey Jacob, director of the Unmanned Systems Research Institute at Oklahoma State University. New Zealander Laurent Youmi's session focuses on his epic, nine-month backpacking trip through 15 countries, which he documented with his trusty drone. Other speakers are local experts and entrepreneurs.
Darren Hensley, CEO of Oklahoma business American Drones LLC, and colleague Kelly Coldiron both appreciate the festival's mission.
"There are so many applications for using drones, especially drones with cameras," Coldiron said.
OKC Polo Club, where she is marketing manager, uses drones to record matches and practices.
"Ranchers now use drones to check fence lines, locate cattle or keep an eye on an injured cow," she said. "Wildlife organizations can use them to track herds of elk, using heat-seeking cameras."
American Drones supplies hobbyists with the small, unmanned aircraft and offers training, customization and repairs with each purchase. Coldiron said the demand for camera-equipped drones has increased, especially among municipalities.
She said Oklahoma is central to the safe, legal proliferation of drones of all kinds.
"The FAA has developed guidelines for drone flight, and those guidelines came out of its Oklahoma City offices," Coldiron said.
Her company will have a presence at the film festival.
"We are very excited about the buzz we've received nationally and internationally," Demirci said.
Visit usdronefilmfestival.com for more information and tickets.
Print headline: Short flight, An inaugural drone film festival showcases more than 175 shorts made with camera-equipped flyers.