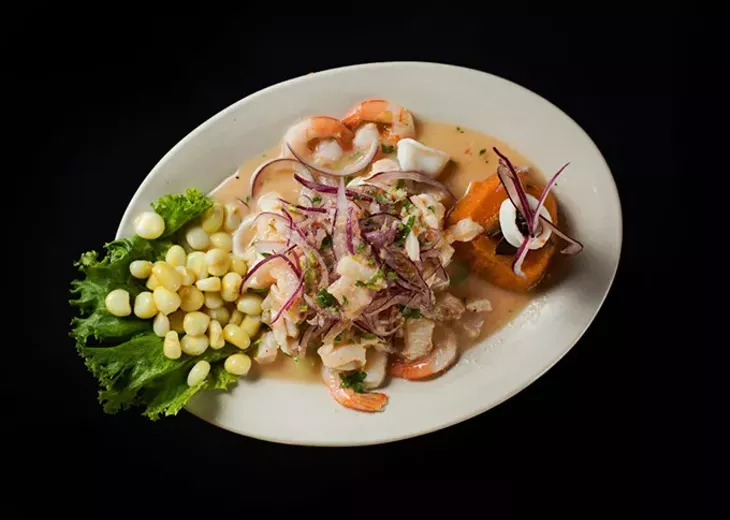 provided
Peruvian ceviche mixto: a selection of fish, shrimp, mussels and calamari
The sign outside Mamaveca Mexican and Peruvian Restaurant at its 2925 W. Britton Road location only tells half the story.
Drivers coming off nearby Highway 74 or May Avenue will see "Mamaveca: Mexican Restaurant," and miss the smaller colorful sign promoting its Peruvian food.
The original Mamaveca opened in Norman, 2501 Hemphill Drive, in 2007 as a traditional Tex-Mex restaurant based on owner William Chunga's decades of experience working for Mexican restaurants around the Oklahoma City metro like El Chico, the original Ted's Café Escondido and Chelino's Mexican Restaurant.
Presenting South America
As Mamaveca got its footing in Norman, Chunga and his wife wanted the menu to reflect the diverse and flavorful food of their native Peru. The couple didn't want the Peruvian food just to be homestyle meals cobbled together from memory, so they sought to find a classically trained Peruvian chef.
They eventually found Renato Victorio, who trained with Le Cordon Bleu in Peru and was working in Miami, Florida, and convinced him to move to Norman to develop Mamaveca's Peruvian menu.
"[Victorio] presented our Peruvian menu, and we recognized pretty much everything, but we hadn't been in Peru in awhile," Chunga said, acknowledging that Victorio's menu acted almost as a transporter, bringing back flavors he hadn't tasted in years. "We started tasting it, and it was like, 'Wow! This is great.'"
Victorio stayed at Mamaveca for about a year and half but eventually moved back to Peru. His recipes remain at Mamaveca.
The restaurant started to implement the Peruvian dishes by sliding a small addition into the Mexican menu. Chunga and other staff members would order Peruvian food and sit in the front of the restaurant to catch other customers' attention.
Slowly but surely, customers started trying the new menu. Chunga said the Norman location sells about 40 percent Peruvian food, but the Britton location, since opening in May, has sold a majority Peruvian food.
The name Mamaveca pays homage to Chunga's mother-in-law, Juliana, who moved to the United States and helped his family open the restaurant. The nickname developed from a child's mispronunciation of "mama vieja" (old mother), and the name stuck. Chunga said that even family friends refer to Juliana as Mamaveca.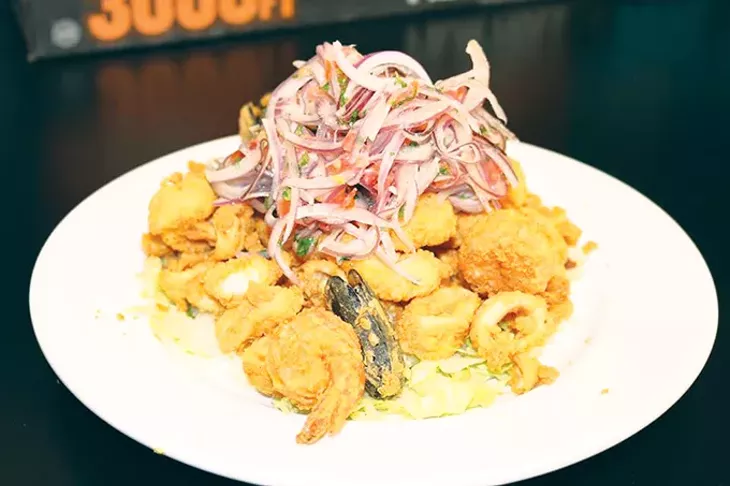 provided
Jalea Mixto is tempura-fried seafood with lime-marinated onions.
Diverse cuisine
From the coast to the mountains, Peruvian food is as eclectic as its different ecosystems. Ceviche is Peru's national dish, as the lime-marinated seafood traces its roots to the Incan Empire, but years of immigration have altered the country's cuisine.
Chinese and Japanese indentured servants flooded into the country in the early 20th century on 10-year contracts to work the fields, and as those workers and their families began serving street food from their native lands, they didn't have access to all of the ingredients from home, so they incorporated local Peruvian ingredients to create completely new dishes.
Lomito saltado ($13.55) is perhaps the most popular example of Asian and Peruvian fusion. Thinly cut steak marinated in soy sauce is paired with french fries (Peru is home to over 4,000 varieties of potato) and served with jasmine rice.
Chaufas is Peruvian-style fried rice that Mamaveca serves in three varieties, and it also serves tallarin saltado, which is a noodle stir-fry with the customer's choice of protein.
Pasta is an important part of Peruvian food, highlighting the influence of Asian and Italian immigrants. Mamaveca serves tallarin Alfredo, which is the South American version of fettuccini Alfredo. It also has tallarines verdes, which pairs breaded steak and potato with the Peruvian version of pesto. Traditionally, tallarines verdes has the building blocks of pesto alla Genovese — basil, garlic, walnuts and olive oil — but it replaces Parmesan cheese with queso fresco and adds spinach, red onion, evaporated milk and fresh lime juice.
"A younger guy came in and he was having lunch and went and asked for the manager, and I thought he was going to complain," Chunga said. "He said, 'Let me tell you, I tried the tallarines verdes. It was something I'd never had in my life, and it was so good that I'm going to have come back again.'"
Jacob Threadgill
from left Mamaveca owner William Chunga and manager Jose Rios
Chunga takes pride in Mamaveca's ceviche. It serves marinated raw fish or a mixto option with fish, shrimp, mussels and calamari. Traditional Peruvian red and yellow chiles brighten the marinade with flavor and heat. The seafood is served with sweet potato and choclo, giant puffed corn.
He said the secret to good ceviche, which he learned from Victorio, is to only squeeze the lime once.
"If you squeeze it more than once, it starts to become sour," Chunga said.
While Mamaveca has a mix of Peruvian food from around the country, there is one noticeable omission: pollo a la brasa. Chunga said that Mamaveca's kitchen setup doesn't allow for enough room to cook the chicken, which requires a special charcoal grill.
"We could have more variety because Peru is incredible, and we don't have the space," he said. "It's like having two restaurants in one kitchen. … Our Mexican is great and on par with any good Mexican restaurant. If you want a great Mexican restaurant, come to us. But if you want to eat something different that you can't find any other place, come to Mamaveca."
Visit mamaveca.com.