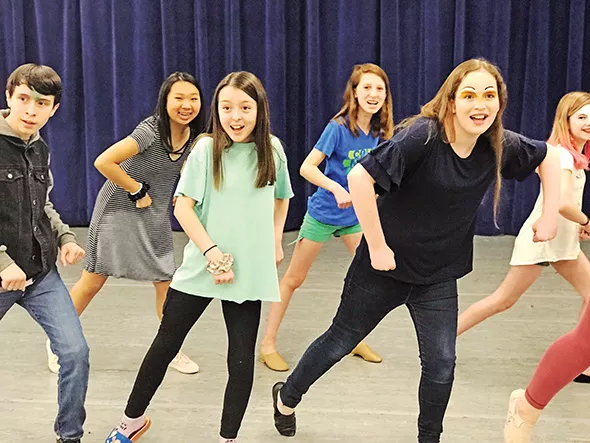 provided
from left Ayden Hartel, Emma Wells, Estella Stevenson, Nikki Oliphant and Emma Poindexter rehearse for Thelma Gaylord Academy's production of Honk Jr.
First published in the 1840s, Hans Christian Andersen's The Ugly Duckling has been comforting people who feel like outcasts and misfits ever since. Thelma Gaylord Academy's production of Honk Jr., a children's musical based on Andersen's tale, runs Friday-Sunday at Lyric at the Plaza, 1727 NW 16th St., continues the tradition.
"Everyone can identify with it no matter their background because even if you feel like you have the best life in the world, there are still going to be parts of your life or people in your life that you don't feel welcome or comfortable with," said academy education associate Kassie Carroll Downey, the play's director. "I think that everyone has felt out of place at some point in their life. No matter who you are or where you come from, that's something you can relate to, especially kids these days with social media trying to fit in and trying to be the perfect image of what you think you should be. It's very real for them at this point. Even though they're playing animals, they can definitely identify with having to try to be something that maybe they're not in order to fit in. ... We've all kind of felt left out at some point or at least seen someone bully someone else, and it's not a fun experience to go through."
The production, starring 8-14-year-old theater students, is Downey's first with the academy. Honk, which tells the story of Ugly, a hatchling bullied by the ducks around him until he discovers that he is actually a swan, originally premiered in England in 1993, and a Royal National Theatre production won the 2000 Laurence Olivier Award for best musical.
"When it premiered, it was adults playing these roles," Downey said. "I thought it was a little funny to think of adults dressed up as ducks and cats and bullfrogs and things."
Though the musical originally starred adults, Downey said its theme resonates with the students in the Thelma Gaylord Academy production and in some ways could be more effectively conveyed by the younger cast.
"There's kind of a hopeful message at the end where [Ugly] says, 'Different isn't bad or different isn't mean or different isn't scary,'" Downey said. "'It's just different. Maybe I don't look like you, but that doesn't mean there's anything wrong with me.' And we were talking about that at rehearsal. It's a hopeful message that we are teaching the audience because there's going to be some adults in the audience, I'm sure, and kids that are still kind of that bully type that need to hear that message, and who better to tell them than a child? It coming from the innocence of a child, I think, is so beautiful. It's very pure and heartfelt rather than someone trying to lecture you, another adult or another person running for office or your boss. Sometimes it's easier to learn from when you hear it from a child."
Life lessons
Honk Jr.is an abbreviated version of the original with its runtime cut from two hours to one to give children the chance to stage a "full-length musical without being overwhelmed," Downey said, but some of the story's darker scenes and subtext remain.
"There is some death in this production, which is kind of absurd and a little strange, but there's sort of a lesson in trusting strangers and someone that you can depend on and who is someone you can't depend on," Downey said. "The Ugly Duckling is so naive and so impressionable and young that if someone's nice to him, he will just go along with whatever they say, not realizing the Cat might be trying to eat him."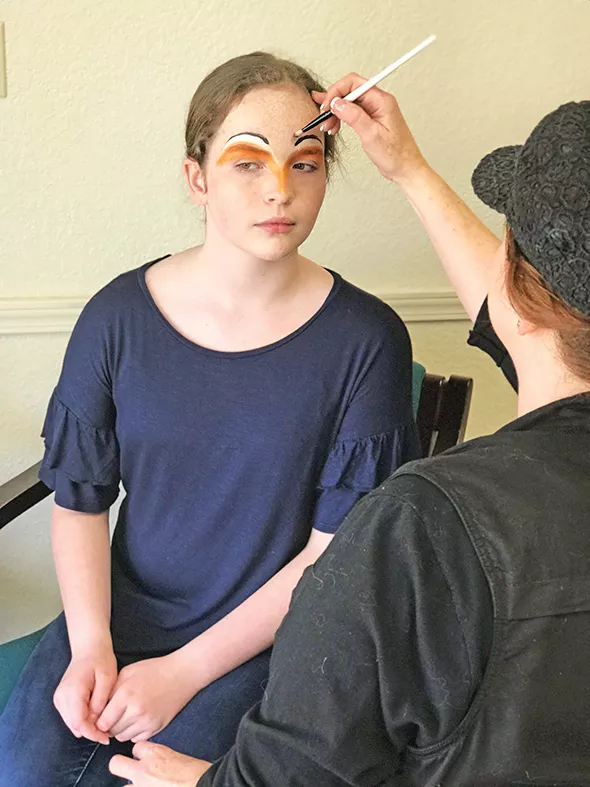 provided
Emma Poindexter has makeup done by makeup artist Brawna Gfeller.
While some of the musical's lessons might not be fun to think about, Downey said they are important for adults and children to consider nonetheless.
"The kids, some of them are like, 'Oh my gosh! Did these animals just die?' and I'm like, 'Yeah,'" Downey said. "It is a kids' musical, but there's some real things that happen that people deal with in everyday life. They're playing these cute little ducks or these frogs or these cats or whatever, these cute little animals, they're all dressed up in really sweet and fun and exciting costumes and things, but there's a lot of depth and a lot of darkness to what the story really is. And I think that helps us to realize it's not just a story about, 'Oh, he becomes beautiful and then life is good.' There are other things that happen, like he loses some friends in the show. He gets tricked by people. So yeah, there's a happy ending, but there's a lot of lessons to be learned from this show that are outside of what you're expecting."
The musical's cast includes theater students of varying experience levels, which Downey said she enjoys as a director.
"Some of these students, this is their first production ever," Downey said. "Some of them are pros and they've been doing it forever, since they were really little. … So it's kind of a fun challenge for me, and it's a good thing for the students too because the young kids or the inexperienced kids, they can look up to the kids that are really solid and that have the big roles and know what they're doing. It's a way for those students to step up and be leaders and teach the younger kids themselves, and it's a way for those younger, inexperienced kids to learn from their peers, which I think is also so important in educational theater."
While Downey has been teaching the students about choreography and stagecraft, she said they have been inspiring her as well.
"I learn from them, too, every single day," Downey said. "Their creativity, their talent level, their ability to pick up staging and even memorization, it blows my mind every time I work with children. I try my hardest to push them to the point where they will wow audiences. … It's always amazing for people that have never seen students like this to walk in and be like, 'Wow! How did you get the students to do that?' And a lot of my responses are, 'It's them. They're doing it. They have the ability. They always have had the ability.' It's just someone being able to give them confidence that they can do it, which is kind of my job as an educator in this field. … They just have to find the Ugly Duckling inside themselves and become that swan on the stage, which is amazing for me to watch."
Tickets are $15. Visit thelmagaylordacademy.com.