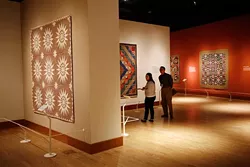 Garett Fisbeck
Seth Spillman and Tabbi Burwell look at quilts during the Quilts and Color Media tour, Wednesday, November 4, 2015.
Quilts and Color from the Museum of Fine Arts, Boston, now on display at Oklahoma City Museum of Art, showcases the handmade quilt as a vibrant, inventive form of American art and expressionism.
"Quilts are among America's most beloved objects," said Catherine Shotick, the museum's coordinating curator for the exhibit. "They have been recognized as symbols of the loving warmth of family ties since the mid-1800s."
Collectors Gerald Roy and Paul Pilgrim, who began this particular collection in 1969, were heavily influenced by these 20th-century art developments.
Optical art, color field movement and color theory are just a few of the elements that drew Roy and Pilgrim to these beautiful, practical pieces of history. As they sought quilts, they looked for elements of traditional techniques and color relation. They believed that collections should be put together for a reason — perhaps to change existing views and ideas or present a different way to experience something.
"There were so many aspects of quilt making that we wanted that couldn't be collected," Roy told Oklahoma Gazette during an exhibit opening event last month. "It was our aim to collect within our own interests."
Patchwork quilts naturally came into the fold, as they are abstract and their color provides more of an attraction than their images.
The exhibit is presented in six sections — gradations, mixtures, vibrations, contrasts, optical illusions and harmonies — and reflects the continuum of American quilting.
"We had to look for traditional quilts that employ white, which stops color interaction," Roy said.
In many patterns with color blocking, white and black can be used to interrupt the flow of other colors. Quilts and Color showcases works in which white is as instrumental in the design as any other color. White also is used to create contrast.
In quilting, cloth is manipulated to make it functional, and they said knowing how to sew is crucial. There are a great number of decisions made with each stitch.
The pieces in this collection were made from the 1850s through the 1940s. Quilts and Color exemplifies how women expressed themselves before it was socially acceptable for them to be artistic or show emotion.
Similarities between their designs and modern artworks are remarkable, especially regarding color theory, pattern and shape.
For proof, browse the museum's permanent collection of abstract prints and paintings located on the third floor. It demonstrates how the quilters' exploration of color relationships and patterns inspired modern artists of the 1960s. These exhibits are best viewed together to understand the complementary relationship between two completely different mediums of expression.
Quilts and Color also features interactive facets — a gallery guide connects both collections, and a design area allows visitors to create their own quilt square, which they can donate to a community quilt that evolves daily.
Print Headline: Modern art, Early quilt makers inspired a fleet of modern artists, and Oklahoma City Museum of Art shows us how.