Garett Fisbeck
Goodie Club Sandwich and fire-roasted tomato basil soup at Green Goodies in Oklahoma City, Tuesday, Dec. 23, 2014.
Man cannot live on cupcakes alone.
Well, technically, I guess man could. Man might encounter a few problems with living on cupcakes alone. Man might start to crave something more savory though. Man thinks cupcakes are great and all, but sometimes man wants a sandwich.
And if man likes both those things, then man ought to mosey over to Green Goodies, 5840 N. Classen Blvd. Suite 5, where there is a case full of cupcakes and there's a lunch menu of other things man might enjoy.
First, let's talk cupcakes. Have you had them? They're like cakes but smaller. And with more frosting.
You really can't go wrong with the Classic Chocolate ($3.25 for a single). Moist, dense chocolate chip cake with a creamy chocolate buttercream frosting up top. You can eat it with your hands, like a man, or you can put it on a plate ... like a gentleman. This is also your opportunity to control your frosting intake.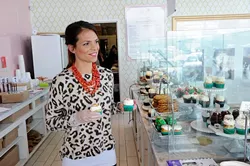 Garett Fisbeck
Owner Tiffany Magness at Green Goodies in Oklahoma City, Tuesday, Dec. 23, 2014.
My 6-year-old self is screaming through the bounds of time itself at me, but I'm not huge on frosting. The cake is where it's at these days. And Green Goodies gives you enough frosting to sate the sugar-lust of that inner child, or you can cut some of it off and enjoy it in moderation like a sane adult.
I'm not a vegan or I'd legally have to write that at the top of every review. But if you are, Green Goodies makes tasty vegan cupcakes, including my personal favorite, the Hostess ($3.50). If you carry a nostalgic fondness for Hostess Cupcakes, this is like one of those, but actually good. The creamy filling inside is absolutely delightful. Rich cake, decadent filling and just the right squiggle of frosting on top of some chocolate ganache.
I've never loved red velvet cake due to a childhood mishap, but I have to give this red velvet ($3.25) the thumbs- up. Adding in chocolate chips amps up the flavor, and the cream cheese frosting has that perfect tangy sweetness to provide counterbalance.
Now that you've had your dessert/ appetizer, I'm excited to report that Green Goodies also has a top-shelf lunch menu. Both the fire-roasted tomato basil (cup $4, bowl $7) and chicken tortilla soups (cup $4.50, bowl $8) are excellent. The chicken tortilla has a dark and smoky broth with black beans, veggies and shredded chicken to give it heft. Spicy and nice-y.
At $11, the Goodie Club isn't the cheapest sandwich around, but it's probably big enough for two people. Buttery toasted bread barely contains a pile of turkey, ham and bacon, a smear of Sriracha mayo, chunks of avocado, roasted poblano peppers, caramelized onions, arugula, provolone and tomato. Does that sound like a lot? It is. Maybe too much. It tastes good (yay!), but some of the flavors get lost in the mix (less yay!).
The BLT ($8) is outstanding in its simplicity. Arugula is the L; it's an assertive, peppery green that matches well with the pile of crisp, perfectly cooked B. If they offer you some A (that's avocado), consider asking them to leave off the mayo.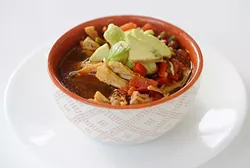 Garett Fisbeck
Classic chocolate cupcake and the Green Hostess vegan cupcake at Green Goodies in Oklahoma City, Tuesday, Dec. 23, 2014.
The Knife & Fork Roast Beef ($11) is a hearty number and, as the name suggests, shouldn't be tackled with hands alone. The horseradish is subtle, the cheese is gooey and with buttery bread, it's a rich sandwich big enough to split (or save for dinner).
For something lighter, give the egg salad sandwich ($4.50 half/$9 full) a shot. If you've never had egg salad, this is a pretty good place to start. The yolk flavor isn't too pronounced, and the eggs are boiled to perfection, yielding a tender, tasty bite. The Sriracha chicken salad ($4.50 half/$9 full) is actually low on heat but high on flavor, with crunchy edamame mixed in for a texturally superb experience.
I don't really care what man can or can't live on alone. Man should learn to share, be it a giant sandwich or a box of cupcakes that man bought and shame-ate in his car.
And if man is walking out of Green Goodies smiling, you can bet he has had a little of both.
Print headline: Eat cake, ... and sandwiches and egg salad and more at Green Goodies. Its menu also includes vegan-friendly fare.