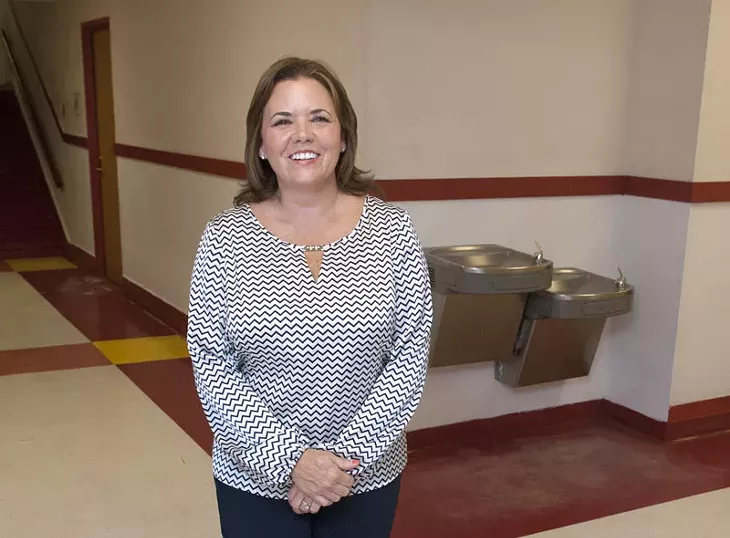 Kelley Pearson a volunteer, photographed in the hallway at Edgemere Elementary School. mh
At best, Edgemere Elementary School's five-year experiment could provide the answers to the complicated riddle of urban education.
At worst, this aggressive attempt at school reform will create more doubters and continue the pessimistic view that today's schools can't be saved.
"This is the hardest thing I have ever done," Kelly Pearson said. "It's also the most exciting."
Edgemere is just a couple of blocks from the Paseo Arts District and serves a high percentage of low-income and minority students. Pearson, who has been an advocate and volunteer for Edgemere over the past several years, won approval from the school district to experiment with the community school concept, which treats a school more like a community center rather than a building where kids are taught during set hours each day.
Over the past few months, Pearson, who leads Friends of Edgemere School, the group backing the concept, has been helping the district hire a new principal and teachers, build relationships with community partners and research how community schools across the country have found success. None of the former teachers or staff decided to stay for the new program.
"It's up to us to make sure it's a positive step, that it does what it's supposed to do, that we keep staff as upbeat and as encouraged as they are today," Pearson said. "That's up to the community to do that."
Part of the risk and opportunity in a community school concept is that it takes buy-ins from business leaders, parents, community leaders and other people beyond the classroom walls. The work of Pearson, teachers and administrators will not be enough to ensure success.
"I'm a little nervous about the parents, and I hope we are doing the things and providing the things that they will need and want," Pearson said. "I hope that everything we do is something that will gain their approval."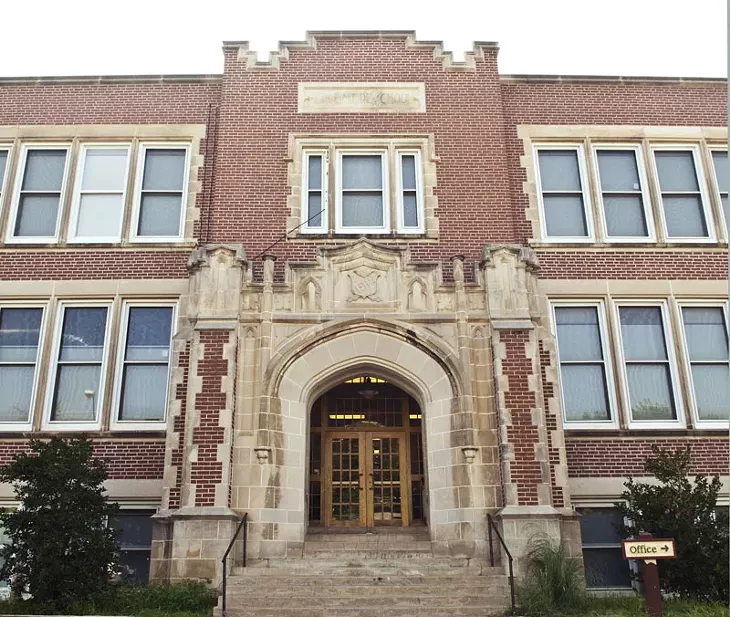 Mark Hancock
Edgemere Elementary School
What is a community school?
A community school is designed to serve children and their families through a collaborative effort of community and business leaders. The schools offer programs addressing the needs of families that go beyond the classroom.
Those needs could include regular evening meals, an on-site clinic, tutoring programs or night classes for parents, all of which are planned for Edgemere.
Park Elementary School is one of several community schools in Tulsa in which the concept is gaining support. Principal Anita Schroeder said her school partners with many area businesses to offer resources — including an on-site store where parents can shop with points earned from volunteering at the school — to parents and students.
"The only thing [parents] have to do to get points is come and volunteer at the school," Schroeder said. "The kids see their parents and their own neighbors at the school, and that makes an impression. To get them in, we had to have a hook, and our hook was the store."
Park parents, many of which live in poverty, can buy small appliances, toys and clothing, which becomes especially popular during the holiday season.
"My kids come to school with holes in their shoes," Schroeder said "We've asked our partners for things that help keep our kids well, safe and fed."
DoubleTree Hotels, Bank of Oklahoma and a Tulsa news station are just some of the businesses that have partnered with Park.
Similarly, Edgemere Elementary also has formed partnerships with Sunbeam Family Services, Variety Care clinics, Oklahoma State University-Oklahoma City and several other organizations that will have a presence in the school.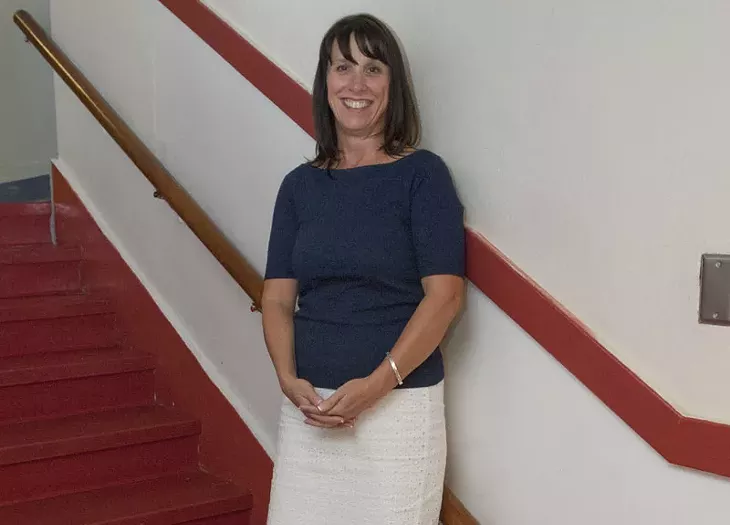 Mark Hancock
Principal Alisa Stieg in the hallway at Edgemere Elementary School.
Local control
One of the goals for community schools is to address fiscal adversity.
"Oklahoma doesn't have an education problem; it has a poverty problem," said Union Public Schools Superintendent Kirt Hartzler.
Union and Tulsa public school districts have a combined 31 community schools in operation today, while Edgemere is OKC's first.
Hartzler was one of hundreds of educators who attended a community school conference in Tulsa last month. Pearson and some Edgemere staff were also in attendance.
While education reform is most commonly focused on the policies established at the state and federal government level, the community school concept looks for answers at the local level.
"We don't have to wait for the state to get it right or for the federal government to get it right," said Pedro Noguera, a professor at New York University, an education activist and an author. "The help is right here."
Noguera, who was the keynote speaker at the Tulsa conference, said he is skeptical of reform coming from lawmakers.
"I am very discouraged by what is happening in Washington, and I don't see a lot of evidence that the federal government understands how to provide the support we need in public schools," Noguera said. "Where I have a basis for hope and optimism is at the local level."
Noguera said school support has to be found from parents, community businesses, local universities and other local groups. Schools should also have relationships of trust and support among school employees and teachers.
"Cultural change requires buy-in from everybody," Noguera said. "The receptionist knows how to talk to parents because she is on the team. The custodian knows his job is not to just sweep up but to make that school look beautiful because he is on the team. Where there is a culture like that, kids are able to rise behind the limitations of their backgrounds."
Over 98 percent of Edgemere students qualify for free or reduced-price lunch, and the community school concept is designed to help students and their families overcome the limitations poverty can impose on education.
"High-poverty schools bring special challenges that require more innovative ways of educating and caring for our students," Rebecca Hollis, a Southern Education Leadership Initiative Fellow with Oklahoma Policy Institute, wrote in a column advocating for community schools. "Community schools are a way to meet those challenges without reducing expectations for low-income students."
Building trust
Dave Lopez, former interim OKC Public Schools superintendent, signed off on the community school concept, and the school board also voted in support. The commitment from the district came with an annual budget of $50,000 for five years in addition to normal funding.
The district also hired Colin Strickland as the community school coordinator.
"This is exciting, but there are reasons to be nervous," Strickland said. "We need to build trust with the parents. They don't know anybody in the building, and they are hearing about all these new things."
Strickland helps coordinate aid groups and makes sure the needs of the community are being addressed. He admits that will require more than just a "white knight" approach, as it will take time to learn what works and what doesn't.
"Ultimately, we are going to do some things that aren't going to work and we are going to involve some partners that aren't a good fit and we are going to miss the needs of some of our parents," Strickland said. "Those are natural growing pains. We have these models we can look at in Tulsa, but they are all different and all unique."
Lopez supported the concept, and one of new Superintendent Robert Neu's first duties was hiring a principal for Edgemere.
"I'm really excited about the principal we've hired," Neu said last month about the selection of Alisa Stieg. "Honestly, it was one of the best principal interviews I have been a part of."
Neu said the concept fits with his vision of education and he sees it as an experiment that could work for other schools in the district.
"I'm really excited to see how this concept works because I think this is really what we need to be doing in public education," Neu said. "We've got to wrap our community's arms around every one of our schools and every one of our kids."
Edgemere has district support, but some board member comments highlight the skepticism that can exist when new types of education reform are introduced. An agreement of understanding between the board and Edgemere passed unanimously at a board meeting last week. But Phil Horning, along with a few other board members, was critical of where the money would go.
"I'm wondering if that's a justifiable expense," Horning said about the plan to use funds for a Spanish teacher. "I will vote for it, but in the future, please give itemized accounting of the extra funding they are getting."
In a system that scrutinizes every dollar, the community school concept challenges preconceived notions.
"There is definitely an element of trust that is required [from the district]," Pearson said.
Success will be measured through test scores and academic performance, but Pearson says there is more at stake than just helping kids get better grades.
"We are trying to rebuild a community," Pearson said. "It's working in other places, and I think it can work here."