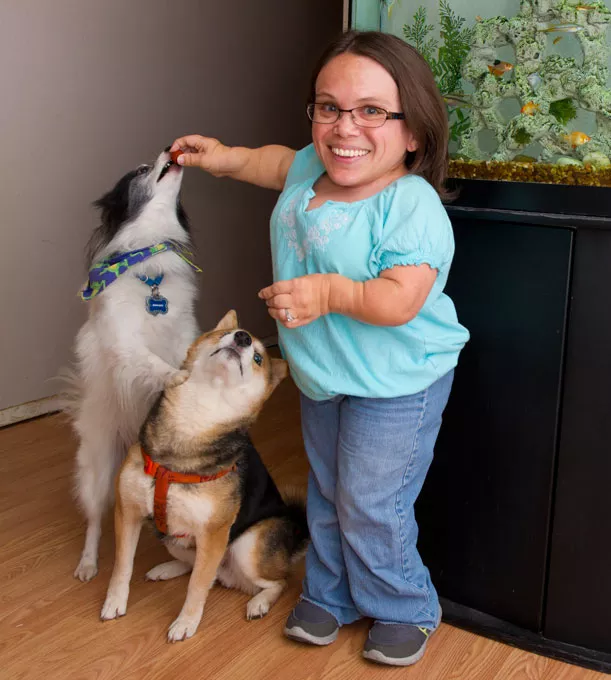 Sheri Wise does not believe in impossible tasks.
Standing at three feet, four inches tall, she was born with a genetic disorder that inhibits the production of certain enzymes necessary for proper bone and ligament development and maintenance and has been faced with certain challenges all of her life. Talking to her, one gets the sense that she doesn't view these challenges as setbacks so much as another obstacle to maneuver.
The 34-year-old Edmond resident is a customer service representative for the Oklahoma City Utilities Department, where she has worked full-time for about a year and a half. She is happily married, is a hockey fan and pursued degrees in architecture, education and drama before deciding school wasn't for her.
She is also one of only a few thousand people in the world with mucopolysaccharidosis type IV-A, more colloquially known as Morquio syndrome, type A. According to the National Institute of Health, Morquio A is an autosomal recessive enzyme storage disorder wherein the body naturally lacks or is deficient in an enzyme called galactosamine-6-sulfatase.
In layman's terms, Morquio A prohibits the sufferer's body from breaking down certain complex sugars. Buildup of these sugars can cause stunted growth, the fusing of the spinal column, heart and liver defects and scoliosis; in severe cases, it can lead to paralysis and even a premature death. Wise has been lucky; she has only had to have one leg-straightening surgery and tubes inserted in her ears to remove fluid buildup.
Because it is an inherited disorder, there is no steadfast and complete cure for Morquio A, but its effects can be mitigated by enzyme replacement therapies.
OU Medical Center is currently administering this therapy, which Wise is receiving. The OU Medical Center was unavailable for comment at press time.
Wise was born in Lahoma, a rural community in Garfield County about 11 miles west of Enid. She grew up on a farm with her two sisters and participated in every activity available to a kid growing up in that environment.
"I'd ride horses, we would go to the lake and I'd ride wave runners, I loved to fish, loved to go camping," she said. "Anything my family did, I was right there in the middle of it." She said her parents never treated her any differently or purposely excluded her from doing certain things because of her condition, and they encouraged her to do what she wanted to do — sometimes putting her at odds with what her doctors wanted.
"Doctors would say, 'Well, you shouldn't do this,' or 'You don't have any business doing that,' and I took that as a personal challenge," she said. "My parents were very big on not letting me grow up in a bubble, and I thank them for that all the time."
Wise graduated high school in 1998 with a class of 34 and went straight on to pursue an architecture degree at the University of Oklahoma.
"My family was terrified that I was going to get run over, that I was going to get lost, that something was going to happen to me, and I loved it," Wise said. "I went from a town where if you sneezed in school, by the time you got home that afternoon, your parents were asking if you had a cold to having more anonymity out there."
She met her future husband, Michael, through an online dating site, and he eventually proposed to her while they were at a Barons hockey game.
"He was going to [propose on the jumbotron], but there was so much going on at that game that they couldn't fit it on the schedule. Derrick, their mascot, came over, and I can't remember who we were playing that night, but it was the Christmas game where everyone got Christmas stocking caps, and he was standing in front of me, waving, jumping around, right in my lap," she said. "We were tied in the middle of the third period, and I'm like, 'Get away from me! We're tied! I've gotta see the game!' My husband said, 'Well, what's he got in his hand?' and I saw that it was a little Derrick stuffed doll. I'm like, 'Yeah yeah, that's cool.
We're tied; you have to move!' So he said, 'Well, what's on the doll's hand?' It was the engagement ring."
Wise has been active in the little person community since her sophomore year in college, including a stint as Oklahoma State Secretary-Treasurer for advocacy group Little People of America. But she didn't meet anyone else with Morquio until two years ago, after joining a Facebook support group for others with the disorder.
"Somebody posted [on the group] that this pharmaceutical company was doing FDA trials on this new drug, and if you're interested, here's some information," she said. "So I contacted [BioMarin, creator of the Morquio A enzyme replacement therapy Vimizim], and they sent me down to Houston for a mini-conference, kind of just a week with other people with Morquio to get some information about the drug. And that was the first time I met anyone else with Morquio."
According to the National Institutes of Health, the birth rate of individuals with Morquio A is one birth out of every 200,000. The disorder was named after Luis Morquio, a late-19th century physician who diagnosed four children with the disease in Uruguay.
"I had met other little people, but no one had even heard of what I had before," she said. "And there are over 200 different types of dwarfism."
The enzyme replacement treatment Wise is trying is her first; she began in October.
"I hope this treatment will help with pain and general health overall," she said. "Like I said, [Morquio] effects your heart, eyes, lungs, so I'm hoping to not have problems with that in the future.
Print Headline: Driven by challenges, A rare disorder hasn't stopped this Edmond resident from doing what she wants.