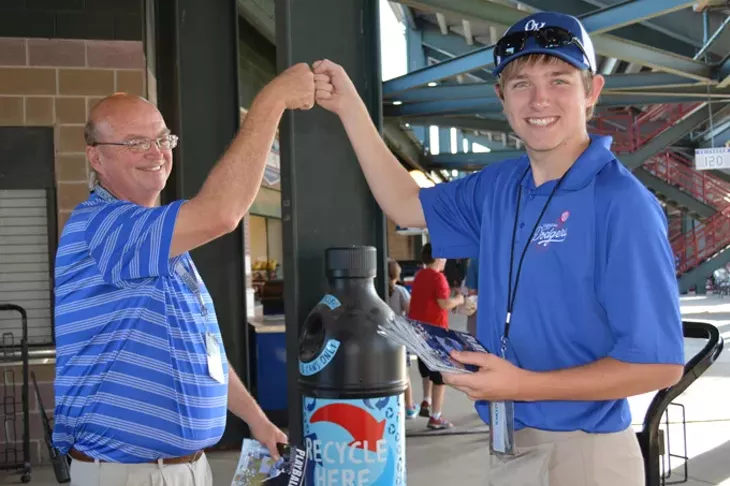 Edmond teen Carter Williams' first summer job has him working for the Oklahoma City Dodgers by helping it present home games at Chickasaw Bricktown Ballpark.
Williams' duties include rubbing mud on new balls, scanning tickets, handing out programs and just about anything his boss, Dodgers Customer Service Manager Wayne Mosby, asks of him.
"If I could have 100 Carters, it would make my job easier," Mosby said.
Williams found work through iJobs, an Oklahoma Department of Rehabilitation Services (DRS) training program that finds job opportunities for high school students with disabilities while educating employers about hiring and managing them, said Kim Osmani, DRS transition school-to-work coordinator.
"You'll hear a lot of people talk about a level playing field — giving kids with disabilities the same opportunities as their nondisabled peers — and that's what this is all about," Osmani said.
An Edmond Memorial High School senior, Williams has developmental verbal dyspraxia, a childhood speech disorder. That doesn't stop him. He's tall, blue-eyed and blonde, and his wide smile shows everyone he is friendly and eager to help.
"He's amazing because he's really learned a lot of compensatory skills, and he's learned how to navigate his world," said his monther Nancy.
Williams loves sports and was hired by the Los Angeles Dodgers Triple-A affiliate in May after interviewing with Mosby.
"I talked to him just like anybody else," Mosby said.
Another iJobs participant, Evan Todd, and three other disabled students work for the Dodgers. Mosby, who volunteered at Special Olympics, said everyone should be able to work at the ballpark if they wish.
"I've seen a lot of people with disabilities, and they were usually pushing carts or cleaning floors and bathrooms" he said. "I didn't want to hire people with disabilities to do that out here. I want to ... see if I could make a difference."
Win-win
In its third year, iJobs began in May and ended in late July, with 33 students participating at sites including Norman High School, Owasso Mid-High School, Francis Tuttle Technology Center and Classen School of Advanced Studies.
Wages of iJobs participants, who work up to 20 hours per week, are paid through a partnership with the Galt Foundation, a nonprofit that provides temporary staffing services in Oregon and Oklahoma.
The partnership encourages business to hire and is a win-win, Osmani said.
Even though iJobs is over for the year, Mosby has offered Williams and Todd positions on the Dodgers payroll. Osmani said many employers retain workers after the program ends.
"It really helps the businesses get a different perspective on people with disabilities," she said.
Visit okrehab.org to learn more.
---
Print headline: Company man, An Edmond teen works for Oklahoma City Dodgers through iJobs, a training program for students with disabilities.