Garett Fisbeck
Lamb thali sampler at Mt. Everest Cuisines in Edmond, Tuesday, Feb. 9, 2016.
You will need a Sherpa. Many have tried and failed to summit Mt. Everest, but those who do almost always need a guide. It is too difficult a trek to make without preparation and someone who knows the way.
That is not to say that you would die inside Edmond's Mt. Everest Cuisines, 1169 E. Second St. But to find the best Nepali and Indian food on the menu, it's best to talk to your server.
I was ready to gloss past MoMos ($6.95) when the owner helped guide me back, and thank goodness he did. These perfect steamed chicken and vegetable dumplings were the high point of a stellar meal.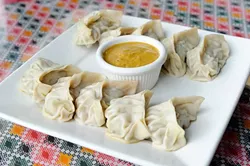 Garett Fisbeck
Steamed MoMos at Mt. Everest Cuisines in Edmond, Tuesday, Feb. 9, 2016.
I love dumplings, but they're often very similar from restaurant to restaurant, so I tend to seek out different appetizers.
These were not the same old dumplings. Inside the beautifully crimped wrapper was a tender mix of minced chicken and vegetables that had a mild sweetness that was even better when dipped into the accompanying spicy sauce.
They come fried or covered in Nepali "chilly," but the simple steamed ones are too good to miss. Warning: Properly steaming the MoMos takes 15 minutes. Your patience will be rewarded.
The vegetable samosas (two for $2.95) are the size of your fist and hide a substantial kick of heat under their buttery, flaky fried crust. If they were not fresh out of the oil, I would have eaten them like apples.
Garett Fisbeck
Samosas at Mt. Everest Cuisines in Edmond, Tuesday, Feb. 9, 2016.
How are samosas not the most popular food in Oklahoma City? They're fried, they're full of potatoes and other starchy vegetables, they're great alone or dipped in sauces — get on this goodness, people!
To cool your scorched mouth, I suggest you try the aaloo papri chat ($4.95). It's a mix of crispy fried chunks of bread, chilled vegetables and Indian sauces, including a soothing yogurt that extinguishs any residual samosa flames.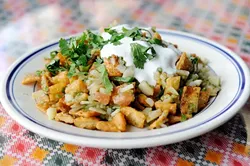 Garett Fisbeck
Aloo papri chat at Mt. Everest Cuisines in Edmond, Tuesday, Feb. 9, 2016.
Fact: I am always drawn to the sampler on the menu. Mexican appetizer sampler? It's not like I don't know what nachos, flautas and quesadillas taste like, but there's a great joy in getting some of everything.
That makes the thali option at Mt. Everest so appealing. Thali translates to "plate" in Nepali and is a meal made up of various other foods. Unlike nachos, I had no idea what the lamb gravy in the lamb thali ($15.95) would taste like. It was amazing. My friends kept reaching over onto my plate and taking bites, acting like they were full and then eating more.
There was also a dal, which is a lentil stew, vegetable papad (kind of a creamy mix of different veggies) and some vinegary pickled bits called achar. It comes with a bunch of rice, which is fine, but the dessert is this amazing sweet cake ball sitting in a bowl of yogurt.
For Indian food lovers, I'm happy to report that Mt. Everest does have chicken tikka masala ($12.95). It's that creamy orange chicken dish that you can get at every Indian restaurant because it's delicious. It's the California roll of Indian food.
This version was OK, but not my favorite. There was a smoky, slightly charred flavor to the chicken, which is probably because it's actual grilled chicken, but it imparted a little bitterness to the dish. Your mileage might vary, though.
I was happier with the chicken madras ($12.95). Despite a reputation for being fiery, this version — with a smooth sweetness from coconut milk — had plenty of flavor without being painful to the lips and tongue.
Garett Fisbeck
Chicken madras with bread basket at Mt. Everest Cuisines in Edmond, Tuesday, Feb. 9, 2016.
You can ask for it spicier, of course. Mt. Everest is receptive to people asking for low or even no spice. But don't be like that. Go medium at least. You will learn to tame the fire or at least get some of that yogurt to do the job.
Like many Indian restaurants, Mt. Everest has a full spread of meatless options. My pick is the chana saag ($10.95), which is deeply satisfying with plenty of chickpeas. If you worry that vegetarian food will leave you hungry, this dish is for you.
Last, but certainly not least, is the naan: Indian flatbread cooked in the tandoor oven. There are several varieties, including butter ($1.95), garlic ($2.95) and aaloo ($2.95), which is stuffed with potato.
But let's be honest; you need all of these breads in your life, so your best bet is the bread basket ($7.95). It showed up at the table and we nearly cheered. The garlic naan was especially delightful, covered in greenery and quite flavorful without being too pungent.
Maybe you won't get the same rush and feeling of accomplishment as climbing Mt. Everest, but eating Nepali cuisine is a lot easier and a lot tastier, even if you find the journey through Edmond's traffic to be exhausting. It's a trek you should make soon.
Print headline: Peak flavor, Mt. Everest Cuisines brings Nepali dishes from on high.