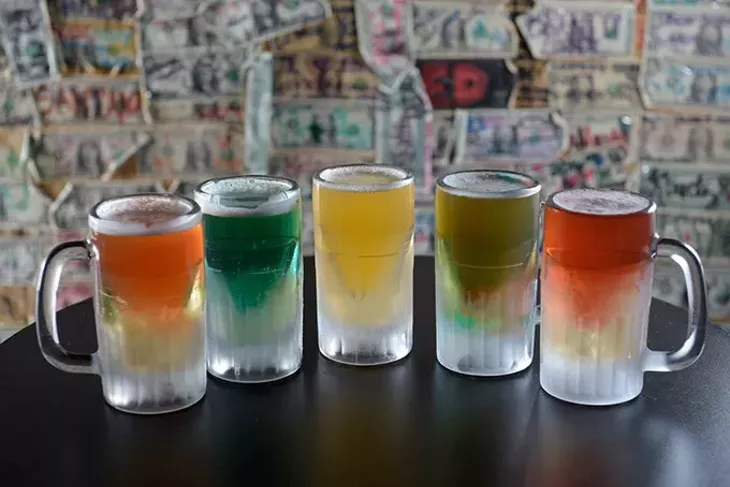 Garett Fisbeck
Fruit roll up, Thunder box, Lunch Box, Zombie Box, and Doc Box at Edna's, Wednesday, March 1, 2017.
Edna's keeps two freezers behind the bar, both dedicated mostly to frosting mugs to perfection for its (and arguably Oklahoma City's) most popular drink, The Lunchbox.
The classic cocktail is an unlikely concoction, especially for how delicious it is. Equal parts Coors Light and orange juice mixed with a shot of sweet Italian liqueur amaretto, The Lunchbox is always served in one of Edna's signature chilled mugs.
It might seem like a simple enough recipe to reproduce, but many have tried and failed to replicate the full Edna's experience. Maybe there's a down-to-earth magic between those iconic, dollar bill-stapled walls that makes The Lunchbox sweeter and good times unforgettable. Michael Whitney, grandson of the establishment's legendary namesake Edna Scott, said he thinks the real magic is in those icy mugs.
"A lot of people underestimate that," he said. "They get home and try to make it themselves and it's not the same."
The record for Lunchboxes ordered in a single day is 1,894. Edna's keeps a precise tally of how many Lunchboxes it has sold since the bar added digital registers in the mid-2000s. The total first read 1,668,622 during a recent Oklahoma Gazette visit, but before leaving, at least five additional mugs were ordered by happy patrons.
One of those patrons was Edmond's Corky Bauker, who downed his first Lunchbox sometime in the 1990s.
"The only way to explain it is to drink it," he explained to two nearby friends who were drinking Lunchboxes for the first time.
Tammy Lucas took over the bar after her mother Edna's death in 2014. Lucas said her mother first made The Lunchbox on accident in the early '90s while trying to mix another drink. Her mistake tasted good, so it stuck around as an infrequently ordered specialty until word-of-mouth elevated the drink to the point of local celebrity in the 2000s.
The Lunchbox eventually became so popular that bartenders literally could not make them fast enough. A separate shot glass of amaretto originally was dropped into the frosty mug, but the process was time-consuming.
"We were selling too many, and we couldn't keep up," Lucas said. "Someone came up with the idea of streamlining it and putting [the shot glass] inside first. It just takes too long otherwise."
A family of different variations to the drink has since sprouted up on the Edna's menu. The Docbox replaces orange juice with cranberry juice. The brightly colored Fruit Roll Up Box adds Midori watermelon and cranberry to the original recipe. The Tootsie Roll Box contains crème de cacao. More than 12 variations on The Lunchbox exist within the Edna's canon, but the best and most popular is still the founder's original recipe.
For true Lunchbox maniacs, Edna's offers a growing line of merchandise that includes Lunchbox underwear and Lunchbox-flavored lip balm.
The drink's popularity spilled out of Oklahoma City to garner national attention. The Lunchbox has been featured in several food and drink publications. Country music star Keith Urban filmed his "We Were Us" music video with Miranda Lambert at Edna's.
Jimmy Fallon and The Roots drummer Questlove drank Lunchboxes made by famed Oklahoma-born chef Danny Bowien on The Tonight Show, an event longtime Edna's fan Bauker still fondly recalls.
"That's pretty cool to see that on TV," he said. "I still watch that on YouTube every once in awhile."
With fans like Bauker, it won't be long until the official Lunchbox tally ticks past 2 million.
Visit ednasokc.com.
Print Headline: Love potion, Edna's Lunchbox has grown from a simple mistake to an unmistakable hit.