Phillip Danner
Queen of Eggrolls serves pork, veggie, beef, shrimp and chicken varieties of egg rolls.
Getting the nickname Queen of Eggrolls isn't something that happens without lots of hard work. Oklahoma City native Khammueng Chansombat introduces herself as KC to most people, but it is her other nickname on which she's staking claim to introduce Laotian to a wider local audience.
Chansombat, along with her brother Kary, opened the brick-and-mortar location for Queen of Eggrolls at 2815 NW 10th St., Suite A on Dec. 14 of last year. It's a journey that started about three and a half years ago.
"I started Queen of Eggrolls as a single-mom side hustle," Chansombat said. "I had a full-time job and a couple of other side gigs. We would have the egg rolls at parties for work, and people asked if I would sell any. I started selling them; people like them hot and crispy, and I'd sell them uncooked. I gave up every weekend for three and a half years to deliver egg rolls to customers, and then it started to grow: first we added fried rice, then we started doing pho."
The Queen of Eggrolls restaurant takes the items that helped Chansombat develop a base of clients and expands the menu to add traditional Laotian dishes. The Laotian word for "hello" greets customers before they find a seat in the restaurant.
"Owning a restaurant has always been a passion of mine, but Queen of Eggrolls is bigger than food; it's about introducing Laotian community and embracing our culture," Chansombat said.
She grew up the oldest of four children just a few blocks away from where the restaurant is now, learning dishes from her mother and helping prepare food while both of her parents worked manual labor to make ends meet.
While people are familiar with the devastation brought to southeast Asia during American involvement during the conflict in Vietnam — they're likely to think of the destruction brought to Cambodia and the power vacuum that created Pol Pot's genocidal Khmer Rouge regime before they think of Laos — more Laotian refugees resettled in the U.S. than Cambodian (251,334 vs. 152,748).
"There is a lot of Asian cuisine, but we're the ones that tend to get overlooked. The only time they hear about Laos is if they watch King of the Hill," Chansombat said, referring to Hank Hill and family's neighbors, the Souphanousinphones.
Landlocked and a largely rural country, Laos isn't the same destination tourist location as its neighbor Thailand, but it's a country with its own beauty, which is showcased in photos throughout the restaurant from Chansombat's aunt. While dishes like sticky rice, papaya salad and larb are commonly found on Thai menus, their origins are Laotian.
There is a famous saying in Laos that "sweet makes you dizzy; bitter makes you healthy," referring to the probiotic effective from fermentation. Dessert in Laos means grabbing a piece of fresh fruit or munching on sweet, sticky rice, which Chansombat said can be found at almost every meal.
"The difference from Thai food is the sugar base," she said. "Thai food is really sweet and almost every dish has a lot of sugar. Laos showcases more of the herbs like lemongrass, garlic; we try to stay away from the sugar."
Kary Chansombat joined his sister as a partner in the restaurant after getting a feel for the industry while working at a local Thai restaurant. Their mother joins them in the kitchen almost every day of the week, even after long shifts at her day job.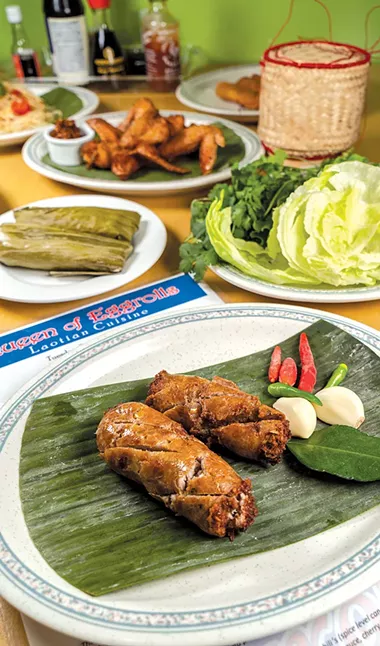 Phillip Danner
Lao sausage is pork mixed with garlic, lemongrass and other flavors before being stuffed in casings and deep-fried.
The Chansombat matriarch dutifully prepares dishes like a fermented spicy tomato "salsa" served with street-food-style chicken wings marinated in lemongrass and garlic before being deep-fried.
"All of these dishes are from my mom, so I used all of these old dishes that she taught me in the past and I kind of upgraded it a little bit," he said.
Mother and son work together to make the thick tapioca and rice flour noodles found in kapiak sen, a chicken broth-based soup with kaffir lime leaves, ginger and lemongrass and topped with fried garlic, scallions and cilantro.
"It's the opposite of pho because it is chicken," Chansombat said. "If you have a hangover or you're sick, not feeling well, that's the go-to soup. When I had a little cold recently, I ate it and I felt so much better."
Another top-selling soup is kapoon, a chicken broth and coconut milk-based dish with vermicelli rice noodles topped with shredded cabbage, carrots, mint, cilantro and limes that will get additional banana flower garnish when they're in season during the spring and summer.
All of the food at Queen of Eggrolls is made to-order, with the exception of Lao sausage — a mixture of pork, lemongrass, shallots and garlic that Kary mixes together and stuffs into casings, but it is deep-fried crispy upon order, just like the egg rolls.
"They call me Queen of Eggrolls because a lot of traditional, crispy egg rolls you can only find either in pork or veggie," Chansombat said. "So when I specialized, I wanted to give people a variety of egg rolls and added chicken and shrimp, and we sell out of them almost every day."
Nam Khao is another top-selling dish that is unique to Laos. Rice is mixed with red curry paste and deep-fried. The crispy rice is then broken up and mixed with ground pork, fermented pork skin, coconut flakes, shallots, peanuts and lime juice. The mixture is put into lettuce wraps with mint and cilantro leaves.
Chansombat said the restaurant will add a lunch buffet and get an alcohol license to open up beer and chicken wing specials in the coming months.
"I left my corporate America job after 10 years. I took a leap of faith," Chansombat said. "People thought I was crazy. … At my old job, I was behind a desk, and I didn't get to be mobile. I didn't get to see people. I love meeting new people and talking to people."
She is serving her family's food in an area of town surrounded by taquerias and taco trucks, offering something completely different.
"I never would've imagined that I would get a building kind of in the same neighborhood," Chansombat said. "Some people say, 'That's kind of a sketchy neighborhood. How do you feel about that?' I grew up two blocks from the Plaza before it was the Plaza. I knew it was God's plan that they wanted me here. People have told me they're excited it is something different."
Visit queenofeggrollsandmore.com.