Ward 8 is where Oklahoma City meets the suburbs. It includes the northern leg of the Kilpatrick Turnpike, dozens of new subdivisions and an emerging retail scene. The ward will also have a new councilor as Pat Ryan steps down following next month's election.
The growth in new residents in Ward 8 challenged city services to keep up, and each of the three candidates say this council seat will play an important part in managing needed changes.
"I understand the process of going through that growth," said Steve Curry, a brokerage director at MassMutual Oklahoma and the former chairman of the State Election Board. "You get some of those lots that are 5-acre lots or 10-acre lots and a mixture of new business complexes and other residential developments, so there are some issues with code and other concerns that growth brings."
Curry said he has always been involved in politics but never before run for office. He believes the city is managed relatively well and would like to continue the progress as a member of the council.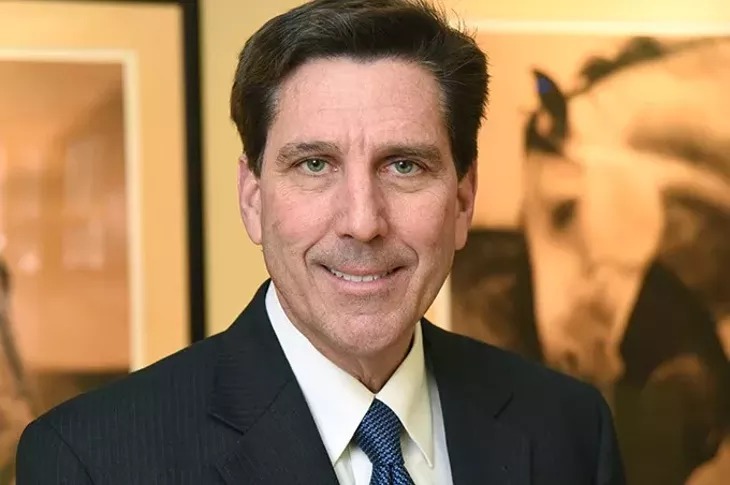 Mark Stoncipher is a candidate for the up and comming Ward 8 City Council race, photographed in the First National Center in Downtown OKC. mh
Mark Stonecipher, an oil and gas attorney, said he is running for council with on-the-ground experience helping neighborhoods adapt to growth and the challenges it brings.
"I was president of the Quail Creek Homeowners Association and we had a break-in problem," Stonecipher said.
After contacting Ryan and law enforcement, a plan was created for the homeowners association to hire off-duty police officers, Stonecipher said.
"We finally caught them," Stonecipher said.
Stonecipher, 57, was later asked by Ryan to serve on the Mayor's Charter Revision Task Force and the Board of Adjustments.
"I loved that work," Stonecipher said.
The city has its critics who say a focus on downtown neglected more suburban communities. Stonecipher believes the city can do more to help growth in areas like Ward 8 but does not feel the focus on downtown redevelopment is misdirected.
"If your neighborhoods aren't thriving and they are not complementing your downtown, you are not doing anything," Stonecipher said.
Ward 8 Oklahoma City Council candidate, John Alan Ederer, photographed at the Gazette offices, 2-10-15. mh
John Ederer, a realtor in north OKC, is also running for the open Ward 8 seat. The 77-year-old has a rich memory of the city's past, including riding trolleys and shopping in the old Main Street district.
"I've always had this passion for politics and this city," Ederer said.
It was during a visit to a city council meeting that Ederer said he observed a level of disenfranchisement between the council and public that inspired him to run.
"I was trying to find out where we were [in the agenda], and all of sudden the council votes, I'm still trying to find it and now they are into the next deal," Ederer said. "It seems like so many people in government are not, like I call myself, the working-class candidate."
Ederer said he loves all of the new additions to downtown, but he believes more needs to be done to help assist the growth of north Oklahoma City.
"I see these new [housing] additions going in, and nobody seems to be paying attention to law enforcement or fire department," Ederer said.
Ederer was also a member of the University of Oklahoma football team in 1955 and '56, when the team set a record for most consecutive wins.
Like the other wards across the city, Ward 8 has seen relatively low voter turnout in past council elections. However, it led all wards for turnout during the 2011 elections with more than 6,500 votes cast. That makes Ward 8 one of the more politically engaged sections of the city. Its focus is different from the two other wards up for election that have more urban characteristics.
Curry said the Ward 8 race is about understanding city residents' priorities.
"It's the prioritization that is the most difficult part of being on the council," Curry said. "You have a long list, but you have to figure out what is more important. And I think we need better roads and law enforcement that is keeping up with the growth."
All three candidates acknowledge the role the next councilman will have in helping shape a new $1 billion bond to bring money to Ward 8 for infrastructure, along with the beginning stages of planning for a new MAPS campaign.
"Those are important decisions that I want to help my ward be involved in," Stonecipher said.
Councilman Ryan has served as Ward 8 councilman since 2005 and announced he would not seek reelection. His departure means that at least one new member will join the council this year, as the other two contested races include incumbents.
Voters in Ward 6, 2 and 8 will have a chance to cast ballots on March 3. In wards where a candidate fails to receive over 50 percent of the vote, the top two vote recipients will move on to a runoff.
Print headline: Suburban light, Ward 8 will see a new face in its council seat.