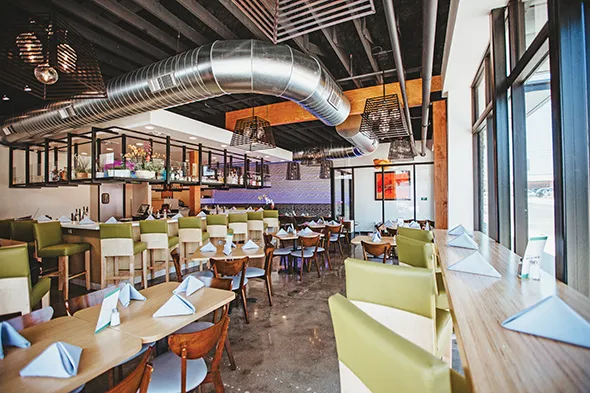 Alexa Ace
Rivière Modern Bánh Mì brings the traditional Vietnamese sandwich to Midtown.
As pho has become ubiquitous throughout the Oklahoma City metro, a pair of friends began to wonder why the best bánh mì shops are mostly confined to the Asian District.
What started as a conversation has turned into Rivière Modern Bánh Mì, which opened July 18 at 905 N. Hudson Ave. in Midtown.
Operators James Nguyen and Sean O'Neil became friends at Oklahoma State University, and they both have a deep connection to the restaurant industry. Nguyen is a third-generation member of one of Oklahoma's most successful restaurant empires — his maternal grandfather is Loc Le, who helped build Jimmy's Egg into a breakfast brand, and his father Ban is the company's current CEO. Jimmy's Egg recently opened its 63rd restaurant.
After getting started in the industry in Kansas City, O'Neil served as manager with Coolgreens and A Good Egg Dining concepts Iron Star Urban Barbecue and a pair of Republic Gastropub locations. He took a trip to Moab, Utah, where he dined at a bánh mì restaurant that was packed on a Wednesday, and it rattled a kernel of inspiration.
"I came back and went out with James and friends. We were talking about bánh mì in particular and the lack thereof, considering we have such a huge Vietnamese population," O'Neil said.
Simplistic as it is nuanced, there is no better example of Vietnam's fraught colonial history than the bánh mì. The fusion of French baguettes and paté with local ingredients like lemongrass pork, spicy aioli, pickled carrot slaw, jalapeños and cilantro is the perfect sandwich: salty, spicy, sweet, herbaceous and all on a crusty roll with a soft interior.
"Pho has become mainstream; you have it everywhere," Nguyen said. "Why hasn't bánh mì gotten there? It should. There should be a place around the corner from everywhere, especially with how popular it's getting."
Alexa Ace
Vermicelli bowl with shrimp
During that same conversation with friends, Nguyen and O'Neil heard from a friend in the group who wanted to try bánh mì but was intimidated upon entering Lee's Sandwiches and left without ordering.
"A lot of Oklahomans are still experimenting with going outside their comfort zone," O'Neil said. "We wanted to present something where we could get someone like him in the door to try it."
Rivière is not capitulating to that market at the expense of showcasing Nguyen's family recipes. It is providing more bánh mì options while doing so in a modern atmosphere with a full bar and cocktail program.
"I'm a steward of family recipes," Nguyen said. "The pickled slaw is straight from my mom's kitchen. The wings are my grandma's recipe. I grew up eating the green beans and lemongrass pork."
His grandmother's bone-in chicken wings are finished in a secret sweet-and-salty sauce with sesame seeds, and they are next to Gangnam Style Fries on the menu, which embodies the spirit of the food menu, Vietnamese classics with updated options.
The fries are topped with bulgogi beef — a Korean marinade that is spicy and sweet — and beer cheese fondue, both of which make appearances as bánh mì toppings. The bulgogi is on the K*Pop, which has been Riviére's No. 2 seller, and the fondue makes an appearance on the Bánh Jovi, which is an ode to the Philly cheesesteak.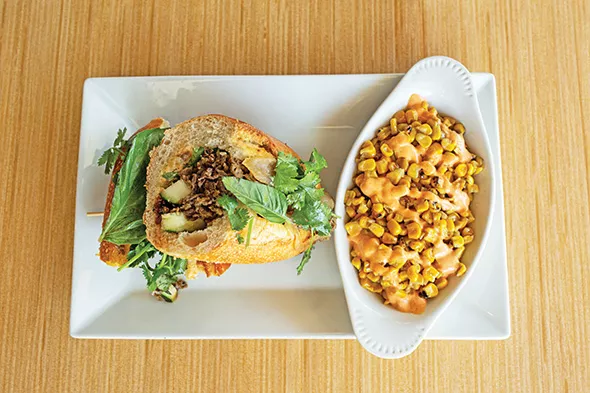 Alexa Ace
Pho'rench Dip with a side of Vietnamese street corn
"I'm born here and grew up here, so I grew up eating Grandma and Mom's food but also American food," Nguyen said. "Why couldn't you put Buffalo chicken in a bánh mì? Why can't we play with that protein but also stay true to the roots of the sandwich?"
The Bánh Fire with Sriracha Buffalo fried chicken is the restaurant's No. 3 seller. The top seller is the Pho'rench Dip that is like a classic French dip but uses a pho-style dipping broth instead of au jus that is paired with thinly sliced beef and caramelized onions.
The kitchen spends hours to make the pho broth, which also makes an appearance in a chicken noodle soup. The Saigon Caesar salad replaces traditional dressing ingredients anchovies and lemon juice with fish sauce and lime.
As a vegetarian option, Rivière eschews traditional tofu for jackfruit, which stands out in the sandwich compared to tofu, which often takes a backseat.
"It's the next vegetarian option," Nguyen said of jackfruit, which is harvested when it is still young and hasn't developed the sugars in its mature stage. "The texture is exactly like pulled pork and takes on marinade very well. We let it sit in the marinade overnight and throw it on the flattop to-order for the extra crust and sear marks. We've sold a lot of those; we're pleasantly surprised."
Alexa Ace
Your A** is Grass is made with lemongrass-infused vodka.
In addition to its menu, Rivière sets itself apart from Vietnamese restaurants in the city by offering a cocktail program that highlights Vietnamese ingredients and a beer selection featuring local craft beer. O'Neil devised the cocktail menu, which includes seven drinks. All of the drinks are under $10, which O'Neil said was done by infusing their own spirits and making syrups in-house, like the Your A** is Grass, which features lemongrass vodka and is Rivière's answer to the Moscow Mule.
The Jamesean is a mash-up of Nguyen and O'Neil's names and their heritage. Vietnamese iced coffee is combined with Jameson Irish whiskey, brown sugar and Saigon cinnamon. The Superfly BowThai features rum, Thai chili and basil-infused simple syrup, fresh mint and lime.
"We want [the drinks] to be refreshing and approachable," O'Neil said. "We want things you can't find elsewhere. It isn't going to be the place where people are taking shots until midnight; we're the bar before the bar."
Rivière is an expansion of Jimmy's Egg's brand and is located next door to its new Midtown location.
"It's cool because we made our bones with American breakfast," Nguyen said. "It's cool to show off a different side of our family and maybe that we're not just American breakfast. I'm lucky to have grown up with a lot of great cooks in the family. It makes me very happy to be able to showcase what goes on at home, and I hope everyone else likes it."
Visit riviereokc.com.