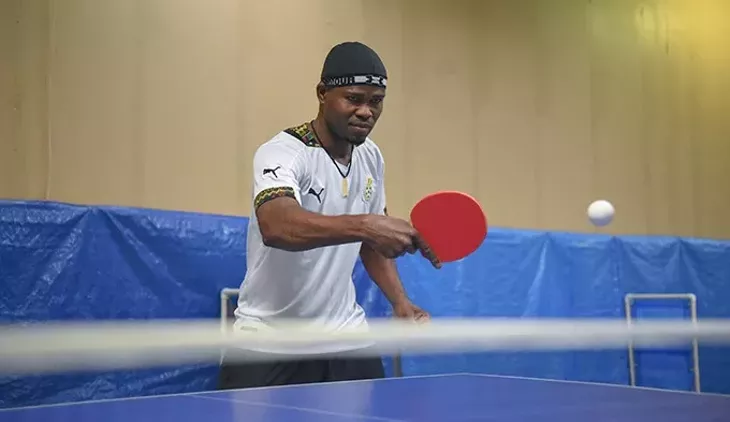 Winfred Addy from Ghana, at the OKC Table Tennis Club, locatied in Plaza Major at the Crossroads Mall. mh
Where does a world-class table tennis player begin his Olympic journey? Is it in a specialized training compound in New York or Beijing?
How about with makeshift gear over a long piece of plywood in West Africa? For former Ghanaian table tennis Olympian and current Oklahoman Winfred Addy, modest beginnings led to the realization of seemingly impossible dreams.
"You have to be humble," he said. "If you're humble, any good player will want to help you out. If you're too cocky, no good player is going to want to help you to what you want to be."
Addy represented Ghana in the 1996 Olympics in Atlanta. He's now a regular member and mentor to several players in the Oklahoma City Table Tennis Club.
Though he also grew up with a love of soccer, table tennis was always his calling. From the age of 6, Addy frequently practiced and perfected his technique despite protests from his grandfather, Benjamin, who raised him.
"He wanted me to go to school," Addy said. "Sports in Africa is very difficult because we don't have the facilities, so it can be very hard. It doesn't matter how good you are; if you don't have the facilities, you can't make it to the top."
In his 20's, Addy placed in the top five in his national tournament, which qualified him for the Olympic team.
"It was my greatest achievement, qualifying for the Olympics," he said.
Addy said he gave his best effort at the games, but the level of competition was the most intense he had ever seen. However, results were secondary — he was an athlete in the Olympics.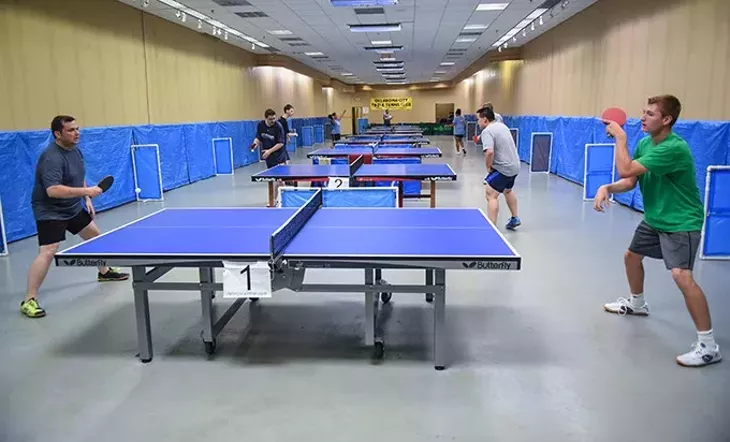 The OKC Table Tennis Club, locatied in Plaza Major at the Crossroads Mall. mh
When the ceremonies ended, Addy stayed in Atlanta for a while before coming to Oklahoma to visit cousins he had grown up with. While in Oklahoma, he went on to meet his wife and start a family. He has lived here for 18 years.
It seems everyone knows someone who claims to be "great" at table tennis. Addy knows them too. They're often cocky — until they play him.
"They think it's an easy sport compared to the other sports, but it's not," he said. "If you tell somebody you play table tennis, they say, 'Oh, I'm good! I'm good!' Everybody's good at playing table tennis."
When playing, Addy doesn't hug the end of the table but can often be seen running around and returning volleys from several feet behind it. His range of motion is not totally unlike that of players in the full-scale version of tennis. He is a self-described "fancy" player, a style he adopted after years of watching some of the world's best.
Though in Ghana he could play table tennis full-time, in the U.S., he has to work, so he now approaches the game as more of a hobby. Plus, there are fewer high-level players for him to go up against, which is one of the reasons he has taken up coaching in the state.
Addy has been training for the U.S. Open taking place in Las Vegas. At age 42, he is less invested in the game, but he sees the national tournament as a vital and important challenge.
"It's a different feeling," he said. "It's like checking your pulse to see if you've still got it or not."
Print headline: Table king, Winfred Addy is an elite table tennis champion who now calls Oklahoma home.