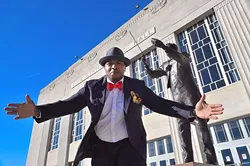 Mark Hancock
Artist Gregory Jerome is going to Rap the Civic Center Music Hall on February 21st, for the first time, 2-9-16.
Oklahoma City Philharmonic's celebration of Black History Month will be making history in its own right.
During the orchestra's Celebrate Black History event beginning 1 p.m. Sunday at Civic Center Music Hall, 201 N. Walker Ave., local emcee Gregory Jerome will become the first rapper in recent memory to perform alongside the philharmonic. This will be the second installment this season in Oklahoma City Philharmonic's (OKC Phil) annual Discovery Family concert series.
"We strive to bring quality live musical performances to families at an affordable price," Susan Webb, OKC Phil's marketing and public relations director, said of the series.
After doors open, guests can enjoy a graffiti wall in the lobby, and instruments will be on hand for children to play with, in addition to other educational activities.
The show is 2 p.m. in Thelma E. Gaylord Performing Arts Theatre. Maestro Mathew Troy leads the philharmonic in selections highlighting the history and progression of African-American influence in America's musical history.
Included among the selections are music from Duke Ellington, arrangements of music by Stevie Wonder and a variety of pieces inspired by black sounds and minds.
In addition to Jerome, who will close the concert performing two songs — one original piece and an adaptation of his song "I Am" — actor Michael Andreaus will lend his talents to the show, performing the spiritual hymn "I'm Going Home" in baritone and offering a rendition of a speech by Martin Luther King Jr. with musical accompaniment.
The men of RACE Dance Company will also be involved, enacting Jerome's closing number.
Webb said OKC Phil has done its Discovery Family series at least 10 years and hosts three events each season.
Making history
Jerome was contacted by OKC Phil about a month ago regarding his availability for the show.
He said he has long dreamed of playing alongside a full orchestra and has tried to put together an arrangement several times. He never imagined the philharmonic would reach out to him.
"The production manager felt that Gregory could help bring something unique to the table that could help carry the larger concept that the Phil is trying to portray," Webb said.
After accepting the invitation, Jerome had to write an original rhyme to a piece already within OKC Phil's repertoire. Writing over classical music presents a unique challenge compared to the sound of a traditional boom-bap beat found in hip-hop. Jerome listened to the selection carefully and repeatedly, feeling the texture of the music.
"What I had to do is almost think of it as a theatrical performance," he said. "How do I express myself over this music? How do I create these moments of expression?"
Jerome played with the delivery of his voice over the music and worked with the tempo and speed, allowing his voice to become an instrument.
The chance to break musical ground as the first rapper to appear alongside OKC Phil is not lost on the emcee. Jerome called the opportunity a "monumental moment" for him personally and for the current age of hip-hop in the city.
Looking down the list of those who have performed with the philharmonic, you'll find names like Wayne Coyne and Ben Folds. Jerome said it will be an honor to join that list.
"I don't believe I'm anybody spectacular," Jerome said. "I don't believe I'm all over Oklahoma City like that. To be able to get on that stage, I believe it will change a lot of things."
Jerome said it's great to reflect on black history in this country, but added that Black History Month should also be about learning from that past. Now that they have fought for and won things like voting and property rights, he said, will they continue to make history or just look back on the work of others?
The emcee said he wants to brand himself in the world as someone who is doing something new, making firsts in certain regions and social climates where there is still progress that has yet to happen.
"Why not be black history, man? Instead of reminiscing about it, make your own," he said. "It's great to reminisce, but make your own."
Print headline: Rap classical, In its Discovery Family show Celebrate Black History, Oklahoma City Philharmonic performs with local rapper Gregory Jerome.