Ryan Magnani / provided
OKC's Cavern Company celebrates the release of its second EP, So This Is Happiness, Saturday at 51st Street Speakeasy.
Cavern Company
8:30 p.m. Saturday
51st Street Speakeasy
1114 NW 51st St.
51stspeakeasy.com
405-463-0470
$3
Post-Tension, OKC indie rock conglomerate Cavern Company is learning to ease up and dig in.
"Sonically, this EP is one step closer to where we really want to be as a band," said frontman Zach Shomaker, describing Cavern Company's second EP, So This Is Happiness. "Tension was our first effort. I think sonically in that you're going to hear a lot more of a rock element and probably what we would all consider maybe a little bit of overplaying. We really came to the table and tried, I think a lot of times, to throw a lot in and to kind of white-knuckle the sound. And so with this EP, the sounds you're going to hear, I think we're all a little bit more comfortable with just laying back and serving the music."
Cavern Company celebrates the release of So This Is Happiness Saturday at 51st Street Speakeasy, 1114 NW 51st St. The band's second EP includes previously released singles "Falling," "Body Language" and "Enough?" (recently nominated for Best Indie/Alternative Single by Independent Music Awards). Shomaker said the contrast between the songs gives the EP thematic complexity.
"['Falling'] is a straight-up love song, and it's a poppy, fun love song," Shomaker said. "And then ['Body Language' is] about addiction and alcoholism and walking through that with one of our friends. Even with just those two songs, you see the tension there. ['Falling'] automatically feels happy … and 'Body Language' was a very heavy song lyrically and just what it meant, but even within that, there is opportunity to find happiness based on your perspective."
Drummer Joshua Warren said the album marks an evolution in the band's approach to making music.
"I think, in part, this is kind of Cavern Company's response to and challenge for a lot of what we're hearing the music industry right now, specifically pop music," Warren said. "A lot of what we're hearing … seems to be really centered around sexual relationships, and it's party music and these things. … There's a time and place for that. We love to do that, and we have plenty of songs like that. We wanted to have a more robust conversation from Cavern Company's end. What does it look like to have happiness in familial relationships, in our friendships alongside our romantic relationships? Because we're all married at this point, and there's still some of that lovey-doveyness there, we might say, but there's also some hard conversations about, 'What does it mean to really stick it out with someone and having that lead to long-term happiness as well?'"
Lyrical depth
The band's move to incorporate headier subjects into its bright pop sound has changed the vibe at its shows, Shomaker said.
"Some people are going to go to live music maybe just to have a good time and have a couple of drinks and just have an experience where they're just letting go of the work week and just having fun, and we love that," Shomaker said. "We want to create space for that in our music sonically and lyrically and in the live show that we have, but we also kind of want what I would say Death Cab for Cutie does for us."
Death Cab's willingness to explore difficult subjects and emotions in its songs gives its music special significance to listeners dealing with similar situations, Shomaker said, a catharsis Cavern Company wants to offer as well.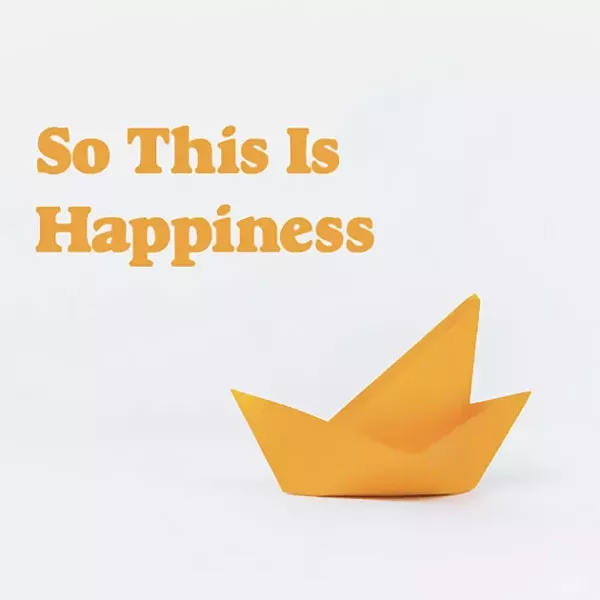 provided
So This Is Happiness includes singles "Falling," "Enough?" and "Body Language."
"When I was struggling with my wife and my marriage when we first got married, there was a song called 'Tiny Vessels' by Death Cab for Cutie that really helped me just work through my own emotions and get to a point where I was healthy to deal with that aspect of our relationship," Shomaker said. "And to see them live and sing that song with them and share that with them and to kind of just experience that relationship, we wanted to carve out space for that as well. So when we play these songs live, especially during 'Body Language,' we have people really singing and really engaging because for them, it hits home. They've got relationships as well, both friendships and family relationships, where people are struggling with alcoholism and they've chosen to stick it out, and this is a time where they get to lean into that and feel OK and feel encouraged by it."
The EP also includes "God Willing," a song Warren described as Cavern Company's "weightiest, heaviest track."
"It was a story that I needed to tell about when I was younger and in college and I fell in love," Warren said. "It was very real. We both knew it, but it was the wrong time, and we both had to let go of it and move on. That song, for me, took a long time, not only to be able to write but to process through emotionally. So I'm really hoping with this song that people connect not only with me and with us as a band as far as the hurt and the emotion that we had to process in that time, but also it allows them to maybe to see themselves in the song and to be able to — if they're going through the same thing, if they're struggling with the love that they knew was real, the love that they needed but lost all the same. It gives them a little bit of closure because that's what the song is for me personally."
The album's cover art, featuring a paper boat, is meant to evoke the image of releasing paper boats into the water at a funeral, a concept Warren said ties together the seemingly disparate songs.
"We all agreed that it was this sense of letting go, of holding whatever you might have lightly in your hands and knowing that you're going to love it and cherish it while you've got it, but at any moment, it might be taken from you," Warren said. "We talked about how sometimes love feels like trying to hold water; you kind of just have to hold it open in your hand to keep it, but then you try to squeeze it and it flies everywhere. … The picture that for us made the most sense was this idea of setting sail this paper boat, letting go of it and sending it off with your best wishes."
Even when exploring deeper subjects, Shomaker said Cavern Company still wants to have a good time.
"We definitely love to have fun," Shomaker said. "We love interacting with our fans at our shows in a way that's fun. Although we have very serious conversations and we're very close in our interpersonal relationships in the band, we don't take ourselves too seriously at all."
Twiggs and Roots of Thought are scheduled to share the bill. Admission is $3, and nautical-themed attire inspired by Wes Anderson's 2004 film The Life Aquatic with Steve Zissou is encouraged. Visit 51stspeakeasy.com.