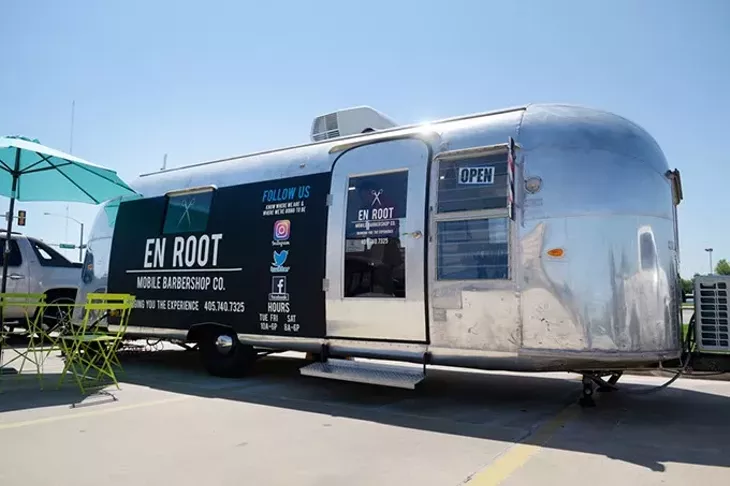 Garett Fisbeck
Bruce Waight Sr. and Vanessa Morrison converted a 1960 Airstream Land Yacht into En Root, a mobile barber shop.
The idea to cut hair in a trailer first occurred to Bruce Waight Sr. and Vanessa Morrison while they were walking on a beach in the Bahamas.
"A couple of guys pulled up in a horse trailer," Waight recalled. "I thought it was just going to be some guys who were going to go horseback riding up and down the beach … but it turned out they were giving people haircuts. That was the first time I had seen anything like that."
Waight, who has been cutting hair since he graduated from barber college in 2011, remembered that moment a few years later, when he began visiting an older client in the hospital to keep his hair trimmed.
"One of my clients got really ill, and he was in the hospital for about six months," Waight said. "If you can imagine being in the hospital for six months … it was cramped up in the hospital room and kind of uncomfortable. The environment just wasn't a good environment."
En Root, advertised as the "first black-owned and operated mobile barbershop in the state of Oklahoma," is Waight and Morrison's attempt to bring the barbershop experience to customers who might not be able to have it otherwise. Unfortunately, Waight said, the customer who helped inspire the idea passed away earlier this year, but other regulars are benefitting from the shop's mobility.
"A lot of people have trouble just getting to a barber shop," Waight said. "One particular client had to catch three buses and walk a quarter of a mile just to get to our old barber shop, and he had a bad hip."
Garett Fisbeck
Thanks to a change in state law, En Root was able to put wheels under its haircutting operation.
Opened in July, En Root operates out of a renovated 1960 Airstream Land Yacht travel trailer Mondays through Saturdays at different locations in the OKC metro area. The six "partner locations," each scheduled for a specific day of the week, range from apartment complexes and restaurants to the Opportunities Industrialization Center of Oklahoma County, a nonprofit adult-education organization.
"I think it's convenient for a lot of people," Waight said. "It's convenient and accessible, and it's new. People just want to check it out and look around and take pictures."
But opening for business takes more preparation on Waight's end. For one thing, he usually has to set up a generator.
"I have my own water, I have my own power," he said. "It's a little bit more responsibility than just going to a brick-and-mortar and opening up the door and turning on the lights and you're ready to go. I have to do a little bit more to get ready."
Converting the travel trailer, purchased in 2015, into a mobile, three-station barbershop took more than a year, and being able to legally open for business required Waight and Morrison to lobby the Oklahoma State Board of Cosmetology and Barbering to recommend a change in state law.
"It was illegal. It wasn't allowed; you couldn't do it," Waight said. "It took us eleven months to get them to finally approve the idea and finally pass legislation."
Now that the shop is legally licensed to operate in Oklahoma, Waight said the only real difference between En Root and a traditional barbershop, other than the convenience factor, is contending with inclement weather when he's setting up for the day.
"We've been having a lot of rain lately, and I've been having to work out in the rain to get it all set up," he said. "But you'd be surprised; when you're inside of it, you really forget that you're in a 1960 Airstream. It feels like a brick-and-mortar once you're in it and you're sitting down and kicking back."
Capturing the familiar barbershop atmosphere in their new business was important to Waight and Morrison.
"This is a place where a lot of things take place," Waight said. "A lot of mentorships, a lot of stories that are being told. Relationships are being built in a barbershop. It's something we saw there was a need for. … The thing about a barber shop is that it's the cornerstone of a community, and so we have the opportunity to be that for several communities."
After being open for business for a month, Waight said the shop is already starting to attract regulars.
"We're starting to see that we're having clients that it's their second or third time coming in," he said. "I have a large clientele base, so I'm able to watch my clients come out and communicate and start conversations with people that they would have never known before because I'm in different locations."
En Root recently hired a second barber, and Waight, who has been offering his services to nonprofit organizations such as Homeless Alliance, said he's eager to use the new mobile shop to continue his charity work.
"When I go out there and volunteer," he said, "they do their best to set up a room that I have to go into and cut, but it just doesn't have that barbershop feel."
He said he "can't wait to see" their reaction when he pulls up in the Airstream. The only thing Waight's not looking forward to is the coming drop in temperature.
"I'm not eager for winter, cause I don't like the cold," he said, laughing.
Print headline: Cut and run, En Root takes a food truck approach to the classic barbershop.