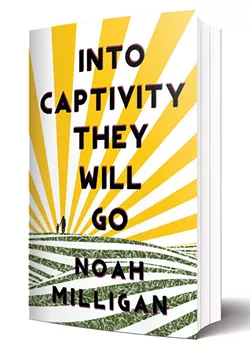 Central Avenue Publishing / provided
Into Captivity They Will Go by Noah Milligan will be released Oct. 1.
Into Captivity They Will Go is about the end of the modern world — not as a reality but as a concept, a promise. It is about the intoxicating bigness of ideas like rapture, tribulation, apocalypse and prophecies that have long seemed so immediate despite one century passing uneventfully into another and another and another.
To play a meaningful role within a biblical event is tantalizing to believers and nonbelievers alike, inspiring countless fantastical novels and summers packed end to end with global disaster movies. In Noah Milligan's upcoming novel, debuting Oct. 1, those big ideas inspire a mother and her pliable son to abandon the rest of their family to find significance within a messianic cult.
The novel presents two climaxes. One addresses the sensationalist ending that readers anticipate from any book that delves into end-of-the-world cults — the dramatic reveal of whether a divine plan has been truly fulfilled. But there is the second, even more interesting climax that takes place years after the cult has faded into a cautionary tale. This is when Milligan turns from sensation to the emotional resolution between the mother and son having to process their roles in a trauma that devastated an entire community.
Though Milligan has not pulled heavily from any one historical event, the tone feels familiar this deep within the American Bible Belt.
"Oklahoma is a very interesting place whenever it comes to politics and religion," Milligan said. "I think there's these dueling forces: a stubborn resistance to change and a progressive push to move our community forward. They're constantly in conflict, and I wanted to show a young boy at the center."
The main character, Caleb Gunter, enters the world in chapter one as a virgin conception staged in a barn with the Holy Spirit summoned by his mother's stepfather. Caleb was to be the long-awaited second coming of the Christian Messiah, Oklahoma born and bred. The book quickly jumps to Caleb's childhood within a family cracking under the weight of his mother's fanatic devotion. Caleb and his brother are the types of kids that should be able to sink safely within the public school scrum, but their mother's escalating foreboding of God's impending judgment alienates the boys from their friends.
As their father tries to manage the fallout, the mother only grows more insistent on spreading the good news of humanity's collapse. She knows that her son is the Messiah. She knows this deeper than any other truth. Because she knows, Caleb knows. He is an impressionable child who is eager to please his mother. Every step the boy takes becomes a fulfillment of prophecy; every word spoken is the whisper of divinity — a huge weight for a child to bear.
"He is living in a world where he's basically been lied to his entire life," Milligan said. "You base your entire identity off something that turns out is false, that can cause significant trauma. I just wanted to show a young boy trying to navigate seemingly disparate worlds. We all live in a place where not everything fits neatly into a certain box. So whenever your entire world is shattered, how do you rebuild it from the ground up?"
This is the real meat of the book. There is plenty of room granted to the inevitable clash between the cult and local law enforcement, but Milligan leaves the full final act to the emotional repercussions of a failed Messiah and his disgraced mother.
This is Milligan's third release from Central Avenue Publishing following An Elegant Theory, a psychological thriller about a scientist choosing between breakthrough and family, and Five Hundred Poor, a humanist short story collection focusing on those living on the fringes of society and trying to make life work in any way they can.
Central Avenue Publishing / provided
Oklahoma writer Noah Milligan is the author of two novels and a short story collection.
The latter's title is taken from a passage in Adam Smith's The Wealth of Nations: "Wherever there is great property there is great inequality. For one very rich man there must be at least five hundred poor, and the affluence of the few supposes the indigence of the many." It is that fascination with the lives and plights of the underprivileged struggling within Oklahoma's unique culture and history that drives much of Milligan's work.
"I've had a privileged upbringing, upper middle class; both my parents were college-educated and provided for me and my older brother really well," Milligan said. "My parents, however, came from a community called Pawhuska which is right smack dab in Osage County. If you've read Killers of the Flower Moon, you've already got an idea of what happened to that community."
In Killers of the Flower Moon: The Osage Murders and the Birth of the FBI, David Grann writes about the oil boom in Osage County and how Native American families were targeted by swindlers and assassins trying to tap into Osage Nation's sudden and immense wealth. The Great Depression followed and the once affluent town began a long and ongoing decline.
"It basically devastated Pawhuska," Milligan said. "And we're 100 years later, and that community is still devastated."
Milligan is a character-focused writer in the John Steinbeck tradition, and Into Captivity They Will Go is set up to be the next critical darling from Oklahoma following Lou Berney's November Road and Brandon Hobson's 2018 National Book Award Finalist, Where the Dead Sit Talking.
Despite the strides Oklahoma authors have been making, Milligan does believe that there is still a lot to overcome for any writer wanting to make a living inside the state. There is a dire need for more support to develop and retain the state's wealth of talented storytellers.
"If you want to be a writer," Milligan said, "if you want to do it for a living, the belief is you have to live in New York City or you go the MFA route. With the advent of the internet, the barriers are starting to crumble because through Twitter, through online literary magazines, there is a chance to thrive within a burgeoning writing community regardless of where you come from or your educational background."
Milligan said that one of his long-term goals is to look for sustainable options to strengthen the state's writing culture and provide storytellers with avenues to the publishing industry that will help ensure that Oklahomans are among the voices telling the Oklahoma story.
"Not everybody has the means to be able to get a master's degree in creative writing," Milligan said. "Not everybody has the means to be able to live in New York City, Los Angeles or Chicago, where there is a hotbed of literature and publishing houses. I'm hoping that soon, we won't have to have that debate anymore."
Visit noahmilligan.com.