Garett Fisbeck
Queso at The Mont in Norman, Tuesday, Sept. 15, 2015.
During lunch at a doomed Mexican restaurant on 23rd Street a few years back, my friend coined the term "cheese jelly" to describe the yellow goo that some restaurants regrettably call "queso."
As that substance has become de rigeur, so, too, has people's excitement grown for "the good queso." You know: the kind with cheese in it.
For me, not being cheese jelly isn't enough to qualify as good. Queso made with real cheese can still be greasy, gluey and flavorless.
So when people started telling me I had to get the queso at The Mont, 1300 Classen Blvd. in Norman, my enthusiasm was subdued.
"Sure it's good," I sarcastically thought to myself. "What wouldn't a bunch of drunk Sooners on game day think was good?"
I'll give you the answer to that at the end of the review.
As for the queso ... yeah. That is good. At $6.99, the chili con queso is a lot more expensive than free cheese jelly, but a very fair price to pay for a substance you actually want on your tongue. Like cheese and minced jalapeños and crumbled sausage. You know: food.
I wasn't particularly enamored with the black bean burrito (a regularly recurring special), but mostly it suffered by comparison to everything else. It was OK, but with so many other options on the menu, OK isn't OK.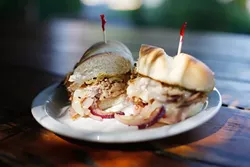 Garett Fisbeck
Cuban sandwich at The Mont in Norman, Tuesday, Sept. 15, 2015.
Not when you could have the Cuban sandwich for $7.99, a play on the classic lunch of cigar rollers and Scarfaces. Here, pulled pork takes the place of roasted pork, and is married to smoked ham in porcine fandango. Traditional Swiss cheese, pickles and spicy brown mustard are joined by sweet, grilled onions on a toasted roll.
This is a good sandwich. A bit messy, as pulled pork tends to fall apart, but a really solid choice.
If I had one wish, though, I would wish for immortality. But if I had several more wishes, after ending poverty and disease and hate and giving Firefly unlimited seasons on TV, would be that the entire sandwich be pressed. A Cuban is uniquely suited to the panini treatment, allowing the cheese and pickle to fuse with the ham and pork.
You are allowed to choose your side dishes at The Mont, because this is America. And as a patriot, I encourage you to get the macaroni and cheese.
"Didn't I just eat queso?" you are probably wondering.
"Yes. Are you complaining about too much cheese? Maybe it's you who should be proving your devotion to this great country!"
Don't be a traitor to the U.S. of A. Just eat some of this ridiculously creamy and intensely cheesy macaroni. It's made with a blend of cheddar and Monterrey Jack and it's a completely different creature from the queso, though I'd have been fine with just queso over pasta, honestly.
As I am not allowed to charge drinks to Oklahoma Gazette and its parent company, Tierra Media Group, let me tell you that this next one was my pleasure and I'm glad to take one for the team.
The Swirl is a mix of frozen margarita and sangria. They are powerful, but hidden behind a blend of sweetness, tartness and ice. If your friend was going to meet you at the game "right after I get a Swirl at The Mont," then you can go ahead and find someone else to sit there. He or she is sitting three deep on the patio, ordering another drink and blissfully unaware that the game is even happening.
And speaking of "the game," I can now tell you what doesn't taste good to a bunch of drunk Sooners on game day: Any single point scored by the Longhorns, who are literally the worst beings on earth or something. Boo, pointy cows! Booooooo!
Print headline: Full Mont-y, For anybody but Texas fans, this Norman staple offers plenty of charms.