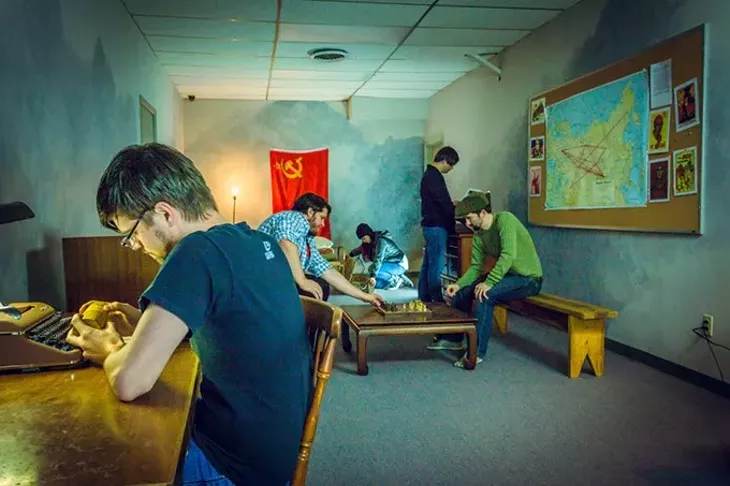 Despite her experience in psychological research, Michelle Upton swears she's not writing a paper on the group dynamics of problem-solving while watching customers work their way through the rooms at Trapped OKC, 111 Harrison Ave.
At least not consciously.
"My friends ask me all the time if I'm secretly doing research," she said.
Considering she has taken time off from her studies to run the day-to-day business, it's a fair question. But even if participants were lab rats, it's all too much fun for anybody to want to complain.
Breakout success
Over the course of two years, Oklahoma City has added five escape room businesses: Trapped OKC, The Escape OKC, Escape Games OKC, Key Quest (a part of Laser Quest) and Clue Quest. And Bridget Trowbridge, The Escape OKC marketing director, said demand is only growing.
Since launching in June 2014, The Escape OKC has opened locations in Tulsa; Omaha, Nebraska; Branson, Missouri; and, soon, Little Rock, Arkansas.
The first location, 912 NW 23rd St., is also expanding. The business bought out the other half of the building, formerly occupied by a pest control company, to add two new rooms and a headquarters.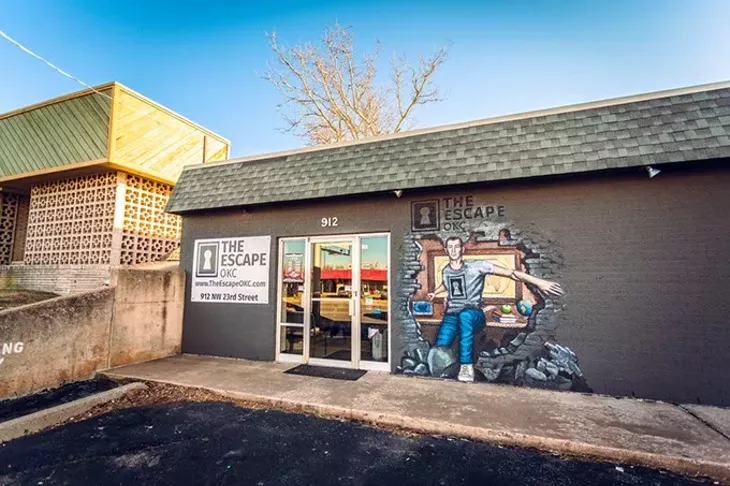 "We build all the games here," Trowbridge said. "We aim for one new game every three months. If you're not building new games, then you're out of product."
For those who haven't tried one, escape rooms are themed puzzles inside a locked room. It's up to guests and their companions to solve puzzles, put together clues and find their way out in less than an hour.
For those worried about being trapped, it's all safe. Players can buzz their way out at any time, though that also ends the game. To pass inspection, rooms must have emergency exits in case of fire.
The Escape's Area 405 alien-themed room is so in-demand that owners are adding a copy of the original so teams can compete for fastest escape times.
Happy gamers
Trowbridge said escape games are popular because people can do them together.
"It's an event night," she said. "Multiple people can play, people of any age, and it's an experience everyone can work on together."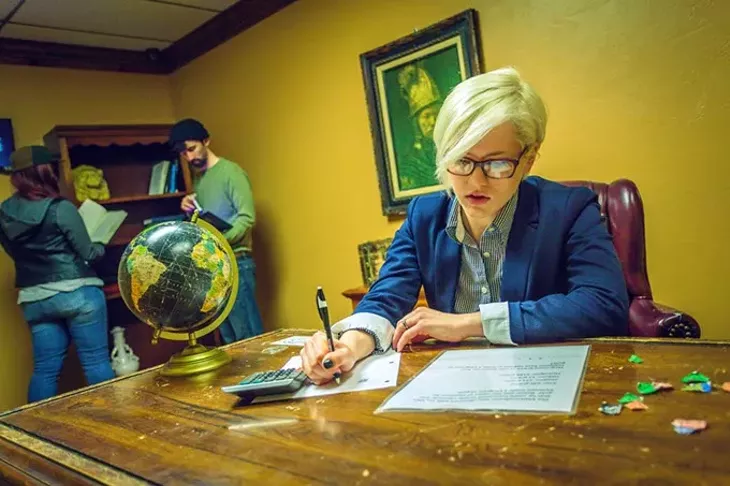 Billy Colvin, owner of Escape Games OKC, 3705 W. Memorial Road, said the camaraderie is what makes the games so special.
"We haven't had anybody who was unhappy from not escaping," he said. "You have to make sure they're having fun and keep them from getting frustrated."
He said working together, even if teammates don't make it out of the room, is a bonding experience. His job is to make sure there's a sense of progress, which is why rooms are monitored and hints are given along the way.
"It takes knowing the room," he said. "Some places are just throwing them in a room and leaving them alone for an hour. Sometimes people need a little something to keep them going."
Colvin said some players just need a nudge in the right direction to send them on the right path.
"They don't know they need a clue, but you do," he said. "That's why you have to pay attention to the rooms."
That's not the only reason.
Trowbridge said even with all the rules laid out in front of them — nothing is hidden in the ceiling or under the floor, nothing needs to be broken — some people still get a bit overzealous.
"The locked-in-a-room concept is thrilling, but it does create a sense of urgency. People start acting differently under pressure," she said. "We still have people that do crazy things. Recently, we had someone take apart our door mechanically. That's not how you win the game."
Locked in
Upton discovered escape rooms during a 2013 summer vacation to Nashville, Tennessee. Now, Trapped is moving into new digs in Bricktown and looking to expand its games in new directions.
The classic locked-room puzzles will remain, but Upton and co-owner Matt Hollen are finding new ways to entertain themselves and their guests.
"We do have a new game coming out that blends augmented reality and a scavenger hunt all together," she said. "We have it set up for Bricktown, so you're exploring the area with an 'action pack' and an iPad."
Through the lens of the tablet, teams work on puzzles and get to know the area.
This summer, Trapped is partnering with restaurants in the district to host murder-mystery dinners. But Upton's newest toy is a laser maze. (Think Catherine Zeta-Jones in Entrapment).
"You can play in one to five minutes," she said. "It's a really fun thing we have in the office, an absolute blast."
Once players make it out of a room, is there anything left to do? Escape rooms are businesses that require constant reinvestment of time and imagination, Colvin said.
"There are Facebook groups where owners talk and give each other ideas or get advice," he said. "They've just started doing conventions for escape rooms."
In many ways, though, it's still a mom-and-pop-in-a-locked-room type of venture. Colvin uses his experience as a contractor to build out rooms and his love of board games to find new challenges for visitors.
"There's a lot of sitting, thinking and working it out in your head," he said. "You just keep tweaking it until you get the room to work really well."
Print headline: Escape velocity, Oklahoma City is locked into the escape room boom.