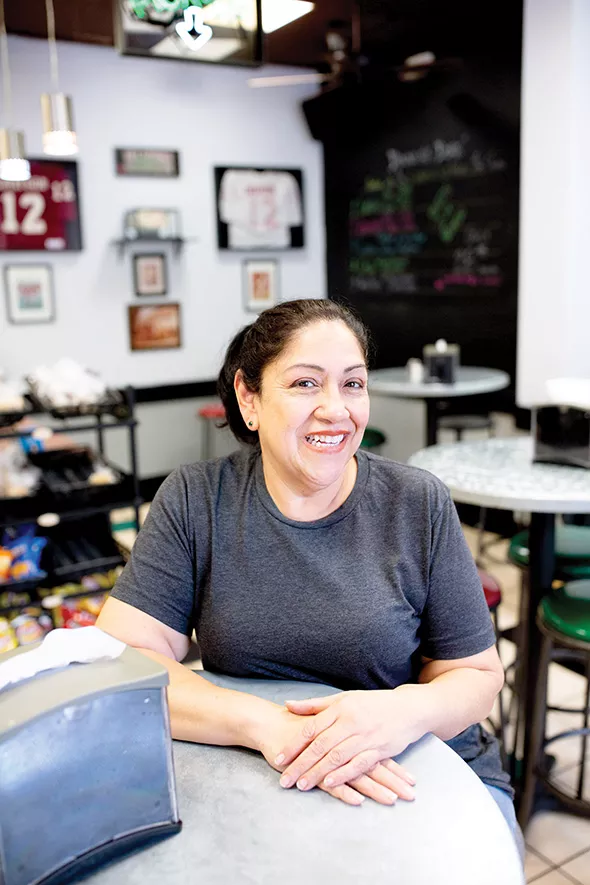 Alexa Ace
Alicia Gomez-Grayson is the owner of Cafe 110.
Throughout her more than three-decade career in the food industry, Alicia Gomez-Grayson has literally worked with food from seed to table. It wasn't until the domino effect after an accident led her to open a restaurant that provides both healthy and indulgent choices in downtown Oklahoma City.
Cafe 110, located at 110 N. Robinson Ave. in the former Urban Taco space, opened in May and is the culmination of a career in the food industry that includes a decade as an adjunct professor of horticulture, time running restaurants, being a private chef and working for Sonic Drive-In's corporate office, among others.
Gomez-Grayson was working as personal chef for Oklahoma City Thunder player Jerami Grant and coach Maurice Cheeks when she was diagnosed with diabetes during a series of tests following a car accident.
"For 25 years, I had been cooking for other families, and I cooked healthy for all of them. I cooked well for everyone else, but not myself," she said. "I found out I was diabetic, and they told me that if I could get my A1C down to 9 before end of year, they would let me get off insulin. I lost 30 pounds and got my A1C down to 6 by September. [The doctors] were amazed. I watched what I put in my mouth."
While trying to reach her goal, Gomez-Grayson noticed when dining out with her husband, former University of Oklahoma wide receiver Bobby Grayson, that most menus only had one or two healthy or vegetarian options.
"I wanted a restaurant that is an equal-opportunity nourisher," she said. "We try to make sure that when you come up to the counter, you're not just ordering food off the menu; we're listening to you."
Staff is trained to work with customers to customize menu items to meet their dietary needs, whether that's reducing carbohydrates or adding meat and cheese.
Ingredients at Cafe 110 are sourced seasonally, and Gomez-Grayson uses her years working on a farm in the horticulture community to find products for the restaurant.
"I want people in Oklahoma to look at food in a different way," she said. "I think that people don't understand that if we buy local, we support the local economy and it's better for us. We might pay a little more, but isn't it worth it to support our neighbors?"
Outside influence
The menu at Cafe 110 includes a mixture of influences from Gomez-Grayson's Mexican heritage, where she learned to cook from her grandmother and aunt, and her travels around the country. When she worked for Sonic, she would add days on either sides of business trips just to visit restaurant kitchens for inspiration. Cafe 110 offers street tacos (with meat or veggie fillings), burritos, sandwiches, grain bowls, salads, burgers, sandwiches and breakfast.
Burritos can be adapted to be gluten-free by replacing the wrap and serving it in a bowl with fixings (without rice) served over spaghetti squash. Meat like tender, slow-cooked chicken can also be added to items such as the top-seller enchilada bowl that comes with rice, black beans, housemade sauce and salsa.
The restaurant's second top seller is its housemade veggie burger made with quinoa, black beans and sweet potatoes served with sweet potato chips and house Creo sauce.
"The difference between our veggie burger and everyone else's in the world is that it's not a frozen patty," Gomez-Grayson said. "I'm sorry if this offends you, but I have touched your meatless burger with my hands because I patty every patty."
Jacob Threadgill
The handmade veggie burger at Cafe 110 is one of its top-sellers.
Cafe 110 is open for breakfast on the weekends and is one of the few downtown restaurants that stays open for dinner, and Gomez-Grayson said it will welcome local beer and wine to the menu in time for the Thunder's first regular season game.
During weekdays, Cafe 110 offers Dinner's Done takeout options designed to feed between two and four people for $28.99 plus tax. It offers meat or veggie lasagna with salad and garlic toast; beef, chicken or cheese enchiladas with chips and salsa; chicken or veggie curry with salad, rice and gluten-free flatbread; chili with corn bread and salad; or pork ribs with pasta salad and baked beans. Orders must be placed by 3 p.m. the day of pick-up and will be ready between 4 and 6 p.m.
"I was Hello Fresh before Hello Fresh," she said of her days selling at OSU-OKC Farmers Market. "Instead of just selling my produce, I'd put a basket together and give them recipes too, and they'd want to buy from me more than the other farmers."
In November, Cafe 110 will begin offering housemade soups, like a vegan tomato basil and others that are being menu-tested. Cafe 110 is open for groups, like an all-you-can-eat pancake fundraiser for Saints and Angels Rescue 8 a.m.-noon Oct. 27.
The neighboring building is being converted into a mixed-use space that will include shops, apartments and hotel rooms. The scaffolding is blocking Cafe 110's signage along Robinson Avenue, but Gomez-Grayson is excited for the future.
"It's hurting us badly, but just like eating healthy isn't about feeling better tomorrow, it's going to feel better in a few months," Gomez-Grayson said. "The building will be 180 hotel rooms and 180 apartments. I will have 360 people walking through the restaurant every day."
Visit cafe110okc.com.