Gazette / file
Budweiser Brew House includes Gulf shrimp ceviche on its events menu.
Not long ago, concert venues mostly had the same menu as high school football game concession stands: canned-cheese nachos, maybe a pickle or a soft pretzel, if you were really lucky a hamburger heated who knows how. Recently, mercifully, more local music venues are offering food you might actually want to, you know, eat. Carefully considered upscale cuisine, locally sourced produce and meat and even viable vegetarian and vegan options await hungry music fans at some of OKC's hottest concert spots, but if you ever have a hankering for stale tortilla chips topped with traffic-cone-colored cheese food product, you can always go to the closest dollar movie theater or skating rink. All of the eateries listed below are worth a visit for the food alone. The live music is just gravy.
Chesapeake Energy Arena
100 W. Reno Ave.
405-602-8700
Arena shows are typically some of the worst offenders foodwise, but Chesapeake Energy Arena offers two eateries that have graduated far beyond scholastic sporting event fare. Despite its name, Budweiser Brew House offers upscale, locally sourced cuisine. Enjoy Gulf shrimp ceviche, nachos topped with rotisserie chicken from Crystal Lake Farms in Jay, prime rib with ginger-radish jus or burgers and pasta made with Impossible-brand plant-based fake meat products for vegetarians.
If all that sounds too upscale, head to Jack Daniel's Old No. 7 Club, which offers sliders, carne asada fries and a Tennessee Whiskey Wings Basket. The club even offers OKC craft beers such as Elk Valley Firefly and COOP F5 on tap so you can eat and drink locally before watching world-famous acts KISS (Feb. 26), Pink (March 23) and Ariana Grande (May 23).
provided
The Jones Assembly's event menu features food you can walk around with, including margherita pizza, a roasted pork sandwich and herb frites with goat cheese and bacon.
The Jones Assembly
901 W. Sheridan Ave.
405-212-2378
Combining a concert venue with a cocktail bar and a modern take on American dining, The Jones Assembly offers a limited menu on concert nights, but the "snacks" it serves are still well above average. When you go see Jenny Lewis (April 4) or Son Volt (June 18) later this year, you might not be able to order the short ribs with wood-fired cabbage and oyster mushrooms or the housemade tagliatelle with braised pork ragu — a shame since we would love to watch you try to eat them while standing shoulder-to-shoulder next to a speaker stack — but you can get a margherita pizza, a roasted pork sandwich with rapini and provolone or herb frites loaded with goat cheese and bacon. Even the potato chips at The Jones come with cucumber and radish crudité and Greek yogurt ranch dip. As an added bonus, Jones' bar pours up custom cocktails such as Jones 75 (strawberry and jalapeño, Broker's gin and Lustau Los Arcos Sherry) and Collusion (espresso-infused Russian Standard vodka, Grind espresso rum and Gosling's rum) instead of the standard $11 light beers to which concertgoers have grown accustomed.
Alexa Ace
Opolis' food menu focuses on vegan comfort food.
Opolis
113 N. Crawford Ave., Norman
405-230-0311
Hosting local and touring bands, Norman's Opolis caters to just about everyone but confirmed carnivores. The vegetarian and vegan menu offers a raw organic dinner salad with mixed greens and fresh fruit and a short-grain brown rice bowl with black beans, but its main attractions are plant-based variations on childhood favorites and comfort food. Baked organic cauliflower Buffalo "wings," a vegan sloppy joe and veggie burgers, nachos and Frito chili pie could help build a nutritious base to counteract all the quinoa whiskey shots you'll probably down when you go to see LCG & the X (Feb. 23), Black Moth Super Rainbow (April 4) or Acid Mothers Temple (May 5).
Tower Theatre
425 NW 23rd St.
405-708-6937
While Tower Theatre doesn't boast a restaurant of its own, several quality restaurants are just a short walk away. Before going to see Ray Wylie Hubbard (March 15), Of Montreal (April 21) or Jim James (May 12), stop in at Pizzeria Gusto, 2415 N. Walker Ave., for wood-fired Neapolitan pizza, marinated olives and flatbread or potato gnocchi with braised short rib.
If you'd prefer contemporary comfort food over classic Italian, head to Cheever's Cafe, 2409 N. Hudson Ave., where you can grab a roasted quail short stack with corn tortillas and ancho chile sauce, a shaved Brussels sprout and kale salad or, if you're a true Oklahoman, a chicken-fried steak with jalapeño cream gravy and red-skinned mashed potatoes.
The Pump Bar, 2425 N. Walker Ave., is another option in the same vein, offering bison chili Frito pie, a French dip sandwich pairing thin-sliced rib-eye on a crusty baguette with hot pho broth and Okie Poutine made with tater tots, braised short ribs and the requisite brown gravy and cheese curds.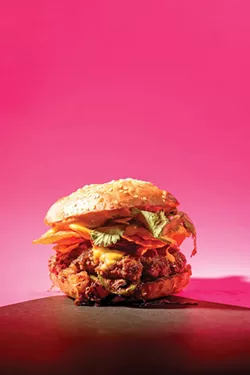 Burger Punk / provided
Burger Punk's The Clash features American cheese, Nacho Doritos and fried onions and jalapeños.
If seafood's your thing, drop into The Drake Seafood & Oysterette, 501 NW 23rd St., where you can catch a bowl of Boston clam chowder, cornmeal-crusted catfish with housemade hushpuppies or the Black Mac and Chicken with squid ink spaccatelli, Grana Padano cheese and red pepper.
If your heart's set on more traditional concert fare, keep an eye out for the Burger Punk food truck, which is often stationed outside Ponyboy bar, 423 NW 23rd St., and sports a music-themed menu underneath its truck-sized mohawk. Chow down on burgers such as The Clash (American cheese, Nacho Doritos, and fried onion and jalapeño), Eggy Pop (American cheese, bacon marmalade and a fried egg) and Green Daze (a Beyond Meat veggie patty, American cheese and "punk sauce") while you argue with your friends about who's a punk and who's a poser.