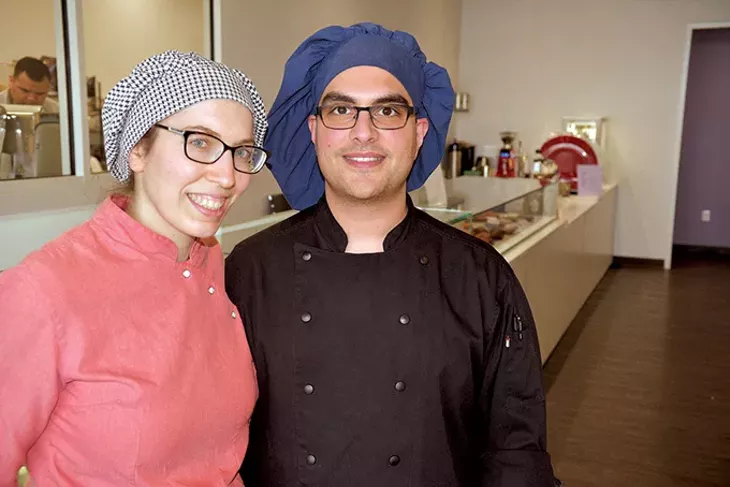 Jacob Threadgill
Ganache Patisserie owners Laura Szyld and Matt Ruggi trained in European kitchens in Argentina and France before moving to Oklahoma.
Traditionally, ganache is the combination of warm cream added to chocolate to create an icing or filling for a variety of confections.
It's the elevation of two simple ingredients that highlight the ethos behind Ganache Patisserie, the brainchild of European-trained pastry chefs and husband-and-wife duo Matt Ruggi and Laura Szyld, which opened in the Chisholm Creek development located at 13230 Pawnee Drive in March.
"The idea of mixing two simple ingredients and getting so much flavor out of it, that's what we believe is our pastry shop," Szyld said. "It's simple ingredients that if they are really good, you don't need more that that."
Ruggi and Szyld met in Argentina, where Szyld was born and raised; Ruggi moved from Italy as a young child. The couple has trained in intricate European-style pastries in Argentina, Paris and across Europe and operated a successful catering business in Buenos Aires.
Jacob Threadgill
An opera cake with layers of raspberry, dulce de leche and white chocolate is joined by below a variety of ganache-filled macarons.
Szyld's father got a job with University of Oklahoma a few years ago and immediately began raving about the city to his daughter.

"He really liked it and told us to check it out. He felt like it was a secret; 'Just don't tell anyone else that everything is 15 minutes away,'" Szyld said.
Ruggi said they enjoyed all of their food experiences in Oklahoma City, except when it came to the dessert portion of the menu. He got excited about the idea of being the first patisserie in a big city.
"When we got here and saw the city growing infrastructure but also food offerings, I was expecting steakhouse after steakhouse, which would make me happy, but then we saw a variety of different cuisine like Korean food and ramen," Ruggi said. "If people are as open-minded enough to try it, they might as well be for pastry."
The menu at Ganache Patisserie features ornate cakes and tarts like a cheesecake with white chocolate mousse, colorful ganache-filled macarons available in 14 flavors, dark chocolate bonbons, European-style croissants and savory breads, including three sandwich and salad options.
The transition from Argentina to a business in Chisholm Creek is the culmination of nearly a three-year process after originally visiting Oklahoma City. They spent time in Connecticut with Ruggi's family while he tied up loose ends with the catering company.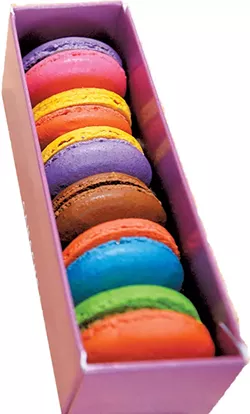 During visits to Szyld's family in Oklahoma, the couple said that they spent a month going to every bakery in Oklahoma City and Edmond to look for a good location for the shop. After nearly coming to terms in Midtown, a realtor suggested the burgeoning Chisholm Creek development.
They signed a deal in March 2017 before an influx of some of the city's most well-established restaurant groups like A Good Egg Dining Group (Republic Gastropub) The McNellie's Group (Yokozuna) and Provision Concepts (Hatch and Sidecar Barley & Wine Bar) opened in the development.
The couple returned to Argentina to await the immigration process before a full-time move to Oklahoma and returned seven months later to find a booming development of retail shops and restaurants that complement Ganache's offerings.
"It's crazy how much Chisholm Creek expanded, and it's still growing," Ruggi said.
On Mother's Day, a brunch crowd gathered outside Hatch next-door, and the next thing the couple knew, they had a line from the cash register to the door.
"We didn't expect any of this," Szyld said. "What I really like is when people come back or had a neighbor who brought them a pastry and came in because they needed another one. The idea of being able to advertise just with our product is a great feeling."
The couple's commitment to baking everything from scratch daily is a labor of love. They come into the bakery around 6 a.m. and leave most nights after midnight. They've had help in the kitchen but hope to get more as they continue to train staff.
The move to Oklahoma has led to a few unexpected bumps in terms of the means of production. Increased humidity means that recipes have to be tweaked to prevent pastry from falling under the weight of added water molecules.
"Even from two weeks ago, when the humidity picked up, we noticed that breads and croissants were out of shape," Ruggi said. "The refrigerated cases have gotten foggy. It wasn't like that last week."
They run into issues with European suppliers wanting guarantees on order amounts and had to stock up on Belgian chocolate because the supplier didn't want to ship during the summer heat.
The difference in style between Ganache's baking and its U.S. counterparts is apparent in its croissants, which rise and spiral in the middle and finish to a pointed end rather than the rounded edges with lighter crust than the mass-produced versions in the U.S.
"I wouldn't call it a croissant," Ruggi said. "It's like a bread in the shape of a croissant."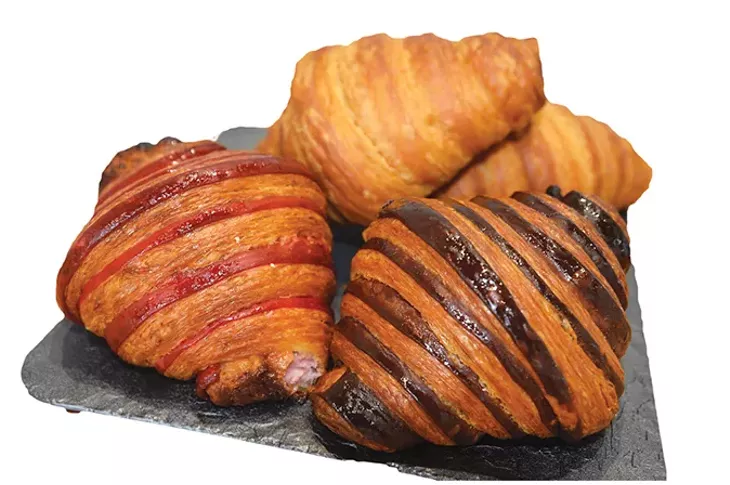 | Photo by Jacob Threadgill
A variety of Ganache Patisserie crossaints include strawberry cream cheese, plain and chocolate.
"I could eat [the U.S. version] warm and it's good, but it's not what I know as a croissant," Szyld said. "You need the flakiness that is created from the steam of the butter."
The couple said that every compliment they get from new guests fuels their late nights at the bakery.
"I had two older gentleman come in a few weeks ago, and while eating a chocolate croissant, they called me over and said 'Son, I've been looking for 30 years. I was deployed in Germany, and I've dreamt of this taste. Thank you for being here,' and he drove all the way from Mustang to try it," Ruggi said. "It made me happy."
Visit ganacheokc.com.