A stack of pancakes at the Hungry Frog Restaurant. mh
"This is worth the rash."
Gluten doesn't agree with Tracey, nor she with it. They are in a near constant state of disagreement. But when the pancake came out, they achieved a brief détente.
"This is the best pancake I've ever had," she said. "Like, the best ever. How do they do this? Can you do this? Why can't I make pancakes like this?"
Perhaps it has something to do with the griddle, I surmised. Or a secret ingredient. Or the fact that the cook at Hungry Frog Restaurant, 1101 N. Pennsylvania Ave., has been working there nearly 30 years, according to our waitress.
He has almost certainly made more pancakes in his life than you or I will ever eat in ours.
There are many questions about Hungry Frog. When did it get these snazzy purple booths? How is anybody supposed to eat all this chicken-fried steak? And why is the word "diner" in quotes on the Hungry Frog sign? This is a diner. It serves diner food, and it does it well. It doesn't need quotes. This is just what it is.
But the question I'm asking myself is, "Why did it take me so long to eat here?"
The pancake is maybe the best $1.70 you'll ever spend. It's light and fluffy, but the edges are lacy and crisp. There's a hint of vanilla and some other seasoning I couldn't place. But it didn't need butter. It didn't really need syrup. It was just plain good. (If one is not enough — and it isn't — you can get three for $3.95.)
For a heartier breakfast, it's hard to do better than the chicken-fried steak and eggs ($9.95) with your choice of potato and bread. The steak itself is large enough that strangers will ask if you need help, and you might be tempted to accept it. Hand-breaded, with meat pounded into delicious submission, it's a favorite.
The biscuit that came with it was large and tall, like my favorite men's store, and perfectly fluffy. When I asked for crispy home fries, I got them. And the eggs — over medium, of course — had perfectly set whites and lovely, runny yolks.
All breakfast items are served all day, because breakfast should always be served. But if you're one of those weirdos who like lunch foods at lunch, there are options.
The chicken fingers ($7.50 for three) were quite large, though a little tough. The fresh breading was a plus, but the chicken itself required a good deal of gravy to go down easily. If your kids refuse to eat anything but boneless fried chicken, this is what you want.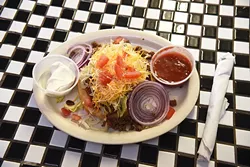 Mark Hancock
Indian taco
For my money, which is a currency accepted at Hungry Frog, the Indian taco ($6.49) is the way to go. The fry bread is thick enough to stand up to the prodigious pile of toppings, and the whole affair showed an overall lack of grease.
"Indian tacos are supposed to be greasy," my dad once told me.
So you might not like it as much as I did, but I thought it was fresh, flavorful and filling.
The beans and ground beef were cooked and seasoned well, the lettuce was ... well, it was lettuce. When I doused the taco in a Pace-style salsa, it was like visiting the state fair without worrying about people taking pictures of me driving around in my Rascal.
The taco salad ($7) is remarkably similar to the Indian taco, but with tortilla chips instead of fry bread. Use this information as you will.
Hungry Frog has been there for 40 years, but the booths are quite a bit newer and have a kind of '57 Cadillac feel to them. The decor is clean but old school, just like the clientele. Folks who sit at the counter are liable to chat with their fellow diners and waitresses. There are ceramic frogs everywhere.
Specials are written on a dry-erase board and taken down when they sell out, which is often.
There's no pretense at Hungry Frog Restaurant, even with quote marks around the word "diner." It serves up the classics for breakfast and lunch six days a week. Or possibly there's a wizard in back who is enchanting pancakes. Who can say?
All I know is I'm going back.
Mark Hancock
Hungry Frog Restaurant, at the corner of NW 10th Street and Pennsylvania Avenue.
Print headline: Jump in, Even gluten haters will love these irresistible pancakes.