National Cowboy & Western Heritage Museum / provided
"On The Oregon Trail" by Benjamin Wu
The "prix" in Prix de West is French for "price," but Susan Patterson, curator of special exhibits at National Cowboy & Western Heritage Museum, doesn't want people to see the annual art exhibition and sale as cost-prohibitive.
"I think often people associate this show with high-priced art," Patterson said, "but we do have our lowest price this year as $850. So we do have a broad range of pricing, from $850 to $125,000 and everything in between. So if someone is truly interested in becoming a collector, we just encourage people to come out and look at the show and not be intimidated by price point."
The exhibition, now in its 46th year, begins Friday. While spending tens of thousands of dollars on a painting or sculpture is impossible for many art lovers, and the evening auctions, dinners and receptions can cost hundreds of dollars to attend, National Cowboy & Western Heritage Museum also hosts daytime seminars, live art demonstrations and a panel discussion, "Finding My West," all of which are free to attend with regular museum admission (free-$12.50).
"It's really a wonderful opportunity for people who perhaps aren't yet able to attend the evening events but they would like to meet some of the artists just coming out to the museum and looking at the show. Viewing the show in galleries, they're bound to run into artists," Patterson said. "It's an exciting weekend."
Moderated by painter, sculptor and Oscar-nominated visual special effects director Randal M. Dutra, "Finding My West" is a panel discussion featuring landscape and wildlife painter Francois Koch, portrait painter Mian Situ and wildlife sculptor Kent Ullberg, all of whom immigrated to the United States from other countries. Patterson said the discussion is intended to offer different viewpoints of the American West, not to enter into the debate over immigration.
"Why did they come to America, what were they expecting, and how has their viewpoint changed in terms of calling America their home?" Patterson said. "It's truly not intended to be political at all."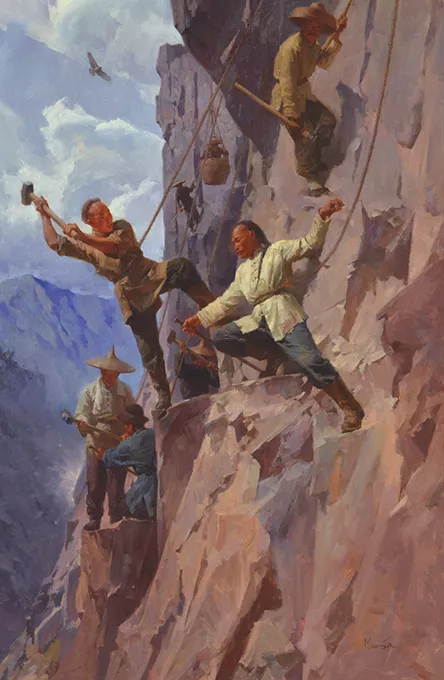 National Cowboy & Western Heritage Museum / provided
"Blasting a Route for Central Pacific Sierra Nevada Mountain, 1865" by Mian Situ
Western views
Viewing the West through a kaleidoscopic lens of viewpoints has been one of Prix de West's missions since the exhibition began in 1973 as the National Academy of Western Art.
"We have artists who tell stories about the historic West," Patterson said. "We have artists who tell a contemporary story. … Kang Cho, his 'Fiesta in the Plaza' is something he saw in Santa Fe on the plaza this year. We have a buffalo soldier by Dean Mitchell, who met this gentleman several years ago. So the show just features all aspects of the American West, past and present. It could be one of our wildlife artists who spotted a buffalo in his travels, or it could be someone who's depicting how the Native Americans viewed the buffalo one or two hundred years ago. … Mian Situ has brought an incredible painting of Chinese immigrants who helped build the transcontinental railroad in the 1800s, and we have Native American historic storytelling. We certainly have cowboys, and then we have wildlife across the board. We have still lifes. Just the subject matter of the American West is a broad scope of possibilities, and that's what's so exciting every year, to see how each of these artists interpret the American West."
Patterson has worked on the past eight Prix de West exhibitions, but the museum's emeritus curator Ed Muno has served as its primary exhibit designer since its inaugural year. Two artists — Taos, New Mexico-based painter Walt Gonske and Fort Washakie, Wyoming-based sculptor Richard V. Greeves — have been featured in the exhibition for 42 years. Patterson said watching artists develop over the years is one of the exhibition's highlights.
"If they're painting year after year after year, their work's going to continue to evolve and be stronger and stronger, and they may try different techniques," Patterson said. "And their viewpoint of the West may change, and they may evolve to where they're painting different subjects or they may be using a different medium. We have a handful of artists who are extremely talented in both painting and sculpture, so you may find someone who has typically brought sculpture all of the sudden start bringing paintings to the show."
Artists considered a "good fit with the show" are invited to return each year, but their new work is still judged for quality control.
"There's no guarantee that all of your work, or any of your work, will be in the show because it has to go through that screening process first," Patterson said. "There's an expectation that every year the show is going to be even better than the year before, simply because each of these artists brings another full year of growth and talent to the table."
National Cowboy & Western Heritage Museum / provided
"Cherokee Caravan" by Robert Griffing
New relationships
Two or three new artists applying to Prix de West are accepted each year, on average. If they're invited to return, they are considered guest artists for their first few years.
"When we're looking at a new artist, we're looking for someone who doesn't duplicate, perhaps, a style we're already representing in the show," Patterson said, "but we're always looking for consistent quality."
Establishing a connection between artists and patrons is also one of the exhibition's goals.
"My belief is that art is a relationship-building business," Patterson said, "and you just meet the artist or you meet the people who love your work and you watch these relationships grow, artist-to-artist and artists-to-individuals. It's really fascinating. Some of the staff have been here for decades, and everyone has a relationship to some of the artists who participate in the show. It's like old home week, Prix de West weekend, because you may just see people one time a year and it's at this show."
But the art itself is always the main attraction.
"For me, it's always about the artwork," Patterson said, "because we see the art on our website, but until you really see it in person and the exhibition is installed and you just walk in the galleries and it's just this 'aha' moment. All of the hard work and effort, of not only the artists but the museum staff in bringing together such a stellar event, is pretty awe-inspiring. For me, it's walking in the gallery once all of the work is installed and the labels are up and then watching the artists come in to see their work for the first time in this year's show is always very exciting and inspiring."
The art sale takes place Saturday night, but all Prix de West works will be on display at the museum, 1700 NE 63rd St., through Aug. 8. Visit pdw.nationalcowboymuseum.org.