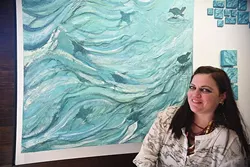 Chickasaw artist Cale Chadwick with her work "Ouzels Flying Through Water", with more of her work currently at Exhibit C. mh
Exhibit C, 1 E. Sheridan Ave. — Bricktown's first Native American-owned gallery — recently celebrated its first year of bringing native art and culture to Oklahoma City. The celebration included an opening reception for the gallery's new featured artist, Chickasaw mixed media artist Cale Chadwick. Chadwick's exhibit will be on display until Oct. 31.
"I'm inspired when I'm around fellow artists and when I'm in nature," Chadwick said. "Mixing mediums, coupled with my unique style that leans toward surrealism, makes my art stand out from the rest."
Chadwick is based in Oklahoma City and creates mixtures of painting, drawing and photography. She has won American Advertising Awards for her work in film and video.
She currently works for Chickasaw Press in the Chickasaw Nation department of history and culture.
Paige Williams, director of tourism for the Chickasaw Nation, said that preserving, celebrating and promoting the culture of Oklahoma's southeastern American Indian tribes is what Exhibit C is all about.
Exhibit C is celebrating one year in Bricktown at 1 East Sheridan. mh
"Oklahoma offers a variety of experiences and entertainment opportunities for visitors from across the United States and the world to explore and learn about native culture," Williams said. "Having Exhibit C located in Bricktown presents the more than one million visitors already stopping in to Oklahoma City's Bricktown district with the opportunity to embrace native culture, art and events while obtaining information about additional cultural tourism destinations in Chickasaw Country and throughout our state."
In its first year, Exhibit C has featured work from several notable native painters, including Mike Larsen, Billy Hensley, Brent Greenwood and D.G. Smalling.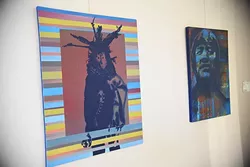 2 works by Chicasaw artist Billy Hensley, left, "Sacred", next to "Thorpe", currently featured at Exhibit C native art gallery celebrating one year open in Bricktown. mh
In addition to its rotating gallery of artists, Exhibit C hosts storytelling, live painting, jewelry shows and other events that celebrate native culture.
Exhibit C strives to promote native culture by acting as a tourism information center, using its gallery space to raise awareness of different native-themed cultural and tourist opportunities for those travelling through OKC.
Visit exhibitcgallery.com for more information on the gallery and upcoming events.
Print headline: Anniversary display, Native artist Cale Chadwick helps Exhibit C celebrate one year of Native American art in Bricktown.