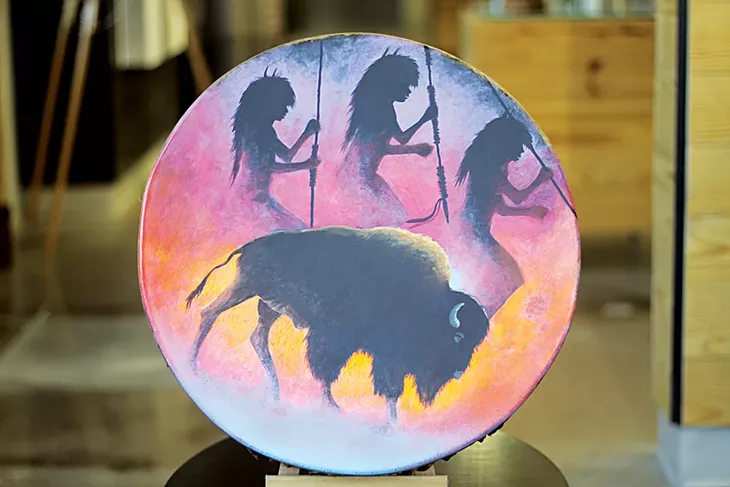 Exhibit C gallery and retail shop, 1 E. Sheridan Ave., hosts a painted hand drum exhibit through October. The upbeat exhibit showcases the Native American art form of stretching animal skin or leather over wood or pottery to make drums.
Seven Native artists, many of whom are presenting their first painted hand drum, are featured.
Paige Williams, Chickasaw Nation director of corporate development and tourism, said although the Bricktown gallery and shop typically works with the Chickasaw Nation, several other tribes also are represented in this show.
The exhibit includes Comanche, Chickasaw and Choctaw artist Tim Nevaquaya; Chickasaw and Mississippi Choctaw artist Jeremy Wallace; Navajo artist Marwin Begaye; Chickasaw artist Paul Moore; Chickasaw and Ponca artist Brent Greenwood; Cheyenne-Arapaho artist Brent Learned; and Cheyenne, Arapaho and Oglala Lakota artist George Levi.
Williams said the exhibit's goal is to bring awareness of a nontraditional art form to Bricktown visitors.
"Each drum has similarities but shows each artist's personal depiction and interpretation [of their culture], which vary drastically," Williams said.
Although the hand drums can be used like a powwow drum, Williams said most are considered works of fine art.
Exhibit C is open 11 a.m.-8 p.m. daily. Everything on display is for sale. Learn more at exhibitcgallery.com or call 405-767-8900.
In Davis
Through November, the Chickasaw Nation also highlights two artists in the southern region of the state. Featured artist Margaret Dillard displays her oil and acrylic paintings at Chickasaw Nation Welcome Center in Davis. Danny Beaver, an artist who specializes in stained and painted wood plates, is featured at Chickasaw Visitor Center in Sulphur.
Dillard, a Chickasaw Nation member, began creating art at a young age. Her grandmother was an original Chickasaw enrollee who is said to have been an artist. In a media statement, Dillard said creativity runs in her family and several work in differing art mediums.
"[Dillard] has been working since she was a small child, so her art has evolved," Williams said. "The way she interprets has evolved. It's transitional. … Having a strong Chickasaw woman to showcase that is important."
The Chickasaw Nation Welcome Center, located off exit 55 on Interstate 35 in Davis, hosts Dillard's work. Its hours are 9 a.m.-6 p.m. daily. Visit Chickasaw Country's website or call 580-369-4222.
In Sulphur
Beaver, a Muskogee Creek Nation citizen, uses traditional southeastern designs from the Mississippian Period atop wood plates. He said the designs tell stories of settlers and represent ceremonial periods of history. Through his art, he hopes to show that his history and culture is still thriving.
His work also is a potent stress reliever.
"I work full-time as a tribal police officer for Creek Nation. Being in law enforcement, you need a stress release," Beaver told Oklahoma Gazette. "Besides my family, I feel artwork is one of the best ways to relieve stress."
Beaver typically hand-cuts the items he works with, such as wooden plates, discs and war clubs. He then burns, stains, carves and paints them with traditional designs. A variety of his pieces are on display and for sale at Chickasaw Visitor Center in Sulphur, open 9 a.m.-6 p.m. daily. For more information on the center, located on the northeast corner of Broadway Street and State Highway 7, visit chickasawcountry.com or call 580-622-8050.
"To see an artist work in wood and what you can do with a raw element is perfect for where [the Chickasaw Visitor Center] is held," Williams said.
The venue shares office space with the National Park Service, due to a long-term partnership.
Williams said that Dillard and Beaver bringing their "creative, Native" art pieces to the centers allows the Chickasaw Nation to continue providing guests with Native cultural experiences.
Print headline: Art beat, An Exhibit C drum show and two other showcases highlight Native American art and culture.