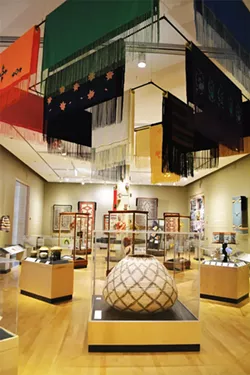 The Sam Noble Oklahoma Museum of Natural History hosts a new exhibit focusing on the ethnographic arts of native peoples of the Americas. Collision and Creation: Indigenous Arts of the Americas 1890-2015, runs through Feb. 28.
"The main objective of the exhibition is to highlight the ways in which the colonial experience … produced very difficult, trying and terrible times for native people," said Dan Swan, Sam Noble's associate curator of ethnology. "In a way, it's a celebration of not ... just the survival of indigenous people in the Western Hemisphere, but what we're highlighting are the artistic forms that emerged from that experience that had never been witnessed before on the face of the planet."
Swan picked most of the collection's pieces with Stephanie Allen, the museum's collection manager.
The works come from the United States and Central and South America.
An exhibition focal point is the new purposes native artists gave to raw materials and tools and their incorporation of a broad range of design elements. The impact colonialism had on their art ranges from the types of crafts used such as ribbon or beads from Italy and Czechoslovakia.
"It's a great example of this material form that had existed for centuries in Europe," Swan said. "It wasn't until those materials were traded through the colonial experience to indigenous people that we saw the emergence of these incredible new art forms."
However, settlers not only had an impact on the natives; indigenous communities affected colonizers, too. Their knowledge helped settlers in the new land.
"We can count the numerable ways society was [bridged] through the colonial encounter — all of the foods, the medicine, the geography — all of this tremendous amount of information that transferred to Europeans based on thousands of years of native experimentation and experience," he said.
The story of the colonial encounter with indigenous peoples begins in the 1500s. However, the exhibition focuses on 1890-2015 as part of Oklahoma University's 125th anniversary celebration.
"We have some wonderful pieces from Mexico, Central America and South America," he said. "I'm excited … to remind people that the indigenous population of the Americas move well beyond Oklahoma."
The stories that resonate in this state are just as accurate in the Amazonian rain forest, he said.
Pieces in the show feature beadwork, ribbon-work, woven mats, baskets, ceramics, basketry, parkas, boots, a canoe and Inuit snow goggles. Many works are by native Oklahoma artists.
Exhibition design is approachable and attractive, Swan said.
"We worked hard with the design … to make it extremely engaging so the text is deployed in what we think is a user friendly manner," he said. "It's not heavy with these large text panels. We want people to use the objects to the greatest possible extent to understand important elements of the history of the indigenous peoples of the Americas."
Print Headline: Native scene, A new exhibit showcases aboriginal American art as it was influenced by colonialism.