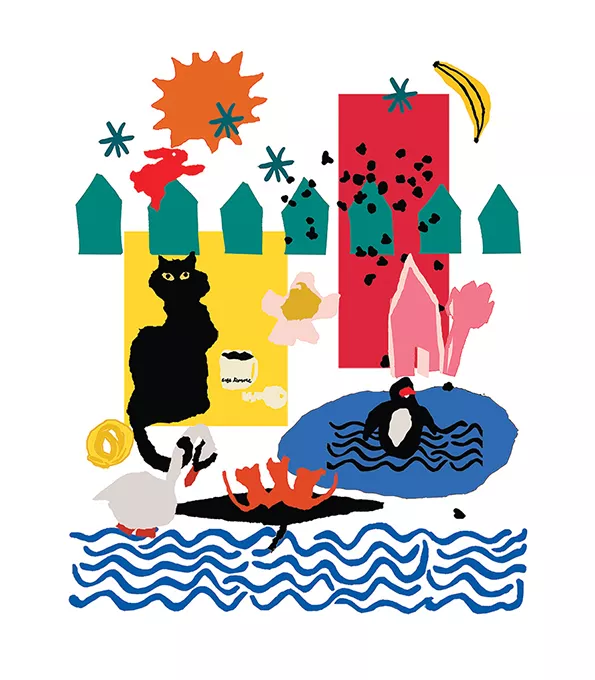 Ginna Dowling / JRB Art at the Elms / provided
"Noir's Tale" by Ginna Dowling
What does it mean to be a citizen? What does it mean to be a noncitizen? What does it mean to be human?
These are among the questions that JRB Art at the Elms owner Joy Reed Belt hopes visitors and patrons will ponder as part of a series of three solo exhibitions in July. The featured artists — Catherine Adams, Ginna Dowling and Rick George — could hardly be more different stylistically, yet each contributes to a greater thematic unity that lends the presentation its name: Identity.
"It's an essential theme of humanity," Belt said. "But besides that, it's beautiful work."
Old and new
Adams' exhibition, The Acute Charm of Ruin & Development, focuses on Cuba as a photographic subject. While her work documents the troubled nation at a specific political moment — the brief period that promised a warmer, economically beneficial relationship with the United States — Adams sought to capture deeper truths.
"I do not want to give the impression, via my photographs, I do not want to repeat the cliché that Cuba is just a mess," Adams said. "I would like people to know people are living with happiness, with joy, with enthusiasm, with dignity."
Viewers of Adams' work are invited to make an aesthetic connection with that lived-in reality. In doing so, they might recognize an undeniable humanity — even as Cuba grapples with its own issues of national identity in the post-Castro era and questions about the possibility of rapprochement persist.
"There are places that, for whatever reason, we as a country, we as a community are not encouraged to know or encouraged to understand, and I would like, through my work, to build a bridge to knowing something a little more about people from whom we are blocked off," she said.
Meanwhile, Adams' exploration of the changing relationships between countries continues. She has already embarked upon travels across the Middle East, the Caucusus and Central Asia, tracing a path that echoes the ancient Silk Road. She is especially interested in recording the effects of the tourist industry.
"Tourism is becoming a force internationally, particularly for countries where economic revenue is not necessarily easy to come by, and so they're reinventing themselves as tourist destinations," she said. "It's like a new form of Silk Road. It's a new connection that they can create with the outside world."
Vaguely similar themes reverberate through Dowling's contribution, Contemporary Hieroglyphy, whose much more abstract designs tell the stories of individuals from different countries and all conceivable demographic backgrounds.
Rick George / JRB Art at the Elms / provided
"For Rose" by Rick George
The project took conceptual root with a trip to Ireland, where Dowling observed the millennia-old hieroglyphs on the walls of several Neolithic monuments. Some were mysterious; others suggested immediate interpretations embedded somewhere in the collective human psyche.
She began to think about what modern-day hieroglyphs would look like, ultimately arriving at a kind of communal art. She invited participants to tear shapes and symbols from pieces of paper to represent objects or ideas that they consider central to their identities — for example, the resilience of a cancer patient. She then altered the glyphs according to her own artistic vision, careful to retain their intended symbolism.
"I have been able to work with people and individuals enough to know what the glyphs mean," Dowling said. "I feel kind of like the keeper of the stories."
As an artist with extensive installation experience, Dowling initially found it challenging to tailor her work to the gallery space. But she ended up with an exhibition that did justice to her project.
"It's fun to come in and try to figure out what they all mean," she said, "and they mean different things to everybody, which is very appropriate about art anyway."
Artist and illustrator George rounds out the group. Titled Illustrated Portraits, his exhibition centers on recognizable human figures that are exaggerated in a sympathetic manner, Belt said.
"They're not caricatures, but they have some of that quality," she said.
The portraits in question skew heavily toward famous rock musicians of the 1960s and '70s, now in their "old age," plus a few pieces on buildings and objects, George said.
"I've been a musician longer than I've been an artist, so I kind of gravitate toward musicians," he said.
Belt calls George's contribution the most personal — in the sense of being the most focused on the individual — out of the three artists on display. In this way, the combined effect of the exhibitions is to encompass countries, communities and individual people — three layers at which identity can exist, Belt said.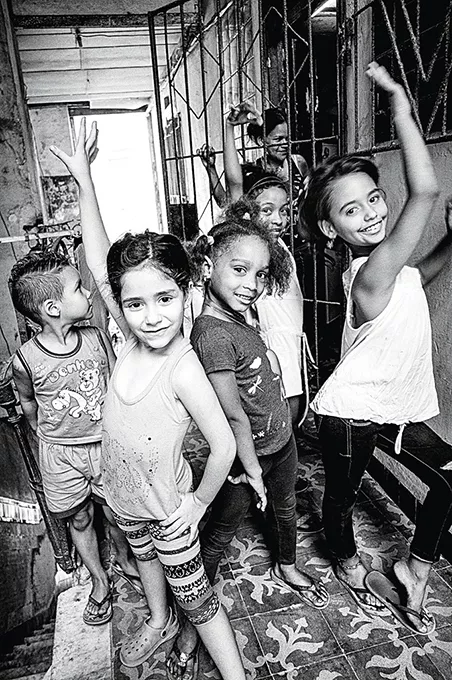 Catherine Adams / JRB Art at the Elms / provided
"Building 7.2 (Malecón), Havana, Cuba" by Catherine Adams
A positive note
To label the Identity series as purely political would be a mistake. For one thing, it was not scheduled to coincide with any recent headlines.
"We book our shows a year or two out, and I wasn't thinking about today's news when I booked it," Belt said. "But I was thinking that Cuba was a story that needs to be told, and as it turns out, it's very relevant."
For their part, and to varying degrees, each of the artists seems to convey elements of hope and joy in their work, a conscious defiance of the nihilism to which modern life makes it all too easy to succumb.
"Hardly anything I do should be taken very seriously," George said. "It's all got a little bit of humor in it."
Visit jrbartgallery.com.