provided
"Resolution" by Sara Cowan
Mainsite Contemporary Art opened its doors Oct. 12 to the new Touchy-Feely exhibit, featuring artists "who exploit the objectivity of paint in unexpected ways." As the name suggests, the works challenge the concept of traditional painting and sculpture in a marriage of unconventional techniques not normally staged in a Mainsite gallery.
Touchy-Feely is curated by Sarah Clough, a Baltimore-based artist originally from Oklahoma City who thought to turn the display into a hands-on exhibit, but the idea was nixed due to the fragility of the works. Instead, viewers can get close enough to fully appreciate the works, allowing them to experience the aesthetics of paintings that transcend the two-dimensional plane.
"I would say the theme is nontraditional painting or painting that's specifically tactile; painting that really doesn't rely on a flat surface or the conventional application of paint with brushes," Clough said.
Initially, Clough was looking for a place to showcase her own work. When she submitted her proposals, she turned in an additional request to curate a show of her own. After her approval, she and the other four artists began putting together the event currently on display.
Vivid palettes
One of the artists, Caitlin Albritton, is a Tampa, Florida, native. She and Clough met when they were graduate students at Maryland Institute College of Art (MICA). She pursued an artistic career after years of encouragement by her teachers who would often tell her she had "a natural knack at it."
"I was always interested in color and making things with my own hands," Albritton said. "I don't remember a time not doing it."
With a color palette usually in mind, she chose a lighter pastel theme for the works on display at Mainsite. She also changed her usual way of approaching the canvas by breaking away from her more structured and controlled form.
"I like that element of surprise from [my paintings] and truly playing with them and seeing how far I could push the paint sculpturally," she said. "And as a matter of fact, you could push it quite far."
Similarly, William Larason decided to step out on a limb with their pieces, dabbling with artistic mediums in which they don't usually work. For example, one of the bigger pieces on display at Mainsite, titled "Snakes," is an experimental work "raw from [their] sketchbook."
In fact, this is Larason's first time working with paint.
"It's been fun to wander into that world," they said. "Paint is almost opposite in nature than my main medium, gum wrapper foil."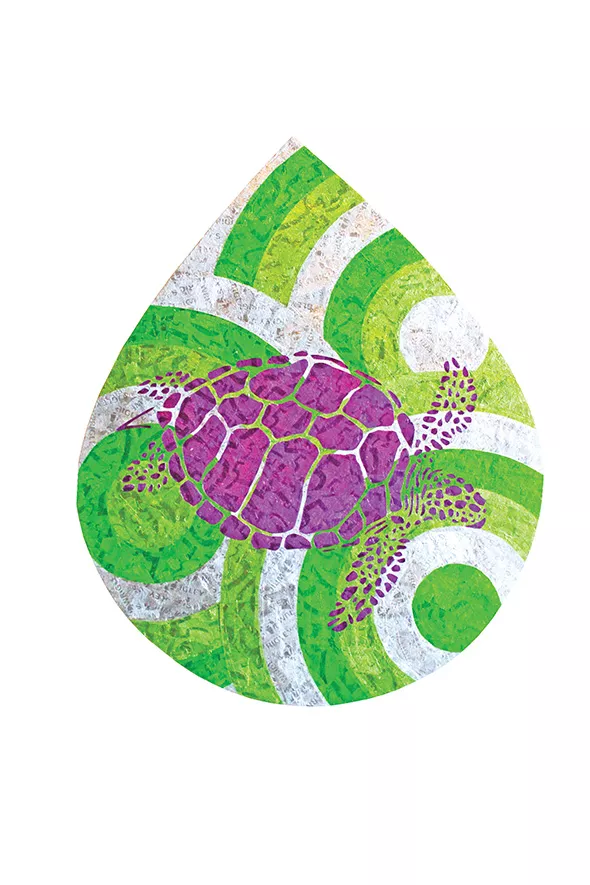 provided
"Floating #1" by William Larason
Invested in art since they were a child, Larason's parents made it a point to keep them involved. They described their passion for creative ingenuity as part exposure and part "natural gravitation of maybe something I've found innate to me. I'd like to imagine it's a mix of both. I got lucky with that one," they said.
Using bright color and symbolic abstraction, their works are easily recognized. A lot of time is put into deciding their next move when planning out a new piece. Due to the monotony of the process for some of their projects, they like to keep their workflow "slow and steady," otherwise it becomes "a bit of a wandering, unknown stroll."
Deluxe ambition
Sara Cowan is another artist Clough recruited for the show. Cowan and Larason met through DNA Galleries and have worked together in the Factory Obscura collective. He describes her as a true supporter of local arts in Oklahoma.
In January 2017, Cowan started experimenting with the style of painting she now has on display at Mainsite. For the past ten years she has been curating and putting together art shows of her own and only started to try her hand at the paintbrush within the last five years. Now she's pushing the limits of how far her paintings can go.
"I don't think any of us are using materials in a way that their manufacturers intended," Cowan said.
And this is just the twist Clough was looking for.
"The most interesting thing about this show is instead of really looking at a picture we're really looking at a material and a transformation of material," Clough said. "That's really what unites this show, the idea that painting is not always just a flat application of paint on a rectangle."
Rather than utilizing a unique artistic approach for its own sake, Cowan's work seems to tell a tale of its own.
From a distance, the pieces might only appear to be a series of striations and patterns, but with a closer look, a story unfolds "about how life events can affect the trajectory of a person's life, and each line of dots to me represents a period of time or an event in a person's life," Cowan said. "And the painting will show whether they could recover from it or whether it will always affect them."
Altitude and agriculture
The notion of running forward with a new idea is echoed by Cowan's fellow artist Sasha Backhaus, who grew up as a "small-town Iowa farm girl."
"I can be inspired by a number of things," she said, which makes it possible for her to take on multiple projects at one time while maintaining her creative flavor. "I call it using both sides of my brain."
Backhaus eventually moved to Baltimore to pursue her graduate studies in art. There she met Clough and the two have kept in contact since.
Backhaus is displaying a total of seven pieces in the show; three sculptures, two paintings and two photographs taken from an aerial drone. In some respects, the works are an intimate look into the transfiguration of a young woman moving from farm to city.
On the acres of crops where her childhood farm was located, the plants were anchored into the dirt "in a grid work of lines that move with the land." She recreated the images using bottled paint in the style of a pencil drawing that has a "texture and liquid quality."
The contrast between city and farm life also shines through in her sculptures and were created as part of her thesis while earning her master of fine arts degree.
"This work also encompasses the idea of me physically leaving my mark on the land and sparking conversation among anyone who comes across it," Backhaus said.
Galleries like this give artists of all kinds an opportunity to do just that.
"There's a lot of organizational kind of minutia that needs to be attended to, and there's unexpected problems that pop up when you're curating," Clough said regarding the event, though she is very much looking forward to the seeing the display for the first time.
"There's a bit of mystery to a lot of [the pieces]," she said. "My favorite part about it is just the unexpected nature of the paintings you're gonna see. … I thought those four artists would be a very good fit for a group show."
The Touchy-Feely exhibit will be on display at Mainsite located at 122 E. Main St. in Norman and runs through Nov. 10.
Visit mainsitecontemporaryart.com.