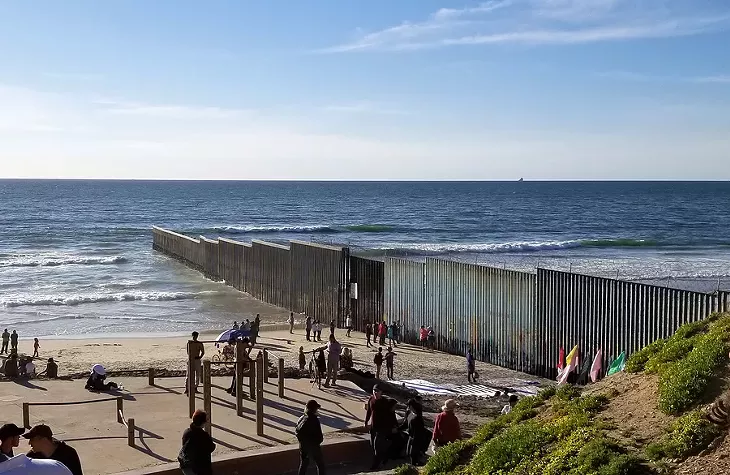 Photo bigstock.com
Migrants gather at the border at Playa de Tijuana, Baja California, Mexico.
Back in 2014, the Obama administration housed 2,000 unaccompanied migrant children in Fort Sill, an Army base near Lawton, Oklahoma. This decision followed a surge of people fleeing violence in Central America's northern triangle: El Salvador, Guatemala and Honduras.
Now, an exponentially larger migration surge from the same countries has left border shelters bursting at the seams, and Department of Health and Human Services (HHS) plans to house unaccompanied migrant children at Fort Sill again.


In a joint press release earlier this month, Sen. Jim Inhofe, Sen. James Lankford and Rep. Tom Cole, all Oklahoma Republicans, offered support for housing the children at Fort Sill. The senators also shared some explanations for the record surge of migrants that led Border Patrol officials to apprehend more than 11,500 unaccompanied minors in May.


Inhofe blamed former President Barack Obama, Democrats in Congress and failed immigration policies for the crisis, while Lankford pinned the matter on "legal loopholes."


"President Obama's policies invited these minors to come, and the Democrats' continued blockade against common sense immigration reforms, including building the wall, have perpetuated it," Inhofe said.


I reached out to Inhofe and Lankford's offices for clarification on which policies or loopholes they were referring to. Here's a rundown of these explanations for the migrant crisis, including the idea that US policies incentivize immigrants to cross the border with children.
Suspect No. 1: Legal loopholes
Inhofe and Lankford's spokespeople both referred to a 1997 settlement in a case called Flores v. Reno. This case refers to Jenny Lisette Flores, who as a 15-year-old girl from El Salvador, was arrested at the border, handcuffed and strip-searched before immigration officials refused to place her in the custody of her aunt. The Flores settlement requires the government to release migrant children after 20 days in detainment and to provide them with necessities, like food, water and emergency health care.
Similarly, Inhofe's spokesperson referred to a U.S. Supreme Court case, Zadvydas v. Davis, which bars the indefinite detention of immigrants.


Two more possibilities, according to Lankford's office, are the country's asylum provisions in general, as well as the Trafficking Victims Protection Act, which offers protections from removal for foreign trafficking victims regardless of their immigration status as well as eligibility for federally funded or administered programs like health care.


A 2008 reauthorization of the Trafficking Victims Protection Act expanded a provision known as the Special Immigrant Juvenile Status Law, which allows undocumented migrant children who meet certain requirements to obtain permanent residency. Susan Akram, a professor and director of Boston University School of Law's International Human Rights Clinic, said this law resulted in "significant consequences for teens" who hope to immigrate to the U.S.


"This is one of the main routes for unaccompanied minors to seek legal status and is a factor in pulling teens who are facing violence … to try to come to the U.S. and seek out more distant family members who can help support them," Akram said.


None of these laws are immigration loopholes in themselves. They set a bar for conditions immigrants face when they are detained and offer a few basic rights, like access to water and the right to not be placed in detention indefinitely. They also offer protections to vulnerable populations such as asylum seekers and trafficking victims that do include protection from deportation.


In that sense, offering asylum to individuals fleeing violence and giving removal protections to trafficking victims serve as incentives for immigrating here.


Lankford's spokesperson referred me to two senate committee hearings that suggested our laws incentivize immigrants to cross the border with a child. In a May hearing, Department of Homeland Security (DHS) acting secretary Kevin McAleenan said that the agency saw "multiple cases" of minors crossing the border multiple times with different adults. McAleenan referred directly to just two incidents, which suggests it is quite rare.


However, McAleenan said Department of Homeland Security investigators are focused on this issue at the border and using rapid DNA testing to determine if adults are related to children with whom they travel. McAleenan also said that DHS is "absolutely seeing" cartels taking advantage of moments where agents are devoted to a large group of migrants by passing people and contraband across the border while DHS agents are focused on the group.
Suspect No. 2: It's Obama's fault

Inhofe's spokesperson referred me to several policies claiming Obama was to blame, starting with something called "catch and release," where immigration authorities release asylum seekers or undocumented migrant children before their immigration hearings. This is similar to the bail concept in the criminal justice system that allows people accused of crimes to pay a court-ordered amount to "bail out" of jail with the understanding that they are required to return for court dates.
Luckily, The Washington Post already factchecked this, finding that the practice dates back to the George W. Bush administration, not Obama.


Inhofe also blamed Deferred Action for Childhood Arrival (DACA). This law is not responsible for the crisis, because DACA only applies to undocumented immigrants who came to the U.S. before they were 16 and who lived here since 2007.


Finally, Inhofe's spokesperson cited this 2014 Washington Post story that reported Obama's policies created rumors that migrants could get a "free pass" because of a new American law. The story attributed the surge of migrant children to this perception.


While she did not attribute this issue to Obama, Boston University's Akram added some credence to the idea that outside perceptions of U.S. law impact migration.


"Central Americans are aware of U.S. laws and policies that affect the ability to migrate," she said, "though the information they get is often inaccurate and misleading."


The main issue with blaming Obama for the migrant crisis is that he oversaw more deportations than any previous president, including Trump. This fiscal year, about 282,000 immigrants have been deported, compared to about 409,800 in 2012 under Obama.


Los Angeles-based immigration attorney Carl Shusterman mentioned a key difference between the Obama and Trump administrations' approach to immigration: Obama prioritized deporting criminals while Trump prefers to deport more broadly, with targets that include adults with families who have not been convicted of crimes.


"A lot of people can criticize (Obama's policies) and say he was not tough enough and he gave other people a pass," Shusterman said, "but Congress is who is going to have to supply the money. If they want more people than Obama deported, which would be quite a lot, they'd have to provide a lot more money for that."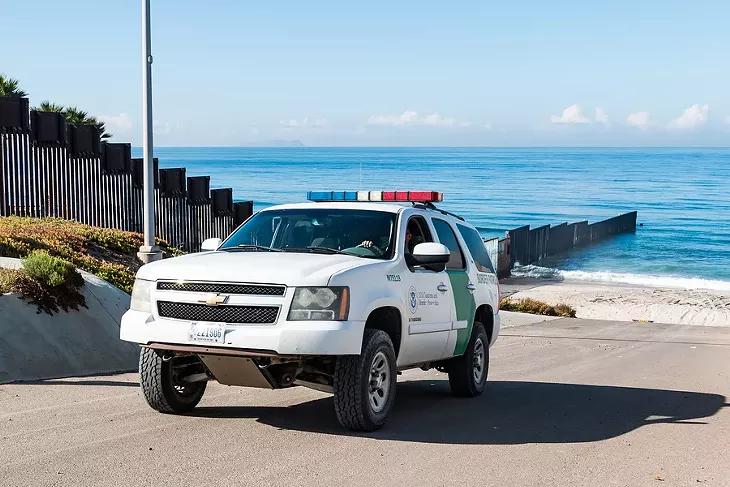 Photo bigstock.com
U.S. Sen. James Inhofe blames Democrats for the current immigration crisis, citing Democrat lawmakers' refusal to approve Republican reform measures.
Suspect No. 3: It is Democrats' fault.
When it came to how Democrats contributed to the crisis, Inhofe's spokesperson referred to Democrats blocking Republicans' immigration reforms and not considering legislation to withhold funding from sanctuary cities.
Suspect No. 4: Violence in the northern triangle
For the past four years, Akram of Boston University and her students have researched the northern triangle, which has some of the highest homicide rates in the world. Akram pointed out that the region also faces gang activity, weak political and law enforcement institutions and other systemic problems exacerbated by U.S. interventions.


Similarly, Shusterman views Central America's violence as the root cause of the migrant crisis.
"There's a lot of discussion about why that's true, but there are a lot of people that think the U.S. has meddled in the politics of those countries for many years," he said. "We've also deported a lot of gang members to those countries, and a lot of these people seem to be running the show."


Each of the northern triangle countries has its own constellation of factors that drive its residents to search for safety and better opportunities. For instance, Akram said that most migrants from the region are from Honduras, where a 1998 hurricane wrecked the economy and a military coup 10 years ago "unleashed new waves of violence." In 2016, Honduras had a higher rate of firearm deaths than Africa, Asia, Europe, the Middle East and the U.S. combined.


"As living in safety and dignity and being able to provide for one's family has become impossible, more and more Central Americans are trying to make their way to the U.S., where almost all of them have at least one family member (and sometimes entire extended families) who have been living here since the civil wars forced them out in the 1980s," Akram said. "The push factors have increased by magnitudes, while the pull factors of family and safety are seen as the only way to survive."
What does the government say?
I reached out to U.S. Customs and Border Protection (CBP), HHS, DHS and two other offices connected to immigration issues. Each agency was asked one question: What caused this migration crisis? All but one of the agencies did not respond.

In response to my question, a spokesman for CBP referred me to a transcript of a media call with the agency. In the transcript, CBP Acting Commissioner John Sanders and Border Patrol chief Brian Hastings both said that the overall migrant crisis was due to the perception in Central America that "if you bring a child you will be released." Sanders said of migrant groups in general: "As word of mouth and social media continues to spread the news of their quick release into the United States, more migrants are emboldened to make this dangerous journey."


Like Inhofe and Lankford, DHS previously blamed the Flores settlement for the surge of migrant children. In a press release, DHS referred to its inability to detain children for longer than 20 days. The agency argued that when minors are released to foster care or shelters until a sponsor is found for them, they often do not appear for court dates, a situation the agency claims incentivizes illegal immigration.


DHS also criticized the 2008 reauthorization of the Trafficking Victims Protection Act, because the law blocks the agency from simply returning children to their home countries unless they are from Canada or Mexico.
Our final verdict
The easiest way to think about immigration is that it is the result of two things – pushes, or reasons why people leave their native country in the first place, and pulls, the things that "pull" them to a specific place.

In this case, the main push is shattering violence, poverty and instability in the northern triangle. Migrants from these countries leave in order to survive.


Inhofe and Lankford correctly identified some "pulls" to the U.S. as well. These include anything that provides incentive for someone to immigrate to the U.S., from the possibility of asylum to misconceptions that the government broadly grants asylum requests.


Overall, blaming Obama for the issue does not make sense, given his administration's deportation record and the myriad changes the Trump administration has made to the immigration system.
Pinning this issue on Democrats also obscures these changes, which include policies and practices that make it more difficult to get student visas, work visas, immigrate legally and gain asylum.


All of this suggests that Democrats do not have much influence right now when it comes to immigration. For instance, a bipartisan deal in February fell short of Trump's demand for $5.7 billion to cover new border wall fencing but still allotted about $1.4 billion to the project. Democrats generally have not slowed or altered Trump's overall goals concerning immigration such as the administration's deportation crackdown.


I have to bring up that there are certain things I could not factcheck here. For instance, I cannot say for certain that McAleenan of DHS is correct in saying that adults are bringing the same children over the border multiple times or that cartels are taking advantage of moments when border agents are tied up with large groups of migrants. Difficult-to-verify information makes it even more difficult to sift fact from fiction when it comes to this topic.
This piece was produced as part of a partnership between Oklahoma Gazette and Big If True.
Contact Mollie Bryant at 405-990-0988 or bryant@bigiftrue.org. Follow her on Facebook and Twitter.