There are many reasons to be one of the hundreds of thousands of people who attend the Oklahoma State Fair during its 11-day run (Sept. 13-23), whether it's for the rides, performances, bull riding or indulgent food.
There are standbys like Dan's Indian Taco, cheese curds from D&D Concession or any number of funnel cakes and other deep-fried treats from Oreos to macaroni and cheese.
Part of the job of serving as staff writer for the food section at Oklahoma Gazette is engaging in the hedonistic exercise of serving as a judge for Oklahoma State Fair's Great TASTE of a Fair competition — you know, for journalism purposes.
Our portion of the competition involved 13 items from 10 of the fair's more than 60 food vendors.
Jacob Threadgill
The hot pepper hot dog from The Urb Express won the Slice of Savory category.
The Urb Express
This Chickasha-based food truck gets prime location in the Entertainment Plaza, between the Pavilion and Bennett Event Center. We tried Urb Express' honey pepper hot dog all-beef Nathan's quarter-pound frank topped with jack cheese, homemade honey mustard and honey pepper bacon. This is was a standout from the savory category. The dog is grilled on the flattop and also has a nice bite to it. The bacon was fresh and crispy and had a little heat to pair well with the honey mustard.
The s'more egg roll was an excellent and inventive idea, but I tried two pieces, and the marshmallow had completely disintegrated during the frying process, leaving an empty shell of an egg roll. If you're going to Urb Express for its great hot dog, get a side of funnel cake fries as a dessert instead.
CocoFlow Chocolate Shoppe
CocoFlow got its start at the 2003 State Fair and has been a staple ever since. Its booth will be located inside the Bennett Event Center, where guests can try chocolate-dipped fruits and other sweets in addition to savory options. It will be worth your while to stick with the sweets.
Its German chocolate brownie was a standout from the dessert round. It hit all the notes I wanted; the chocolate flavor was enhanced through chocolate chips, and the coconut topping provided an interesting contrast. The Cuban pork crêpe missed the mark for me. Even if the crêpe had been warm and fresh, the pork had a bitter aftertaste and there was no escaping the spicy mayonnaise.
MacTastic
This Norman-based food truck will get a prime Entertainment Plaza location near The Urb Express, and it delivers with a smoky, creamy version of macaroni and cheese. Its barbecue mac 'n' cheese has very good pulled pork atop macaroni and cheese full of smoked Gouda. Its deep-fried mac and cheese is dipped in a corn doglike batter and fried. It was my second favorite deep-fried macaroni and cheese of the day.
Jacob Threadgill
The mac 'n' cheese burger from Layne Conesssions won the New to the Scene category.
Layne Concessions
This new fair vendor is near MacTastic and won a lot of fans judging the Great TASTE of a Fair competition with a macaroni and cheese hamburger with deep-fried macaroni and cheese as a bun. The mac is much more of the "cuts like a cake" variety than MacTastic's creamy version and is coated in Japanese breadcrumbs before being fried. The pasta had good flavor, and I liked the crunch of the coating more than the soft exterior that comes from a batter like that of a corndog. The burger can be topped with traditional fixings, but I recommend just a little ketchup or hot sauce.
Rodney and Lisa Pizza
This fair couple has two stands: a pizza stand at the eastern edge of Gordon Cooper Boulevard and a caramel apple and cotton candy stand in the Entertainment Plaza. We tried the barbecue chicken bacon calzone, and it is one of the most impressive food items, weighing 3 pounds. It's more like an open-faced calzone, and while the bacon wasn't of the highest quality, the chicken was very good.
Jacob Threadgill
The watermelon pie from Cutie Pies Concession was the overall winner of the Great TASTE of a Fair competition.
Cutie Pies Concession
This innovative vendor is located near the Chickasaw Country Entertainment Stage on the Pavilion side of the plaza. It is offering unique creations like cotton candy, cherry lemonade and root beer float pies — that's right, pies! We tried the watermelon pie that had fresh pieces of watermelon mixed with watermelon cream and whipped cream topped with watermelon sugar, and it was a fresh and inventive dessert.
Guiltless Concession
With two booths, there are plenty of chances to try a fun sundae. The Cinn and Corruption sundae is soft-serve vanilla ice cream with chunks of a fresh cinnamon roll and was a no-frills example of a great sweat treat.
Harvells Ragin Cajun
Located on the eastern end of Kiamichi Place, Harvells Ragin Cajun is a purveyor of all things fried chicken. Its bacon chicken sandwich comes with a variety of house-made sauces like sweet and spicy barbecue. It's a solid sandwich.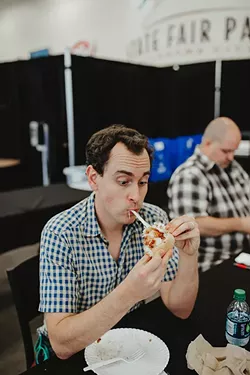 Alexa Ace
Oklahoma Gazette's Jacob Threadgill samples the barbecue chicken bacon calzone from Rodney & Lisa Pizza at the Great TASTE of a Fair competition.
Final results
The honey pepper hot dog won the Slice of Savory category, which was followed by MacTastic's barbecue mac 'n' cheese and Rodney and Lisa's barbecue chicken bacon calzone. Layne Concessions won the New to the Scene category for its mac 'n' cheeseburger, followed by Harvells Ragin Cajun chicken sandwich and A Latte Love Coffee House's piña colada lemonade. The watermelon pie won the dessert category and advanced to the finals against the hot dog and mac 'n' cheeseburger.
The watermelon pie was crowned the overall FAIRest of Them All winner, and it's easy to see why. It's an inventive dessert that is refreshing and an example of why people come to the fair to eat: to get something they can't find anywhere else.
Visit okstatefair.com.