Rachael Gruntmeir of The Black Scintilla said her shop will focus on exciting new textures in its fall line. | Photo Garett Fisbeck
The change in season brings around more than just a change in weather, holidays and pumpkin spice. It also ushers in one of the most versatile seasons for the fashion world.
Some trends change and some stay true throughout the years, and clothing stores in Oklahoma City are gearing up for both.
Trade Men's Wares, 1112 N. Walker Ave., Suite 102, is a family-owned men's retailer that aims to provide customers with styles that will last through the years.
"We kind of focus on doing timeless looks," said owner Daniel McLoud. "Our brands are known as rewriting the classics. As far as what we carry, it's more of the business and casual wear — something they can wear to the office and lounge around in the weekend."
Based on what McCloud is seeing from vendors this fall, patterned flannels are some of what will be popular.
"Everything has a pre-tailored cut to it. I foresee it as a lot of it having a rugged look and really outdoors-inspired." he said.
The season will also see an abundance of layering and earth tones.
"I'm excited for the field jackets, and the layering is going to be really fun this year," he said.
Although Trade Men's Wares works to keep up with current trends of the ever-changing seasons, it works to carry sustainable styles.
"When you purchase something, it's not just in style this moment like a lot of street wear is," McCloud said. "It's something that if you were to get it today, you could put it in your closet, pull it out two years from now and still have a really solid look."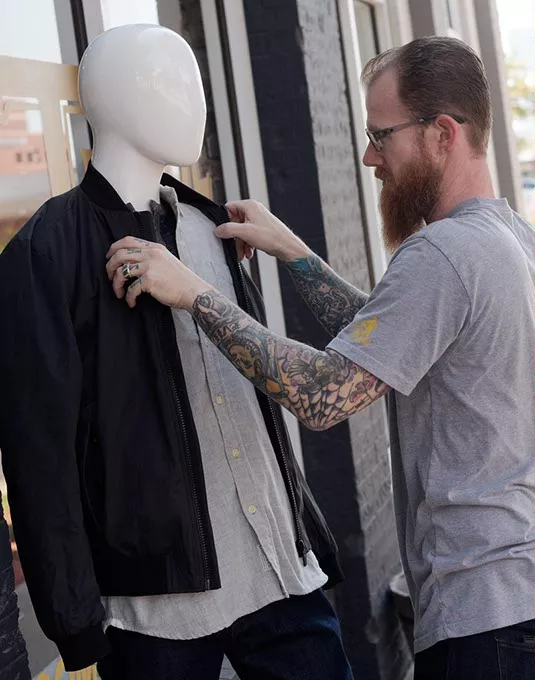 Daniel McCloud of Trade Men's Wares is breaking out a new line of field jackets for the fall. | Photo Garett Fisbeck
McCloud believes that autumn is one of the most exciting times for fashion.
"It's also when you get a lot more textures and fabrics, so a lot of comfortable clothing that looks good," he said.
McCloud also said in the spring and summer, stores might see two waves of releases, one each season, but in the fall, there are three to four different runs of releases.
Rachael Gruntmeir owns The Black Scintilla, 1112 N. Walker Ave., Suite 104, and is also excited about the fall collections coming to her store. Her store carries sizes 1 to 3XL and aims to provide women with a comfortable shopping space they can feel confident in.
This season, Gruntmeir said she's seeing items with elbow patches and large, collared coats and sweaters.
"There's going to be a lot of layering and textures, including cardigans and fringe," she said. "We're going to be getting cardigans in for the fall that'll be really long with the fringe on the bottom — a lot of big, warm stuff with a lot of great detail."
She's also excited about the bomber jackets that are coming back for the season.
"We've also got these really soft cardigans that I'm really very excited about," she said. " I think a lot of people are very textural, and this works with that."
Gruntmeir also said that transitional pieces are important for Oklahoma and her shop will be carrying pieces that cater to that.
"We don't have one thing that stays consistent from day to day, so we try to cater to that as well by offering transitional pieces that you can layer up with on your way to work, and if it turns out to be 80, you can take a layer off and still look work professional for the rest of the day." Visit trademenswares.com and blackscintilla.com.
This knit jacket from The Black Scintilla offers a colorful alternative to fall's typical earth tones. | Photo Garett Fisbeck
Print headline: Graceful fall