provided by Ashley and Ryan Fogle
There are few ways to get closer to a city than with a bike ride. For over four years, Ride OKC has illuminated a different, deeper side of the metro through their tours. Focusing on history, architecture, and local businesses, Ride OKC is committed to providing a communal experience rather than the rigid, congested tours that are commonplace.
Founded by Ryan and Ashely Fogle, the couple were inspired by a bike tour they happened upon in Vancouver while they were dating.
"I've been an avid cyclist before then, but I had never heard of a bike tour at the time," said Ryan. "We rode with a local, knowledgeable guide that showed us a lot of cool stuff we didn't find in the travel books we researched."
Additionally, Ryan and Ashley were taken aback by the social nature of the tour, as they quickly made friends with several of the other riders. When they returned to Oklahoma, the experience stuck at the back of Ryan's mind. An architect, Ryan was designing the south endzone of OU's football stadium when he was by the Museum of Art to lead a bike tour over downtown's architecture. Expecting attendance to be overwhelming, Ryan was taken aback as nearly a hundred people arrived ready-to-ride on a Saturday morning. Shortly thereafter, he led several other non-profits to inquire about tours. The local desire for such an experience was clear.
After completing his work at Owen Field, Ryan converted his bonus into the foundation for Ride OKC. Today, they operate with a fleet of twenty bikes and multiple guides. They offer private tours that require a minimum of three riders, as well as a regular cycle of brewery and architecture tours. Special editions outings, like the Halloween tour led by local author and supernatural historian Jeff Provine, have become annual traditions.
Due to the pandemic, many of the larger rides have been modified.
"With COVID, we've reduced our normal tours from 15 riders to 10. We've also heightened our cleaning standards, and the rentals we offer are now made through contactless delivery. Since we're primarily outdoors, we don't require face masks while riding, but they are necessary for our more immersive tours." Said Ryan.
There are several options available to those seeking to participate. Ride OKC allows participants to bring their own bike for a 20% discount off of their tour. For their rentals, Ryan and Ashley went through several prototype fleets before settling on the Priority Classic Plus from designer Dave Weiner. Lightweight, versatile, and innovative in its use of a belt system over a chain, Ryan found the model emphasizes comfort and safety.
Ride OKC also offers smaller versions of their bikes for children under 10-years-old. They also have wagons available for up to two children, and a co-pilot that converts the standard rentals into anoptional, tandem bicycle.
Each tour is approximately 10 miles and lasts from two to three hours. Despite the length, frequent stops and a casual pace makes Ride OKC an accessible option for anyone who is curious. Their guides are meticulous in charting their routes, avoiding any areas with steep hills and hazardous streetcar tracks.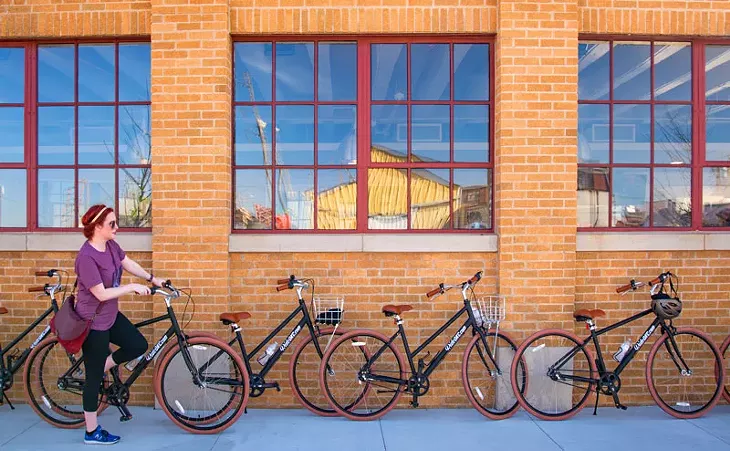 provided by Ashley and Ryan Fogle
"Ride OKC makes you feel like a kid again. Most of the people that ride with us haven't ridden a bike since they were young. Once you get that exhilaration of riding, it opens you up to see things in a different way, regardless of whether you're a tourist or a local." Said Ryan.
Ryan found most tours tend to focus on the big attractions, as if the only thing worth seeing and learning about is what would be printed on a postcard. Ride OKC isn't focused on just learning about the city, but being a part of it. Riders are not so much encouraged to go off-track as they are to engage in a conversation and to let their mind wander.
"Seeing the city through the eyes of a local is pretty hard to do sometimes unless you read a lot. Ride OKC is a good way for locals to reconnect with the city because there's always something new to see. We're everchanging." Said Ryan.
Just as the city has grown, so to have the aspiration of Ride OKC. Ryan has wrestled with the idea of converting the trailer into something more stationary, like a coffee shop, bar, or even a hostel similar to bike tours outside of the U.S. Additionally, Ryan feels there's potential for bike tours while outside of OKC. Cities like Norman and Guthrie offer a rich history that seems to have only been tapped by those closest to them.
However, there is still a vast amount of culture in the metro itself that is unfortunately
barred from safely touring by bike. Part of Ride OKC's mission lies in advocacy. Ryan finds much of the city's east and south sides are filled with local businesses and historically significant, but a lack of bike lanes makes it difficult for his team to plan tours in the areas. Thus, Ride OKC have become advocates for developing safe, new structures for bike riders and pedestrians. Ryan feels with a little bit of awareness and a presence at city council meetings, they will inevitably evoke change.
"I think every city has stories to tell, and we have a pretty good model to help tell them." Ryan said.
To book a tour or rent a bike, visit www.rideokc.com or call (405) 309-9696.