Forget pumpkin spice. It's Oktoberfest season, and Oklahoma's craft brewers have stepped up to the plate with their rendition of the seasonal lager. The Märzen, or March beer, is known for being malty and rich. The remaining bottles were traditionally served during Oktoberfest in Bavaria, which begins mid-September.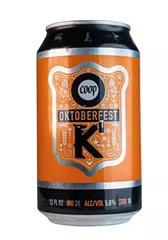 Phil Danner
Coop
Coop — OKtoberfest
Coop has been brewing its OKtoberfest for years now, and it's a personal fall standard. While the malt and yeast definitely shine through, it's easily the most sessionable beer of the lot, and, with an alcohol by volume content of 5.6 percent, it's easy to get through a six-pack and not regret it in the morning. Though the company's full name is Coop Ale Works, they produce a mighty fine lager each autumn.
Anthem — Oktoberfest
For hopheads who cannot imagine a beer without some of the bitter flower aftertaste, Anthem's Oktoberfest is right for you. Even though the IBUs listed on the can are only 20, which is pretty standard for a märzen, there's a taste of bitterness in the finish. The 5.5 percent alcohol content is also on par for an Oktoberfest beer rather than a hopped beer, though it may be the Viennese malts that are providing the bitter twist.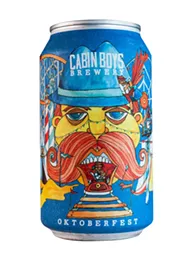 Phil Danner
Cabin Boys Brewery
Cabin Boys — Oktoberfest
The only Tulsa beer to make Oklahoma Gazette's fall beer list in 2020, Cabin Boys have been making a splash as a new small brewery and it's easy to taste why. Though billed on the can as a "festbier-style lager," it has the same flavor and finish reminiscent of a märzen (and only true beer snobs would know the difference anyway). With a 6 percent ABV, this one comes in a four-pack, but I wouldn't expect any to remain the next day.
Twisted Spike — Oktoberfest
Twisted Spike's Oktoberfest offering is definitely on the sweeter, maltier side of this year's autumnal offerings, but that's not a complaint. For those who prefer the heavier flavor in their autumnal beer, this one delivers. Even though the IBUs register at 30 for this brew, the malted flavor tamps down the Bavarian hops. At 5.8 percent, the weight of this beer's flavor will stop you before the alcohol content does.
Angry Scotsman — Save the Date
For Scots, they sure do German beers well. The Pilsner malt in this one hits first, but the Munich malt is quick to follow. Breadier than it is hoppy, it is still a bit on the dry side with a tinge of hops. This one is also richer than some, but goes down smooth and has a higher-than-average ABV (6.1 percent) for how malty it actually is. Also, a little harder to session unless you're an Oktoberfest trooper (which I am).
Phil Danner
Stonecloud
Stonecloud — Festival Pants / Country SlammerUSA Today listed Stonecloud as their #6 finalists in the top ten new breweries of 2019, but that's not a secret for any beer drinkers here. Their Festival Pants, a 5.6 percent festbier, is malty but gulpable and definitely on par with their other offerings. The Country Slammer also gets an honorable mention, even though it's a Viennese country beer and not technically a märzen or festbier, because of the overall flavor. Reportedly brewed from a recipe culled from an old book, this one definitely has the hoppier flavor of the Viennese malts but goes down smooth like a festbier. The Country Slammer also comes in a four-pack, but at 5.6 percent, they too will be gone by morning.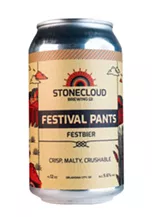 Phil Danner
Stonecloud