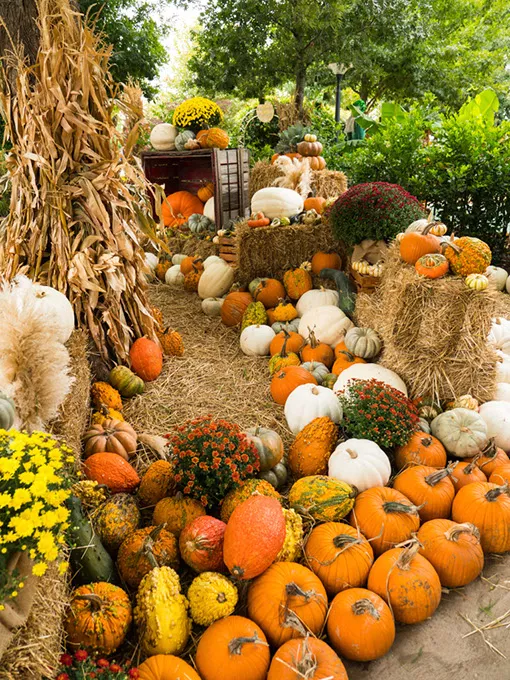 Carl Shortt Photography
Pumpkinville is Oct. 6-22 at Myriad Botanical Gardens. | Photo Carl Shortt Photography / Myriad Botanical Gardens / provided
Pumpkinville
10 a.m.-5 p.m. Oct. 6-22
301 W. Reno Ave.
405-445-7080
Free-$6
The sixth annual Pumpkinville at Myriad Botanical Gardens returns with over 16,000 pumpkins to enjoy. This downtown OKC tradition includes crafts, pumpkin displays and special events like Pumpkinville Sensory Night, Pumpkinville Halloween Party, the Pooch Parade and more.
Orr Family Farm
10 a.m.-9 p.m. (hours may vary)
Sept. 23-Nov. 11
Orr Family Farm
14400 S. Western Ave.
405-799-3276
$10.50-$34.50
Adding new special attractions to its fall lineup this year, Orr Family Farm welcomes all ages to partake in its pumpkin patch, corn maze and many other events on its sprawling acres. Special activities like apple-shooting cannon blasters, hayrides, Zombie Apocalypse Paintball and more will awaken your inner child during the cooler months.
Parkhurst Pumpkin Patch
1 p.m.-6 p.m. Thursday, 10 a.m.-8 p.m. Friday-Sunday through Oct. 29
Parkhurst Ranch
720 S. Henney Road, Arcadia
405-315-7392
Free-$9
Bucolic adventures at Parkhurst Ranch await with a pumpkin patch complete with tire swings, hammocks and fire pits. Enjoy the corn maze, pony rides, petting zoo and hay rides at one of the metro's most popular pumpkin patches.
Reding Farm and Corn Maize
6-10 p.m. Friday, 10 a.m.-10 p.m. Saturday and 1 p.m.-6 p.m. Sunday Sept. 29-Nov. 5
614 Reding Road, Chickasha
405-222-0624
$10-$40
Grady County gets in on the fall action with Reding Farm's activities and Corn Maize. At 36 acres, it's the largest corn maze in Oklahoma. Casually stroll through the maze or challenge yourself with the spookier Haunted Maize in the evenings.
Chester's Pumpkin Patch & 3-Acre Mystery Maze
9 a.m.-6 p.m. Monday-Saturday and 1-6 p.m. Sunday Sept. 30-Nov. 5
Chester's Party Barn & Farm
5201 Cimarron Road, Piedmont
405-373-1595
Free-$10
Chester's 2017 Pumpkin Patch and 3-Acre Mystery Maze invites all ages to celebrate fall with hayrides, giant slides, games, pony rides, pumpkins and mazes. This family-friendly farm provides dozens of picture-worthy moments throughout the season.
Chieftain Band Pumpkin Patch
10 a.m.-7:30 p.m. Saturday
and 1 p.m.-4 p.m. Sunday Oct. 7-29
Seminole Reynolds Wellness Center
1001 E. Strothers Ave., Seminole
Free
Head out to Seminole for memory-making activities at Chieftain Band Pumpkin Patch. The venue's events include games, face painting, mazes, hayrides, photo areas and concessions. Keep an eye out for scheduled movie nights and pumpkin sales throughout the season.
P Bar Farms Corn Maze
2-10 p.m. Tuesday-Friday, 10 a.m.-10 p.m. Saturday and 1-6 p.m. through Oct. 28
1002 Old 66 Road, Hydro
405-556-1069
$7-$15
A new maze design graces P Bar Farms each year, and 2017's corn maze will not disappoint. The entire farm offers farmyard activities, train rides, petting zoos and all the pumpkin essentials. Bring the entire family to enjoy the venue, or wait until dark for Haunting at the Farm events.
Pumpkin Palooza & Punkin' Chunkin'
8:30 a.m.-5 p.m. Sept. 30
Highway 183 & 9, Hobart
580-515-6594
Free-$10
If fall inspires your more primal instincts, check out Pumpkin Palooza in Hobart. With pumpkin launchers boasting names like Death Star, this festival is full of food, games, contests and some gnarly pumpkin carnage. Throw and chunk your own, or bring a lawn chair to enjoy the simple magic of these autumnal fruits smashing into the earth.
Lake Eufaula Stables Pumpkin Patch
9 a.m.-7 p.m. Saturday-Oct. 31
Lake Eufaula State Park
111563 Oklahoma Highway 150, Checotah
facebook.com/lakeeufaulastables
918-360-7775
$5
The fourth annual Pumpkin Patch provides family fun in scenic Lake Eufaula State Park. This year's pumpkin patch includes pumpkins, panning for gems, hayrides, pumpkin painting, a hay maze, a playground and games.
Pleasant Valley Farms Winter Squash and Pumpkin Festival
9 a.m.-8 p.m. Oct. 14-15
22350 W. 71st St., Sand Springs
918-248-5647
$1
Pleasant Valley Farms welcomes over 30 vendors at its Winter Squash and Pumpkin Festival in Sand Springs. New to the venue this year is a corn sheller and gristmill demonstration, 18-hole miniature golf course and barnyard animals. If you've got too many pumpkins on your hands, feel free to watch them fly in the Punkin' Chunkin' cannon, or enjoy relaxing evenings with local bluegrass musicians.
Hugo Pumpkin Festival
4-7 p.m. Thursday, 12:30-7 p.m. Friday and Saturday, 1-5 p.m. Sunday Oct. 5-29
Highway 93 and E. Kirk Road, Hugo
580-317-8470
Free-$20
Need a nearby getaway this fall? Hugo Pumpkin Festival is happy to provide an autumn getaway with hayrides featuring elephants, a giant Kangaroo Air Pillow, zip lines, bounce houses, a hay mountain and more. No matter how relaxed or active, there's an event for everyone at Hugo Pumpkin Festival.
Print headline: Great pumpkins; Nothing says fall like a good pumpkin patch and festival, and Oklahoma is full of them.