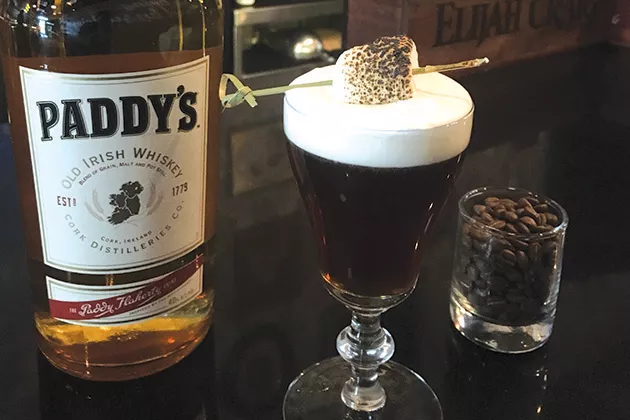 Jacob Threadgill
Irish coffee at Ponyboy is made with KLLR Coffee and available year-round but is perfect for the winter and fall.
Fall means it's time to transition from cocktails that cool you down to ones that warm you up with heat and spices. Oklahoma Gazette spoke with some of the best bar programs in the city to see what they have in store for the season.
Barkeep Supply
1121 N. Walker Ave.
barkeepokc.com | 405-604-4741
Midtown's Barkeep Supply is not only a one-stop shop to create high-end cocktails at home; it's also a laboratory where owner Julia McLish and a talented staff of bartenders can show off cocktail recipes and brainstorm with customers to make the drink of their dreams. McLish shares her recipe for the plum sour.
"It's nice and light, with a velvety texture and a soft, fruity taste that makes it the perfect transition-to-fall cocktail," McLish said.
Plum Sour
Ingredients
1 1/2 oz. dry gin (we use Broker's)
1/2 oz. Licor 43
3/4 oz. fresh lemon juice
3/4 oz. plum simple syrup
1 egg white
3 drops Bob's vanilla bitters
3 drops Bittermens Krupnik Herbal Honey Bitters
Directions
Combine all the ingredients into a shaking tin. "Dry shake" without ice to incorporate the egg white. Add ice and shake the mixture again to chill. Strain the mixture into a cocktail glass and garnish the drink with drops of vanilla bitters.
Plum syrup recipe: Heat 1 cup of sugar, 1 cup of water and four peeled plums, stirring frequently. When the syrup begins to boil, muddle the fruit and strain it. Store it in the refrigerator.
Stitch
835 W. Sheridan Ave., Suite 100
stitchokc.com | 405-212-2346
With the opening of Stitch in West Village, Stitch has added a bar and cocktail program in addition to coffee. Owner Chad Grubbs shared the recipe for the Puffy Jacket cocktail, which he said is a seasonal riff on the classic Moscow Mule.
"The Bluebird Alpine Liqueur and rosemary to bring in the fall spices while keeping the fresh zest of a traditional Mule with the ginger and lime," Grubbs said.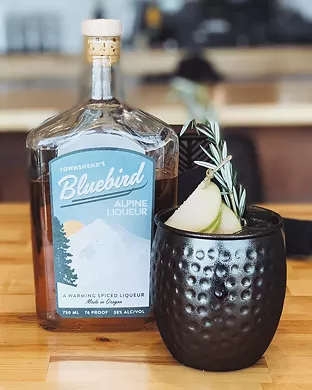 provided
The Puffy Jacket at Stitch is a seasonal take on the Moscow Mule.
The Puffy Jacket
1.5 oz. Townshend's Distillery's Bluebird Alpine Liqueur
1 oz. lime juice
.75 oz. Ginger Strong Tonic
.5 oz. rosemary simple syrup
2 dashes Angostura Bitters
3 oz. Topo Chico
The Daley
500 Paseo Drive
fridasouthwest.com | 405-683-7432
Since opening two months ago, not only has Frida Southwest delighted guests with upscale Southwestern food in a dynamic space, but its standalone speakeasy concept The Daley is delivering a chophouse menu with stellar cocktails.
Bar manager Gabbi Lee said that The Daley debuts an ambitious concept menu for the fall and winter: Around the world in 14 drinks.
"We are each taking the time and care to craft cocktails that represent some sort of dish or drink in a country," Lee said. "It's been an awesome experience, as each of the girls and myself have different travel experiences, backgrounds, and we have been reaching out to locals in the culinary scene for guidance. For example, our cocktail for Mexico is Mexican Street Tacos; we are washing chorizo in rum, using cilantro, lime, house-fermenting a tepache and creating these incredible garnishes that change the flavor profile of the drink as you consume them. It's wildly ambitious, but I'm feeling so confident about it. We've been putting in a lot of long hours and research to execute this perfectly."
They will also be creating a Zero Proof menu, which is a way to showcase nonalcoholic specialty drinks that will be available for The Daley and Frida. With the use of Seedlip distillates as a base that have zero sugar, Lee said she was challenged to create a menu that is as well-crafted as its signature cocktails. The menu will include about seven drinks that include a zero-proof vermouth for alcohol-free martinis with a curry pickled squash for garnish for which a brine can be used to make a dirty version of the martini. There will also be a "no-groni" that with have the same bitter bite as a Negroni. It will have a pumpkin spice Mai Tai and a chai tea-based fizz for more seasonal flavors.
"This is about giving a sense of inclusivity in an industry that can promote vices," Lee said. "For whatever reason someone is choosing to abstain, I want to allow them the same experience as their friends."
Ponyboy
423 NW 23rd St.
ponyboyokc.com | 405-602-5985
Ponyboy is now under the management of Tower Theatre after being founded by 84 Hospitality Group. It is continuing the things that made it a great pre- and post-show place to get a drink while increasing its offerings as a music venue. Ponyboy debuts its
new seasonal menu Oct. 1, but it's the best place in the city to enjoy an Irish coffee, which you can enjoy year-round. Made with nearby KLLR Coffee as a base, Paddy Irish Whiskey is combined with demerara syrup, an unrefined sugar, cream and a toasted marshmallow.
The Jones Assembly
901 W. Sheridan Ave.
thejonesassembly.com | 405-212-2378
In addition to being a concert venue and restaurant, The Jones Assembly has one of the city's best cocktail programs. Nathan Cover is the reigning choice for best bartender in Oklahoma Gazette's Best of OKC poll. The Jones debuts its fall drink menu at the end of September or early October, according to director of operations Scott Marsh. The menu will include one of the most popular cocktails from last year: The Collusion. The drink is coffee-infused Russian Standard vodka, Ramazzotti, Gosling's Rum, Grind Espresso rum liqueur, housemade horchata and cardamom syrup black pepper.