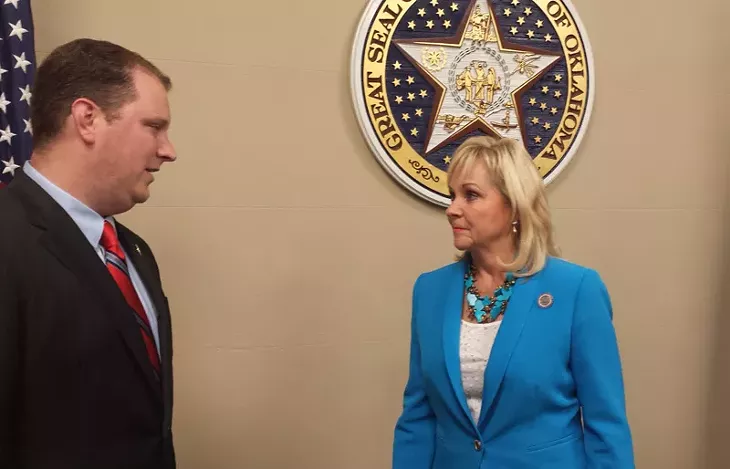 Ben Felder
Rep. Jon Echols, R-Okla. City, joined Gov. Mary Fallin at a press conference to announce support for a study into CBD oil.
If Oklahoma's medical marijuana supporters have asked for a mile, then Gov. Mary Fallin seems willing to give at least an inch.
Fallin remains opposed to marijuana legalization, including for medical treatment. But at a Wednesday press conference, she announced her willingness to consider legalizing cannabidiol (CBD) oil on a trial basis, joining a wave of lawmakers in several other conservative states that have embraced this product, which is produced from marijuana.
"I am not for legalizing marijuana in Oklahoma, nor am I for legalizing medical marijuana in Oklahoma," Fallin said, specifically referencing to two petitions currently circulating in hopes of putting a marijuana legalization ballot before voters this fall. "I do support allowing potentially life-saving medicine to find its way to children in need."
Research has shown that CBD oil is a possible treatment for a variety of health issues, including seizures in toddlers and children. CBD oil does not contain more than 0.3 percent of THC, the ingredient in marijuana that creates the stoned feeling.
Rep. Jon Echols, R-Oklahoma City, who is leading a legislative study into the use of CBD oil, joined Fallin on Wednesday and said his niece suffered from seizures.
"This is pretty personal for me," Echols said. "The legislative process moves slow ... I say that with a heavy heart."

Map shows where CBD oil is legal (yellow) and where medical marijuana is legal (green).
The politics of pot
Progressive lawmakers in Oklahoma — including Sen. Connie Johnson, D-Oklahoma City, who has filed several legalization bills — have argued for legalizing medical marijuana in the past. However, the majority of Republican lawmakers have remained opposed to the measure, even though a Sooner Poll last year found
71 percent of Oklahomans support medical marijuana
.
Fallin and the Republican Legislature might not be willing to embrace medical marijuana yet, but CBD oil has become a gateway drug of sorts in conservative states.
"What the CBD movement has done, I think, is brought in the soccer moms to the discussion," Josh Stanley, owner of a medical marijuana business in Colorado, told The Denver Post earlier this year. "It's brought in the mainstream, and it's brought in the conservatives."
Twelve states, mostly in the Republican South, have legalized CBD oil without legalizing medical marijuana.
Rep. Joe Dorman, D-Rush Springs, who is challenging Fallin this fall for governor, issued a statement today saying he was pleased to see the governor follow his lead on the issue.
"Fallin had staunchly opposed the use of cannabidiol oil in any fashion up to now, but suddenly she's in favor of it," Dorman said in the statement. "I'm not surprised she's flip-flopped on yet another issue."
Fallin was asked about the timing of her announcement and said she was unaware of Dorman's stance.
"I had no idea he supported this issue," Fallin said.
The legislative study could result in a proposed bill in the next legislative session, Echols said. When it comes to distribution methods and whether federal dollars would be involved, both Fallin and Echols said it was too soon to tell.