Garett Fisbeck
Kale and red quinoa salad at Slaughter's Hall, Tuesday, March 29, 2016.
The criteria for making it onto the new menus at Slaughter's Hall and WSKY Lounge are pretty simple, said head chef Jonathan Groth.
"I'm not trying to impress anybody. I'm not trying to make something you've never had before," he said. "I just want to make you the best version of the things you like."
Groth has been at Slaughter's, 221 N. Central Ave., and WSKY, 228 NE Second St., for about six months. He has spent that time working on redoing the menu.
"I didn't want to make it too dissimilar at first. It had to be a gradual change," he said. "You never want to be the one to piss off all your customers."
Ever since it left the menu last year, diners have requested The Max, which was just a meat-and-cheese sandwich. Groth said there's nothing very maximum about it at all. But that's how it goes in restaurants. People want what they think they can't have.
Of course, they can have The Max because they have all the ingredients to make it.
Pastrami and corned beef, both of which are made at Slaughter's, are staying on the menu. In fact, besides the bread, Groth said he's proud that his chefs make it all in the restaurant's tiny kitchen.
Slaughter's is a beer hall, so Groth leans into that with the new menu.
"Things evolve on their own," Groth said. "We're trying to embrace that evolution instead of fighting it."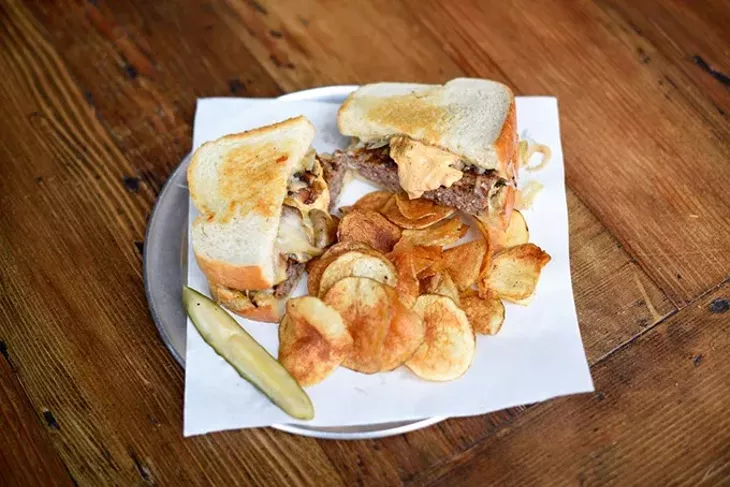 Garett Fisbeck
Patty melt at Slaughter's Hall, Tuesday, March 29, 2016.
Top shelf
Using Hoegaarden and Guinness beers in the new beer-braised bratwurst and in vinaigrettes will help match dishes to the restaurant's wide selection of brews. It's a bar, so Groth is adding in a patty melt and chicken wings to the menu as well.
That doesn't mean there won't be a few touches of finery. The cold queso is going away, but only to make place for a smoked salmon dip.
"I eat here every day," Groth said. "As the chef, I don't want to be able to decide what I want to have. Everything needs to be the best version it can be."
That means salads as well as sandwiches. Using the restaurant's beer can chicken, Groth makes plates of greens that leave customers satisfied without feeling like they can't eat anything else for the rest of the day.
"It's good-quality stuff you're putting in your body no matter what," he said. "The Porker? I would put that up against any version of pulled pork sandwich in the world."
The Santa Fe chicken might be a familiar combo at other restaurants, but Groth is confident Slaughter's creates the best one in town.
"That's the art of cooking: making it recognizable, but better," he said.
At WSKY, which has always been primarily a bar with a few light snacks available, Groth created a pork rillettes, a pâté- like treat made from slowly braising pork in its own fat, cooling it and then shredding it into a paste.
There are also delectable bacon-wrapped dates, stuffed mushrooms and charcuterie perfect for accompanying a cocktail or two after work.
Slaughter's Hall is for the whole family, but WSKY Lounge is for adults, so the food needs to be just a little something to put in guests' stomachs that complements the drinks.
Both spots, Groth said, are about finding a good balance.
"My goal is always for us to be in that sweet spot," he said. "I want people to be asking their spouse where they ate today and hear, 'We have to go to Slaughter's to get that thing I loved.'"
Print headline: Hall stars, Slaughter's Hall and WSKY Lounge might be the "sweet spot" for diners and drinkers.