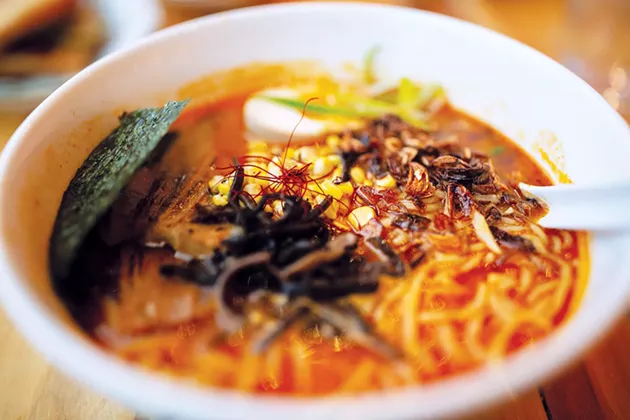 Alexa Ace
In addition to tacos and entrees, Chigama specializes in a variety of noodles, like the daily variety of soup.
Chigama isn't just a fusion of cuisine; it's also a fusion of two of the most successful and experienced restaurant minds in Oklahoma City.
The combination of Asian and Mexican flavors comes from the mind of Jeffrey Khowong, who, after 14 years as executive chef at Western Concepts (Sushi Neko, The Lobby Café and Bar, Mushashi's) joined with the Ha family after they closed Dot Wo Garden to open Chigama at 3000 W. Memorial Road in late November.
Before moving to Oklahoma City in 2005, Khowong's career took him to some of New York City's finest restaurants like Eric Ripert's Michelin Guide's 3-star rated Le Bernardin and the seafood institution Oceana under Rick Moonen, among other stops.
When it came time to leave Western Concepts, Khowong drew inspiration from the success of Empellón in New York City, which is run by Alex Stupak, one of the world's pre-eminent pastry chefs, who left baking behind to pursue tacos.
"I wanted to do something casual, affordable and healthy," Khowong said. "I thought about tacos because people can eat tacos every day; it's a very casual thing. It's almost like sushi in that the combinations are endless. I then thought about an Asian fusion taco: walnut shrimp with mango chili."
The menu was built around tacos, sandwiches, entrees and noodles that have both Asian and Mexican flavors with Khowong's classic French technique. Crispy salmon ($16) is served with fermented black bean sauce — a staple in Chinese restaurants — but Khowong uses white wine to make a black bean beurre blanc.
The New York strip steak ($25) is served with Japanese shishito pepper and a Mexican-inspired roasted garlic papa frita. Za Jiang Mein ($10) is a traditional Chinese noodle dish that Khowong said also includes Japanese and Korean touches in addition to chorizo and pork belly ragu.
Alexa Ace
Chigama has both steamed and deep-fried buns.
Chigama is currently offering seven types of tacos that range from $3 to $5. The shrimp taco has been the most popular; it is an interpretation of walnut shrimp but uses pine nuts, lime butter and picked cabbage. The tacos are stuffed with various ingredients. The pulled pork is placed over beans while the pulled chicken taco comes over rice. There are also Angus beef, fried fish, seared tuna and vegan options for tacos, which are served on corn tortillas.
"I'm really picky about tortillas because some of them are too dry and some are too mushy," Khowong said.
Both Khowong and co-owner Steven Ha said that the menu is still being tweaked in its first few months. Khowong expects to add a duck confit taco among other additions that might come from customer feedback.
Chigama places an emphasis on using organic, antibiotic- and steroid-free proteins.
"Tacos are really good," Ha said. "It's not going to be something that is cheesy and greasy. We kind of look on the healthier side, but the flavor kicks in hard."
Khowong has known the Ha family since he moved to Oklahoma City, and Ha said that they wanted to hire him when they opened Dot Wo Garden 10 years ago.
"He's like my big brother," Ha said of Khowong. "We shut down Dot Wo Garden recently because we had a good opportunity with the land and ended up closing, unfortunately. A Chinese restaurant is very difficult. There are a lot of Chinese restaurants here, and Dot Wo is some of the greatest, but this was an opportunity to be on the forefront on a new market."
The former Dot Wo Garden was sold to developers who have opened a Del Taco. The original Dot Wo is still in operation at 10600 S. Pennsylvania Ave.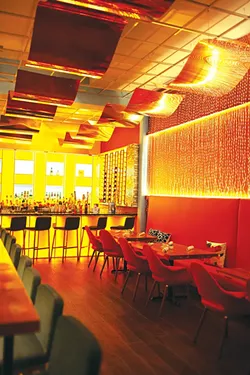 Alexa Ace
Chigama features bright and contemporary decor and is owned by the Ha family, who founded Dot Wo, one of Oklahoma City's oldest Chinese restaurants.
Khowong moved to Oklahoma City at the behest of his wife, who is a native of the city. He said that when he first started applying for jobs, they told him he was overqualified. He got a job with Western Concepts after he realized executive director Kurt Fleischfresser knew Moonen.
"It's a small world," Khowong said. "[Fleischfresser] is my mentor and good friend. It's interesting right now in Oklahoma City; it's growing up so fast. It's a good thing that have so many things going on; we're moving rapidly. We want to challenge ourselves [at Chigama] and want to be good for the market."
Khowong helped add menu items to Sushi Neko in 2006, when he said that there were only a handful of sushi restaurants in the city. He said the embrace of sushi is one the many ways the market has changed since he moved to Oklahoma.
"Now, we are health-conscious when it comes to food in Oklahoma City," he said. "People have started eating more healthy since I've been here. It used to be pork belly was No. 1; now I'm seeing more vegans and more organic products are coming out."
Khowong reflected on one of his first jobs outside of a New York Chinese kitchen. He worked at the second Sbarro location at the King of Prussia Mall in Pennsylvania.
"When a good day would come, we didn't even know where to put all of the cash," he said. "We kept it in garbage bags; that's how busy they were. I created a pizza with chicken and green onion, and everyone was laughing at me. Every trend is different. Pizza is endless; you can put anything you want. It's just because of culture that they didn't understand that. No one was putting chicken on pizza back then; only pepperoni and sausage."
Khowong said that he is happy to embrace fusion cuisine and is very pleased with the reception of Chigama during its first few weeks of soft opening.
"We'd like to open another store; that's the plan," he said. "Anything goes nowadays. José Andrés opened China Poblano in Las Vegas, where they serve dim sum at a Mexican restaurant."
Visit chigamaokc.com.