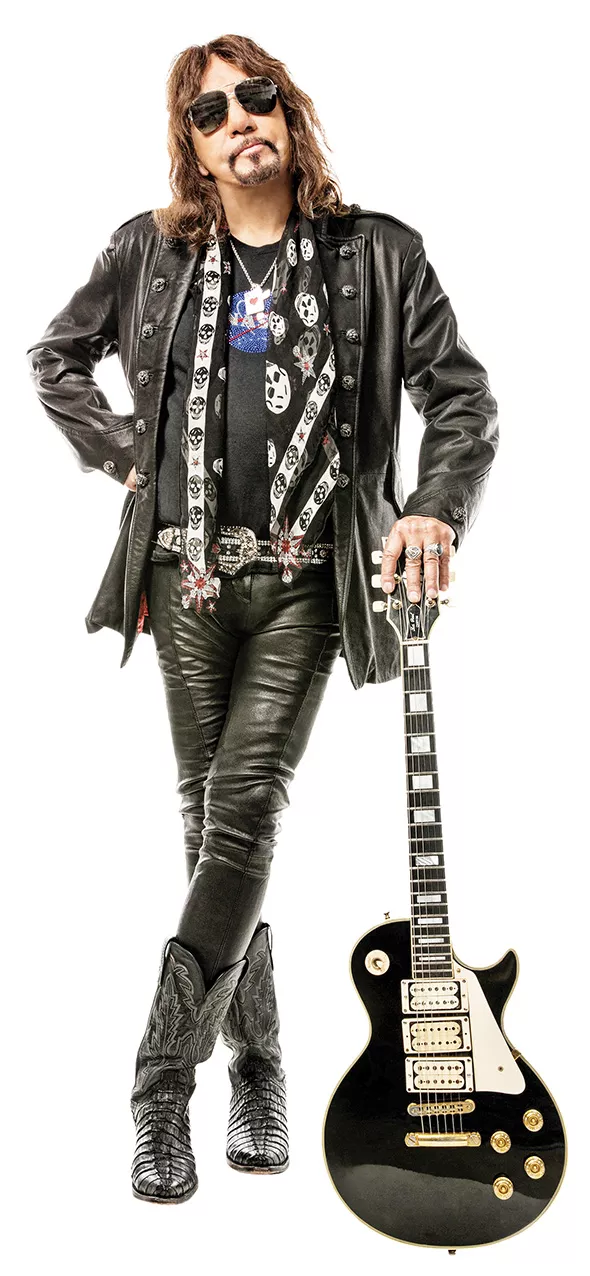 Jay Gilbert / provided
Ace Frehley plays Rocklahoma on Sunday.
Rocklahoma
Friday-Sunday
1421 W. 450 Road, Pryor
rocklahoma.com
$99.50-$199
Contrary to what you might have seen online in recent months, Ace Frehley said he does not believe his former bandmates Gene Simmons and Paul Stanley have ever tried to kill him.
In January, Simmons told an interviewer that Frehley and Peter Criss could never return to being full-time members of Kiss because they are not dependable, and Frehley fired back on Facebook, calling Simmons "an asshole and a sex addict." Frehley's longterm girlfriend Rachael Gordon also weighed in with a Facebook comment of her own, alleging that the band "tried to have Ace killed" in the '70s by "sending him to a so called 'private party' in the Bahamas."
In a phone interview with Oklahoma Gazette, Frehley — playing Sunday at Rocklahoma, 1421 W. 450 Road, in Pryor — clarified the comment, which has been the subject of speculation on music blogs and message boards.
"She got that confused with an incident that happened when I left Kiss the second time around in 2001 or 2002," Frehley said. "After I finished my Australian leg of the tour, I decided to quit the band for a second time, and then some time went by and then I got offered to perform at a wedding in the Bahamas. It just seemed kind of weird because they had already used Tommy Thayer to take my place, but they were insisting this guy who's getting married wanted the original guitar player, and they offered me $100,000 and I said 'No,' and they upped it to $125,000, and then I looked up who was getting married and it was like a Russian mob guy, so the whole thing seemed to be a little fishy to me. I didn't feel comfortable. I had already left the group, and it just seemed odd. I'm not pointing the finger, and I would never accuse anybody of doing any wrongdoing, but in retrospect, I felt uncomfortable with the situation, and I think you can understand why. … My instincts are usually correct because I grew up in the streets of the Bronx and I belonged to street gangs and I've hung out with mobsters and I know how things go. … It seems a little paranoid, but I was using drugs at the time. I wasn't sober, but I've been sober 13 years. I look back on it, and I'm sure probably nothing would have happened, but it was just a matter of you've got to feel comfortable in the situation you're in."
Though Frehley might not always be on the best terms with some of his former bandmates, he said he always considers fans when making playlists for his live shows and typically includes his 1978 hit single "New York Groove" along with "a couple of Kiss classics" and newer songs from his more recent solo albums.
"I can't please all the people all the time, but I can please most people most of the time," Frehley said. "You only have a certain allotted time to play, and obviously there's songs that other people in the audience might want to hear, but I have to think of what the majority of the audience wants to hear because they're paying for a service."
Frehley's latest solo album Spaceman, which features a guest appearance by Simmons, was released in 2018. Recorded in Frehley's home studio, the album, like his setlists, combines old and new elements by "using vintage equipment in conjunction with Pro Tools," but Frehley said his self-taught playing method has remained largely the same.
"Every time I meet a guitar player, probably 90 percent of the time, they tell me they picked up the guitar because of me, so I must be doing something right," Frehley said. "If it isn't broke, don't fix it. … I've taught myself how to play, but it's because I copied some of the greatest guitar players in the world: ... Jimmy Page, Jeff Beck, Eric Clapton, Pete Townshend ... The Beatles and The Stones. You pretty much are being taught by some of the best guitar players and songwriters in the world, so why would I want to sit down with a guitar teacher? He's not going to teach me anything."
provided
Tech N9ne plays Rocklahoma on Saturday.
Tech N9ne
Tech N9ne, scheduled to play Rocklahoma Saturday, said he also developed his singular style by studying the iconic artists that came before him.
"Those were the people that taught me," Tech N9ne said of the hip-hop artists who played shows in his hometown of Kansas City, Missouri, when he was growing up. "Public Enemy taught me to do power music. LL Cool J taught me how to do a show. Eric B and Rakim taught me lyrics and depth in music. I learned from the old school."
The independent MC and Strange Music label head said he is also influenced by classic rock.
"How can you not like Led Zeppelin?" he said. "How can you not like Jimi Hendrix? How can you not like The Grateful Dead? My family was eccentric and eclectic when it came to music, and they had good taste, so I had gospel in the house. I had rock. I had rap. I had R&B. I had everything."
He had the chance to collaborate with some of his idols on "Strange 2013," which samples Jim Morrison's vocals from "Strange Days" and features instrumental contributions from surviving members of The Doors.
"That was a milestone because it's not written in blood that a young black boy from the hoods of Kansas City, Missouri, would be inspired by a rock band and then later on get to work with all of them," Tech N9ne said. "We even had Jim Morrison on the chorus. People have to say yes. Like four different people had to say yes. It took awhile, but they did it."
But 20 years after his debut Calm Before the Storm, Tech N9ne's biggest motivator is topping his own previous releases.
"Every album, I have to out-rap myself, and that's hard to do," he said. "I don't know how I'm going to do it on my next album, but I'm going to try. The music is there. I choose the beats that motivate me to go as hard as I can on each and every song I do."
His latest album, N9NA, was released last year, but Tech N9ne's said concerts are artists' true legacy.
"They can try to take away vinyl," he said. "They can take away CDs. They can take away mini-discs or whatever the new thing is, but the one thing they'll never be able to take away are the live shows. Those are forever. Even after you pass, you can still do shows as a hologram."
Tickets are $99.50-$199. Visit rocklahoma.com.