Surrounded by Oklahoma's rolling plains, farmland and painted sunsets, country music seems like a natural expression of the state. It can be easy to forget that music, like other forms of culture, is bound to break out of its natural habitat at some point.
At first, the idea of country and bluegrass music finding a home in Japan might seem like a stretch, but the documentary Far Western, which makes its Oklahoma debut at this year's deadCenter Film Festival, does a good job of making the world feel just a bit smaller.
Far Western screens 7 p.m. Saturday and 12:30 p.m. Sunday at Harkins Theatres Bricktown 16.
As the film explains, country and bluegrass music found a niche in Japan with influence from occupying American troops following World War II. Country music still has a place in Japan, but as a micro-culture observed by an aging generation of fans.
The beginning of the film asks its key subjects — including country performer and Kumamoto, Japan, honky-tonk owner Charlie Nagatani — to confront a paradox in their love for country music: Why accept a form of culture from the country responsible for dropping atomic bombs that took the lives of many Japanese countrymen?
Most Japanese purveyors of the art form said they are able to differentiate the two. Filmmaker James Payne said country music actually played some role in soothing those emotional wounds.
"It was complicated," Payne said. "I think they went through an incredibly protracted trauma in the war and there was something about music in general which has a healing quality."
Payne filmed Far Western over a five-week span in 2015. He first became aware of country music's place in Japan while working on a separate film project about an international tour by Oklahoma band Kyle Dillingham & Horseshoe Road.
Filming a feature-length project in another country presented Payne with its fair share of challenges.
"Just to get one small crew over for a week, it'd be at least $25,000-$30,000," he said, "and that's if people weren't getting paid."
Through a funding campaign and some persistence, Payne and film producer/editor Matt Leach were able to complete filming in Japan in five weeks, making a lot of contacts throughout the process.
Far Western made its global debut in November at International Documentary Film Festival Amsterdam in the Netherlands.
"It's been really rewarding not only for me and my friends who made the film, but also in making all these new friends," he said.
Initial spread
During the occupation of Japan by Allied Forces in the aftermath of WWII, Western-style music was broadcast via radio to the Japanese people, many who found themselves in post-war ruin and without jobs.
It was not the first time Japanese people had been exposed to Western music, but it was the first time it could be consumed by the masses. Country music sounded like something totally new and different to Japan's youngest generation.
"It's not like their folk music, which is a little less melodic and less easy to listen to," Payne said. "It's not like your three-chord, simple, sentimental, melodic music."
At one time, Japan enjoyed its status as Asia's superpower, but after the war, the country was destitute.
Payne said country music particularly came to symbolize the romantic mythology of the American West with its cowboys, opportunity and wide-open vistas.
"The Japanese had lived in incredibly difficult conditions throughout the war, which for them begins in the mid-'30s against China," he said. "They'd been in it for a while, and I think the idea of democracy was coupled with the music and was quite different from what they were used to."
Shared interest
Viewers of
Far Western
are bound to notice that most of the Japanese people participating in country music culture are in their 60s or older. Bluegrass music, on the other hand, has a broader following in the country, though it is still niche.
Though many forms of American music are still popular in Japan, they are not nearly as dependent on Western culture as they were in the post-war days.
"[Country music] has been completely eclipsed by Japanese pop music," Payne said.
It is no secret that there are a multitude of examples in which Japan and the United States have exchanged art and ideas. As much as Japanese people might have loved country music in a certain time period, Payne said there are as many or more people in America today who love Japanese video games and entertainment.
"This isn't the story of the U.S., in their benevolence, exporting their wonderful pop culture everywhere," he said.
Payne said in an odd and ironic twist of events, some American Western movies would take influence from Japanese samurai culture and the work of filmmakers like Akira Kurosawa.
In the American '80s and early '90s, game consoles from Nintendo and PlayStation stole the imaginations of Western youth.
Payne said he remembers when the Sony Discman portable CD player was one of the coolest things a person could own.
The filmmaker said he hopes Far Western is a demonstration that culture can unite groups of people many would expect to have little in common.
"I think there's always been mutual fascination," he said. "It's an important part of the story."
Visit farwesternmovie.com.
Learn more about deadCenter Film Festival in this week's Gazette.
Music films at deadCenter Film Festival 2017
Hype!
9:30 p.m. Saturday
Myriad Botanical Gardens
Great Lawn
deadCenter Film Festival's annual free film screenings on the Great Lawn at Myriad Botanical Gardens are always a major draw. The fest follows up on last year's music theme in
A Song for You: The Austin City Limits Story
with
Hype!
, a classic 1996 documentary about the '80s grunge scene.
Director Doug Pray turns his attention to a scene that started in the Pacific Northwest and swept its way across the nation with bands like Nirvana, Soundgarden, Alice in Chains, The Melvins and more. The movie includes a clip of Kurt Cobain performing the first live club performance of "Smells Like Teenage Spirit."
The outdoor showing will be popular regardless, but the screening takes on special timely significance with the recent death of Soundgarden's Chris Cornell.
Cassette: A Documentary Mixtape
2 p.m. Saturday
1 p.m. Sunday
Harkins Theatres Bricktown 16
Do not get so caught up in the world of Spotify and music streaming and forget that once upon a time, one's most cherished music memories were stored on wound tape.
Filmmakers Zachary Taylor, Georg Petzold and Seth Smoot collect key interviews with Lou Ottens, the 90-year-old inventor of the cassette technology with little sentimental attachment to his creation, and romantic defenders of the mixtape, like Black Flag's Henry Rollins and Sonic Youth's Thurston Moore. The beauty of Cassette is that it is structured like an actual mixtape. The film should be more than enough to convince viewers to rummage through their old boxes and find those precious (and sometimes cringe-worthy) pieces of do-it-yourself magic.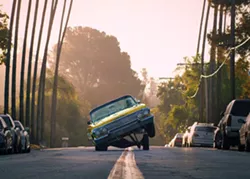 G-Funk
12:30 p.m. Friday
Oklahoma City Museum of Art
9 p.m. Saturday
Harkins Theatres Bricktown 16
The music nostalgia theme continues with
G-Funk
, a look into the distinct style of West Coast hip-hop and rap music that emerged in the early 1990s.
Director Karam Gill delivers an impressive account of the period, despite being just 22 years old. The documentary is strengthened through the use of interviews from the biggest West Coast names of the time, including Warren G, Snoop Dogg, Ice-T and Ice Cube. Warren G also adds to the layer of authenticity by contributing to some of the film's writing and music composition.
Fans of the 2015 dramatic N.W.A. biopic Straight Outta Compton should catch this film for a historic account of Dr. Dre's dealings with Death Row Records and how his decisions directly affected Warren G and hip-hop history.
Print headline: Foreign country, Far Western shows that country and bluegrass music can find a fanbase far away from home.