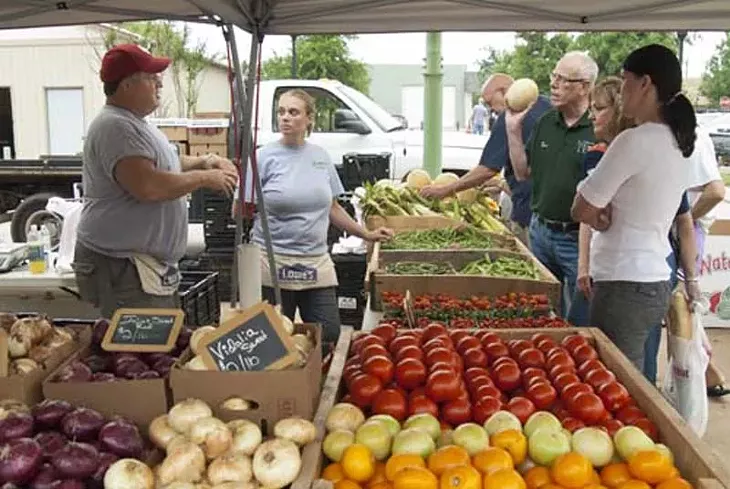 Greg Loman of Loman's Landscape Design and Garden Center, left, discusses produce with customers, next to Loman's Melissa Abbey, Saturday Morning, 5-31-14, at the Edmond Market. mh
Dustin Green from 10 Acre Woods in Norman fills us in on what's new at farmers markets in June.
Now that we're finally out of the awkwardness of asking, "Are we sure it's spring?" and we have fairly leapt straight into temperatures upward of 90 degrees, local farmers are working around the clock to get the goodies of early summer out of the ground and to the local markets. Dustin Green of 10 Acre Woods said, "Now is the time when we [farmers] are busy and tired." Like every other farmer and most of the state's residents, he is thankful for the rain over the weekend. Besides giving our state the good soaking it needed, it also kept the temps out of the blistering range. Now that spring is in full swing and we start hurtling toward blazing temps, farmers like Green are busy from here until the end of the summer. No more of just the green stuff, either — this month's summer farmers markets will be a riot of color. What is it the nutrition people say? Put a rainbow on your plate? This is the time of year to do just that. No more struggling to meet your fruit and veggie recommendations for the day; this is the time of year when nature pays you back. Local eating is smooth sailing from here through fall, and it's easy and affordable to score local produce. There is no better way to put the sad memories of frigid winter behind you than with a huge serving of local produce brimming with vitamins and minerals. Your body will cry out, "Hallelujah!" for spring. Here is a handy guide to what you have to look forward to in the coming month. Keep an eye out for the last of the broccoli and asparagus. We say goodbye to them for the rest of the year. If you're thinking ahead, you could always grab some to freeze. There's nothing like tucking into a nice plate of fresh asparagus in the dead of winter to make you feel like the food rebel you are. There's no need to purchase frozen vegetables. Now is also the time to start adding to that color palette with beets, turnips and the first of the carrots. Carrots in early June are going to be sweet and mainly for cooking. It will have to be warmer a bit longer before they are ready to eat fresh out of the dirt. Keep an eye out for cucumbers and green beans this time of year, along with new potatoes and onions. We also have summer squash and two summer favorites — strawberries (our state fruit!) and tomatoes — to look forward to. Those two fruits almost make the wait through the long, cold winter worth it.
A note on freezing veggies Have you ever popped your fresh veggies in the freezer, imagining serving fresh broccoli and asparagus in the dead of winter, only to be heartbroken in December when you find that unidentifiable brownish mush in the back of the freezer? In order to maintain color and freshness of veggies in the freezer, partially cook them in boiling water or with steam. This is known as blanching, and it will prevent the guessing game. The process of blanching stops enzymatic activity, which is what causes your veggies to go from a happy, crisp green to a sad and wilted brown. You can look up specific times for cooking particular veggies on the National Center for Home Food Preservation at nchfp.uga.edu.