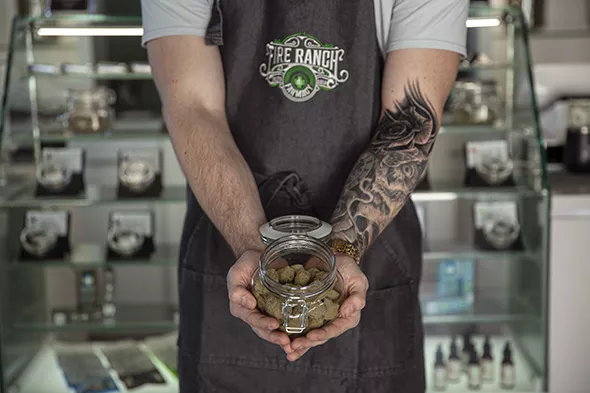 Neisha Ford
The "Farmacy" only carries cannabis grown on the property.
Fire Ranch is a new and unique brand of Oklahoma agriculture collective.
The crops here are all grown inside metal buildings, with a small farmhouse, or "Farmacy," at the entrance. A 1947 Ford pickup acts as the sign to the property at 3215 E. Waterloo Road.
"I work in oncology, so I'm very medically backgrounded. I had time in pharmacy school. I've got a zoology degree and a chemistry degree. My time has been spent on the scientific side of pharmaceuticals," founder Jason Cunningham said.
Fire Ranch is his passion project. All of its buildings are currently contracted out to growers, with about a half dozen, including Goodfellas, The Inner Circle Grows and Jesella Gardens, already producing flower.
"It happens to be I have a passion for architectural development, residential, commercial and so, long story short, I think there's a niche for what I built, commercially speaking. And since I've done some development and I owned at one point probably a couple dozen residential properties in Edmond, I thought commercial would be interesting. So when I stopped and thought about commercial, I thought, 'What would be something good to do?' So I found some land absolutely raw. Had to bring in power, sewer. We had to bring water across Waterloo. So it's completely undeveloped and [I] decided it would be a really smart idea to help the little guy," Cunningham said. "I think there's plenty of big money that's coming from Cali, Colorado, Oregon. I've seen it. What I thought was missing is, What about the guy that has enough money to put together a grow but doesn't have enough money to do a 10,000 square foot and doesn't have enough money to do a development. So what I thought would be good was to set something up for that guy, because I think that's where the best flower's grown. So these guys are true phenotype hunters. They don't hire people to grow for them. They are the grower, and they've always wanted to own their own business, so it made sense to me to put together buildings. So what we have at Fire Ranch is a total of 23 buildings. Half of them are 1,200 square foot, half of them are 1,800 square foot. They were taken immediately, but they were available for independent guys that want to own their own business as growers."
He is also the owner of Fire Ranch Farms, which is located inside two of the buildings on the property.
"We brought in guys from Arizona and we do our own grow, so we got some cool strains. … Right now we're doing GMO Cookies, which is the Cannabis Cup winner that just happened. We got that cut. We're also running Kickflip #7, which is a sweet phenotype out of Tulsa. We've got the Connoisseur Cup winner Peanut Butter and Jelly crossed with Sundae Driver. I have Watermelon Zkittles, which is a really crazy terpene mix and it looks sexy," Cunningham said.
Neisha Ford
Fire Ranch Farms includes 23 buildings and a truck that serves as a sign.
All of Fire Ranch Farms' crops will be available inside Fire Ranch Farmacy. Cunningham has also worked out a little arrangement with the other growers on his property.
"It's the best-looking dispensary period in the state. It's small, it's very boutique, it's very different," he said. "So I think that's special, but what's really special about it is I will only carry Fire Ranch. If it's not grown on-site, indoor commercial from my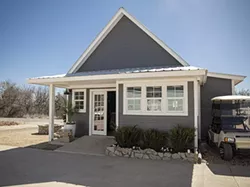 Neisha Ford
Fire Ranch Farms includes 23 buildings and a truck that serves as a sign.
guys, I don't carry it. I don't care if you bring me something that just blows everyone's brains out. If it's not absolutely grown under my supervision, I say under my supervision because I know what kind of water these guys use. I know they pH correctly. I know they don't use pesticides. I know what my guys are doing. So that's all I carry."
They have partnered with Simple Cure to handle all of the processing for their flower into full-spectrum oil for cartridges and pods as well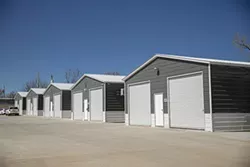 Neisha Ford
Fire Ranch Farms includes 23 buildings and a truck that serves as a sign.
as an edibles company that is also located on the property. All products are uniformly tested by the same laboratory, F.A.S.T. Laboratories/Research, and the Farmacy will be a drop-off point for flower to be tested from other growers.
"After our seven-day cure, we go get it tested at F.A.S.T. Labs so I have consistent labbing, and then I turn around and they let me have the first take," Cunningham said. "So I walk right into their grow and I look at it, and say someone has some popular cuts like Apple Jax, for example, which we've got some 31 percent Apple Jax on shelf. I walk in and Apple Jax is sitting there. He's got 8 pounds of it. I go, 'I think I'll take a pound,' and he goes, 'That's cool,' and I literally walk through and hand-pick a pound out of the 8 pounds. I put that in my jar with my Bovedas and I take them to my dispensary. The top cut of the top cuts is on my shelves, and that's why I say the best flower in the state is there."
They also make their own prerolls as well as some that are kief-infused and kief-rolled.
"If there's a preroll in my pharmacy, it's not an 80/20. It's not a blend. It is 100 percent flower. It is strain-specific, and it's plus or minus kief," Cunningham said. "That's it. We do moon rocks the same way. You don't give me your shit nugs and cover them with kief. I want to know exactly what it's coming from. ... It can't get any cleaner."