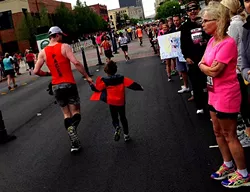 Oklahoma City running guru and coach Mark Bravo lost his father 12 years ago, but chances are dear old dad will be there in spirit on Sunday for the Myriad Botanical Gardens Father's Day 5K and Oaks and Acorns Fun Run.
For 88 years, Bravo's family owned Uncle Sam's Pawn Shop, located just blocks from the new race's course. They sold the business in 1999, but the building is located near the Oklahoma City Memorial Marathon's finish line, for which Bravo does TV analysis yearly.
Bravo also serves as race announcer during Sunday's race.
"When you run downtown, it's a special feeling," Bravo said. "To veteran runners in Oklahoma City, it's like home base."
The race meets community need for more races in June and the need to honor fathers and father figures, and all proceeds support the Gardens and its mission to promote fitness and health, said Melissa Pepper, director of festivals and events at Myriad Botanical Gardens.
Before moving here a couple of years ago, Pepper and her family routinely participated in a Father's Day race in Kansas City. Her 72-year-old dad, John, recently completed his first half-marathon.
"I was inspired to run by my dad," Pepper said. "My dad was a big botanical gardens supporter. That's how I became interested in working here."
Produced by DG Productions, the race is a sanctioned USA Track & Field event with standard five-year age groups. The 5K race begins at 8 a.m., and the one-mile fun run starts at 8:30 a.m. Sunday.
The staging area is at the Great Lawn and Band Shell.
The 5K course starts and finishes on Sheridan Avenue, just north of the Gardens. The course goes from Sheridan to Walker avenues, north to NW Ninth Street, east to Hudson Avenue, north to NW 14th Street, east to Harvey Avenue, south to NW Ninth Street, west to Walker Avenue, south to Sheridan Avenue and east back to the finish line.
The fun run course goes around the Myriad Botanical Gardens grounds, Pepper said.
The race also features live music and healthy food truck options.
Since the nonprofit Myriad Gardens Foundation took over management of the Gardens in 2011, programming for children and adults has increased, and Pepper said there will be nearly 100 public events this year at the Gardens.
"The running community, in numbers and in participation, has never been stronger in the 30-plus years I've been a runner here," Bravo said.
Registration for the 5K is $35 for members and $40 for non-members. Registration for the fun run is $25 for members and $30 for non-members.
Visit myriadgardens.org or call
445-7080 for information and to register.
Print headline: Dad run, Inspired by fathers and father figures, Myriad Botanical Gardens presents the Oaks and Acorns Father's Day 5K and Fun Run on Sunday.