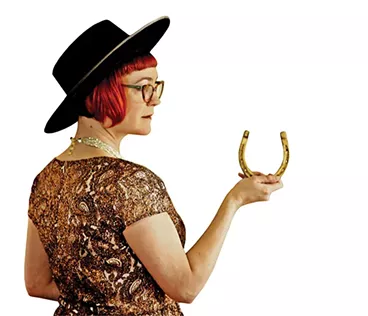 Carter Sampson
Carter Sampson celebrates the release of her latest album 8 p.m. Friday at The Blue Door.
It seems to be all worked out now, but Carter Sampson said the "rushed" European release of her latest album Lucky felt pretty unfortunate when it happened last May.
"I did go through some drama with the European release of Lucky," Sampson said. "It was really a real stressful time in my life, so I think I did by default do a little bit of growing up in that moment."
Though "the music was ready to go," Sampson said, the artwork felt incomplete and the liner notes incorrectly credited some of the songwriters. Correcting those issues for the American version delayed its release date, which frustrated Sampson, but she's happier with the timing now. Sampson celebrates the release of Lucky 8 p.m. Friday at The Blue Door, 2805 N. McKinley Ave.
"In the long run, I was really disappointed that it took so long to come out, but I now think that the timing of it was really perfect," Sampson said. "I feel like it was meant to be, not to be so cliché."
Lucky, her fifth studio album, will be released through Tulsa nonprofit label Horton Records, which Sampson said she feels fortunate to be associated with.
"They're doing things I feel like no one else in the music business is doing," Sampson said. "They've really been a big help. Mainly just support, they just have my back when I need to call them about how sucky the music business is."
Despite her issues with the business side of things, Sampson said the thankfulness expressed on her new album's title track is deeply felt.
"'Lucky' can mean several different things," Sampson said. "It can also mean hard work and privilege, but I do feel very fortunate that I get to do what I love to do most days. And I've been doing it for so long now. I've been playing music for 20 years. … I'm very thankful for what I have, and it's not much. I'm totally broke most of the time, but I'm so happy that I get to tour and travel and play music and record music. But, yeah, it's very much an album of gratitude."
Following the album-opening "Lucky," "Anything Else to Do" gives thanks for life and love, while "Peaches" gratefully recalls Sampson's childhood memories of her grandparents' house in Duncan.
"I feel like that space in life makes me feel so safe and comfortable, and creative," Sampson said. "All the things that I did when I was in that safe space as a kid."
Adulting is hard
In addition to being an album of gratitude, Sampson said Lucky is about the reflection that comes with maturity.
"The last record was all about traveling, and this one's about growing up," Sampson said. "I am growing up. I try not to at all costs, but it is happening. We're all getting older and watching our parents get older. I'm also trying to be more honest in what I write. I feel like when I first started writing I would just kind of make up stories, and now I'm trying to be as honest as possible."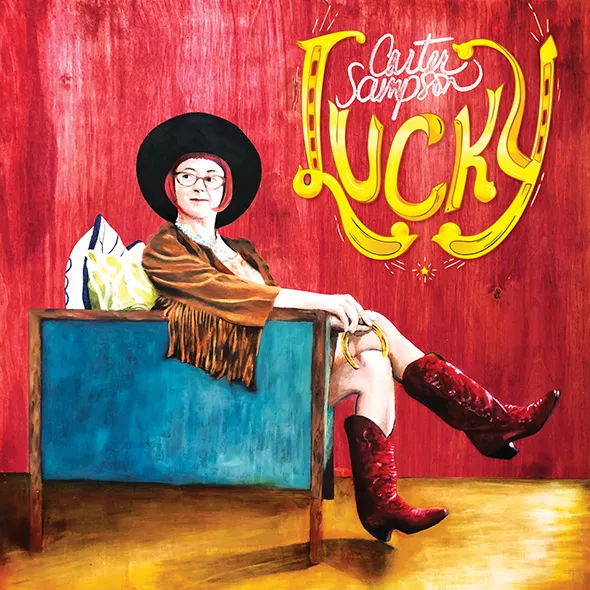 provided
Lucky is Sampson's fifth full-length release, not including European compilations and her Christmas album.
"Wild Ride," for example, celebrates romance without trying to smooth over the rough patches too much.
"It's a love song, but it's very truthful to who I am," Sampson said, "because I have some of my faults in there as well as some of the good things about me. That's not always easy to do."
"Ten Penny Nail," meanwhile, offers a darker take on relationships, inspired by an anecdote Norman songwriter Dan Martin told Sampson about Guy Clark nailing himself inside his bedroom with a bottle of whiskey after having an argument with his wife Susanna and Townes Van Zandt.
"Before he was finished, I think I was already writing the song because the story was so good," Sampson said. "All I could think was that's the most dramatic, awesome reaction to that. It's one thing to slam a door, but it's another thing to nail it shut behind you. … I remember living in an old house where you could slam the door and the doorknobs would come off in your hand and I used to pull them off and throw them, but I haven't nailed my door shut. I wouldn't even think of that. Leave it to Guy Clark to come up with a genius plan like that."
Another song on the album, "Rattle Snake Kate," was inspired by a story she heard from a friend about Katherine McHale Slaughterback, a single mother who became famous for killing 140 rattlesnakes in a single incident in Colorado in 1925. She shot them with a .22-caliber rifle until she ran out of ammunition and then bludgeoned the rest to death with an uprooted sign, which reportedly read "No Hunting." Then she made a dress out of their skins.
"It's an absolutely true story," Sampson said. "She's a badass, and I would like to be more like her. … That was a long time ago. I can't imagine how scandalous she was back then. She seemed to not really care. She just seemed like she did what she needed to do to survive and to live her life, and she didn't really care what anyone else thought."
The album ends with "Queen of the Silver Dollar," a Shel Silverstein-penned song that also closes Emmylou Harris' 1975 breakthrough Pieces of the Sky, a version Sampson said she remembers her mother listening to.
"All the old stuff that I felt like at the time, in the '80s and '90s, it was lame mom music and I hated it, now I realize that's the music that I really love," Sampson said. "My big influences are Dwight Yoakam and The Judds and all the stuff that she listened to in the car."
Though she loved playing the song, Sampson said she was reluctant to record it until she had the serendipitous chance to visit the site of Shel Silverstein's Key West home, which had just been destroyed by Hurricane Irma. Silverstein, who also wrote "The Ballad of Lucy Jordan," "A Boy Named Sue," and "One's on the Way," might have appreciated the tragic irony of the scene.
"They'd just torn the house down," Sampson recalled. "Actually, to make it even crazier, he wrote that book The Giving Tree, and the Giving Tree was in the yard, and the Giving Tree fell on the house and destroyed the house. The people of Key West always felt like Shel wasn't really that grateful of a person because the tree just gave and gave and never took anything from anybody."
Tickets are $20. Visit bluedoorokc.com.