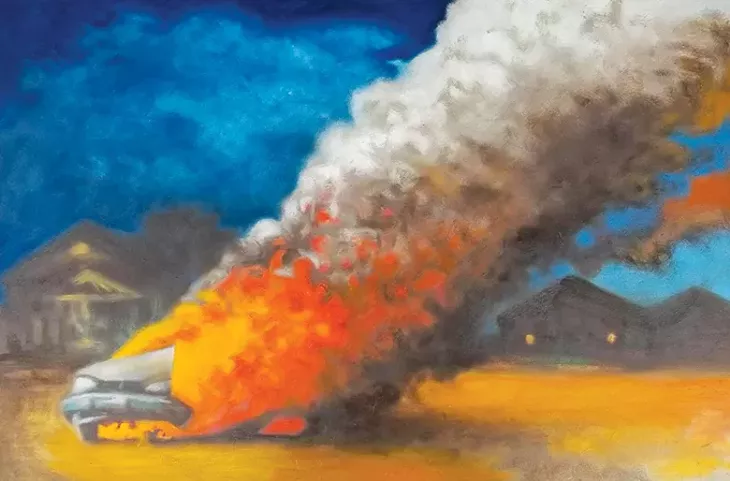 provided
"Car on Fire in the Cul de Sac" by J. Chris Johnson
The inspiration for J. Chris Johnson's latest oil paintings came from not wanting to upset his mother.
"I'd done this show of portraits, and they were friends of mine," Johnson said, "and some of them were people with substance abuse problems or mental issues. And my mom came to that show, and I could tell she was, like, disturbed by those faces. … I was trying to figure out a way to get my mom to see them without being disturbed."
Johnson, a Norman-based artist with several recent works on display at Mainsite Contemporary Art, 122 E. Main St., in Norman through July 14, has primarily been known for his portraits since he began painting in oil about five years ago, but his mother's response to his 2015 show made him try a different technique: painting "landscapes of people." Even when people he's painting are represented by sailboats on the sea or farmhouses against the sky, Johnson does not shy away from the inner conflicts that manifest themselves in outer signs of distress.
"I tried to find a way to show people that same thing but as boats on fire," Johnson said. "So, I mean, some of these things are still disturbing, but nobody's dying in them. There's no people in them, but they're portraits of people, you know, the idea of them. … It was the easiest way to make that metaphoric connection between those portraits and the viewer. So these paintings, they're about the viewer having some kind of emotional reaction to them even if they don't know what it is, because if I don't tell people that these are portraits of people, they just think they're pictures of cool boats on fire."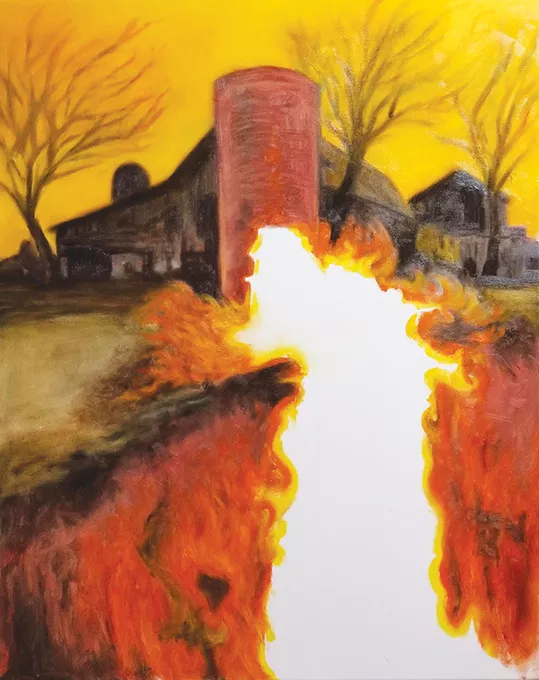 provided
"Family Silo" by J. Chris Johnson
Each painting was inspired by an individual, but the titles — "Car on Fire in the Cul de Sac," "Family Silo" — give no indication of the intended subjects' identities. The personal connection is intentionally obscured. In many ways, the portraits are more about the observer's inability to save someone else from a bad situation, removed from their problems by the "metaphoric ocean" separating people from one another.
"People that need help generally won't ask," Johnson said, "and you can't help them, and there's nothing you can do but watch."
For each viewer, the deeper meaning is different, and the fire doesn't have to be something as serious as substance abuse or mental illness.
"It could relate to anything and anybody," Johnson said. "It could be like, someone at your job gets promoted over you and you know they're going to be terrible. You know, you're going to eventually watch that boat burn down and sink into the sea."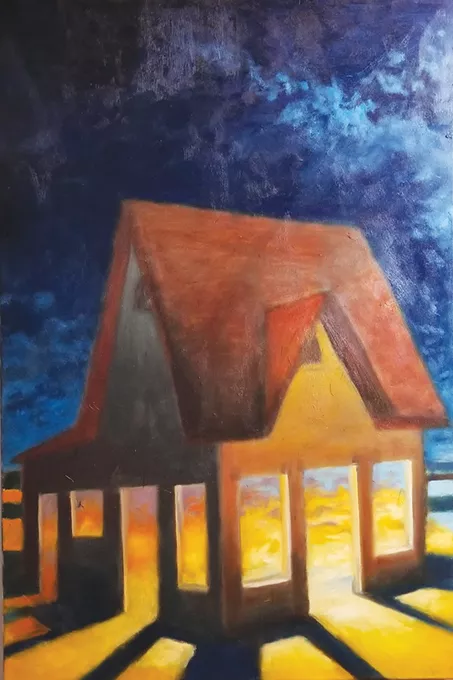 provided
"Sunrise Over a Field" by J. Chris Johnson
Fight or flight
Joshua Boydston, Mainsite's associate director, said the paintings convey a common experience in modern life.
"J. Chris Johnson's exhibition feels really relevant to the moment," Boydston wrote in an email. "A lot of us feel like we are being confronted with a new disaster, political or otherwise, with every breaking news alert or refresh of our Twitter feed. Many of us are witnessing it from a place of relative comfort, behind a screen in the comfort of our home or office, but there are real people out there actually hurting and suffering, and you feel this sense of needing to do or say something but you don't know what or how. This exhibition captures that fight-or-flight sensation in a clever way, I think, and these paintings of burning homes and ships force you to confront that."
Some paintings in Johnson's latest exhibit depict a car or a barn on fire instead. The subject of one painting is a burning lighthouse.
"I talked to the person that I painted that after, and I kind of let it out of the bag that it was her," Johnson said. "She's generally like a person you go to when you have problems. She's like the mother of a group, but there's also times when she has her own problems, and so it's like going to a lighthouse and it's not what you need it to be at that moment. I kind of just said it out of nowhere, and then I kind of realized, like, 'Oh shit. Is she offended by that? Was that all right?'"
Though Johnson grew up in the coastal city of Corpus Christi, Texas, and rode Captain Clark's Flagship paddlewheeler as a child, he said he has spent very little time on the water.
"I got married on a boat, but no, I don't have any boating experience whatsoever," he said.
He has also never taken an oil painting class and said he was originally drawn to the medium because he was unsure of his ability to do it.
"Painting was something different where I couldn't use my experience drawing," Johnson said. "I could possibly fail, and I did fail for years and years. … I like that risk of failure. It's OK. If you know it's going to be perfect what are you doing it for? Just take a photo and get on with your life."
Johnson discovered that oil paints offer at least one advantage.
"It's easier to paint fire with oil paints, you know what I mean?" Johnson said. "It's gray and black, and you make it warmer or cooler. Figuring out the warm and cool colors in paints is the biggest learning curve."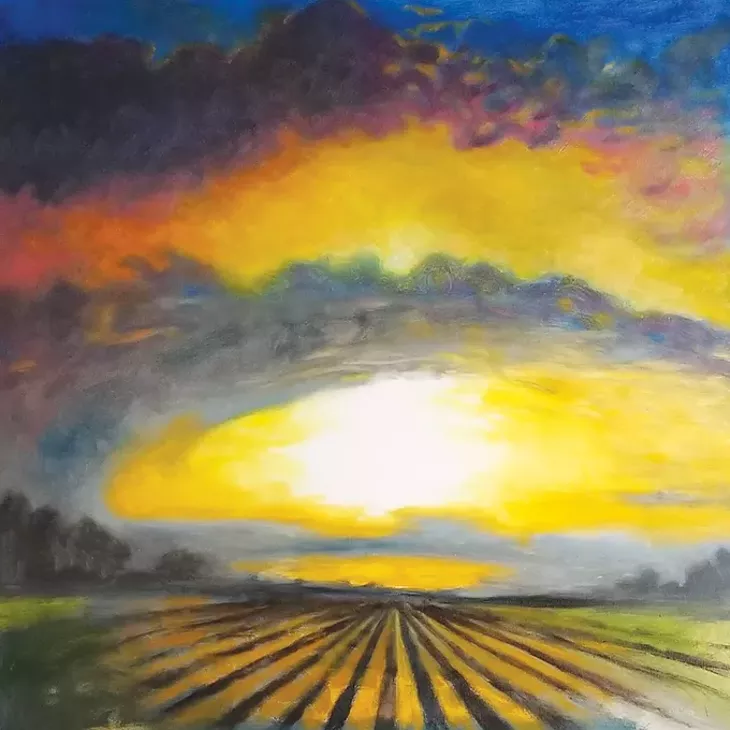 provided
"Sunrise Over a Field" by J. Chris Johnson
Art scars
For his 2015 exhibition at Brass Bell Studios, Johnson created 44 oil paintings to cover a 35-foot wall, leaving an inch of space surrounding each one. He planned the layout using AutoCAD drafting software to determine how big each canvas should be before he started painting. His biggest failure in preparing for the show was failing to read the safety warnings for a caustic chemical he used for an unorthodox technique.
"I didn't realize that turpentine would, like, hurt your hands," Johnson said, "because I was dipping socks in turpentine and painting with it, and so my hands are scarred from it. So I stopped doing that."
However, he has never been able to stop himself from drawing and has never let his lack of artistic education dissuade him from pursuing a career in art.
"I used to hound these people that owned a custom frame shop and art gallery in Corpus Christi, where I just went in there every day until they hired me," Johnson said. "So I learned custom framing, I learned a little bit about the art world in Corpus Christi. I'm not stoppable. I'm going to do it anyway."
Johnson said his mother told him he started drawing before he could talk. While Johnson's mother might have inspired his latest show, he said there are no paintings representing her in the exhibition.
"No, not in this one," Johnson said, laughing. "Even if there was, I would not say."
Visit mainsitecontemporaryart.com.