Historic Capitol Hill / provided
Parade of the Americas kicks off festivities for Fiestas des las Americas at 10 a.m. Saturday at Capitol Hill High School.
Historic Capitol Hill's annual Fiestas de las Americas and Parade of the Americas hits the streets of Oklahoma City 10 a.m.-8 p.m. Saturday.
Entering its 12th year as a festival featuring and uplifting the city's diverse Hispanic community, the event's trademark Parade of the Americas celebrates over 70 schools, cultural organizations, businesses and more with performances and entertainment for everyone.
One of the city's only parades included as part of a festival, Parade of the Americas reminds us that despite tense political climates, we can't forget to celebrate diversity.
"We want to use the excitement of a multicultural festival to unite the people of our city," festival director Donna Cervantes told Oklahoma Gazette.
Since 2005, Fiestas de las Americas has attracted thousands of local residents with its culturally inclusive programming.
2017's multicultural parade combines a colorful array of floats, performances, clubs and individuals in celebration of the Hispanic community's important contributions to OKC.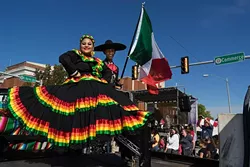 Historic Capitol Hill / provided
The parade starts at 10 a.m. at Capitol Hill High School, 55 SW 36th St., and ends at Capitol Hill Elementary, 2717 S. Robinson Ave., with a stage on the corner of Harvey Avenue and SW 25th Street for a variety of performances. Cultural dance groups, live music and high school marching bands are set to perform throughout the day for festival audiences.
Rooted in rich, diverse cultural histories from different countries and regions, the festival takes place during Hispanic Heritage Month, adding an educational element to the day's activities.
"Hispanic culture in OKC represents a huge range of countries and places like Mexico, Colombia, Guatemala, Panama and many other Latin American countries," said Cervantes.
Along with the parade, the festival includes an artists' market with handmade items and original Latino art, a food court with classic festival foods and drinks and a kids zone with inflatables, games and crafts. For the first time, this year, an exhibit corridor will feature different businesses and organizations presenting interactive games, prizes and giveaways.
Cervantes said those connections within the community are fundamental to revitalization.
"Oklahoma City Community College's new Capitol Hill Center has generated a lot of excitement in the community, and it serves our residents with quality higher education," she said.
OCCC President Dr. Jerry Steward will serve as grand marshal of this year's festival. It's the perfect time to get involved in Capitol Hill's redevelopment.
"Recent building renovations and new businesses opening in the area have led to tremendous improvements, and we hope people outside of the area come to support our growth," Cervantes said.
Parades often have the feeling of a bygone era to them, if they even continue to persist in communities. To Cervantes, Fiestas de las Americas is different.
"This parade fulfills a community need," she said. "We want this festival to be a point of pride for those of Hispanic heritage, especially for future generations in Capitol Hill."
Visit historiccapitolhill.com.
Print headline: Celebrating community, Fiestas de las Americas and Parade of the Americas are back for a 12th year.