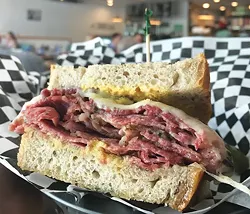 Jacob Threadgill
The New York, NY is the most popular sandwich at Scottie's Deli, pairing pastrami with corned beef.
The pictures lining the ceiling at Scottie's Deli showcase some of the country's most famous delicatessens —Katz's in New York; Chicago's Delicatessen Meyer; and Columbus, Ohio's Milo's Deli and Café are joined by others, depicting the country's rich heritage of Jewish, German and Italian grocers and sandwich makers.
"People try to pigeonhole us based on one item on our menu," Scottie's Deli, 427 NW 23rd St., owner Eric Fossett said. "I kind of wanted to take the best of the Italian deli, best of the German deli, best of the Jewish deli and you can combine them all into one. And that's why we call it an American deli."
Fossett grew up in the northern California sandwich tradition, where his family operated multiple Big John's Submarine Sandwiches locations. The oil and gas industry first took Fossett to Houston and then Oklahoma City by 2014. When he moved to Oklahoma, he noticed a void in the OKC food scene.
"You know, as far as I'm concerned, every big city had a deli," Fossett said. " So when I moved here … actually, one of the very first things that I noticed was there was no deli."
Fossett isn't far off from his assessment. There is Brown Bag Deli, 7600 N. Western Ave., and N D Foods, 2632 W. Britton Road, but neither of these venerable Oklahoma City locations is smoking all of its meats in-house.
After oil prices collapsed, Fossett found himself out of a job and went across the country, looking for a new opportunity. He visited friends in Colorado and went back to California, but he kept thinking about the opportunity available in Oklahoma City. Scottie's Deli opened next to Tower Theatre in early August 2017.
"I just thought that Oklahoma City is about to explode, and I think it's growing very rapidly," Fossett said. "I think the food scene is starting to catch up and starting to take off. I just thought it was a great opportunity. And then it's just the sense of community and everybody seemed to be really supportive when I brought the ideas to them."
Far and away the most popular sandwich at Scottie's is the New York, NY, which combines corned beef and pastrami that are brined together for an average of 17 days before being smoked in separate methods. Every cut of meat from the roast beef to the ham used on the Cubano is prepared in-house.
"I like a good Reuben, and I think it works really well because for me, we decide to hit the pastrami really hard with smoke," Fossett said. "We've had good response with it. It's a little too much for me. I like a corned beef because I like the salty more than the smoky. That Russian dressing with the sauerkraut and the smoke [is] such a beautiful mix."
Jacob Threadgill
Scottie's Deli opened in early August 2017 at 427 NW 23rd St.
Scottie's Deli is by no means only marketed to carnivores. It offers four vegetarian sandwiches that can be served on vegan-friendly wheat or gluten free bread baked in-house. The Smoked Portabella Reuben is Fossett's personal favorite among the vegetarian sandwiches. He said it's a product that came together after searching for a vegetarian analog for corned beef. They tried eggplant but could never get the consistency right.
Whether it's finding the correct vegetable or perfecting the brine for smoked meats, Fossett considers himself a perfectionist, inspired by memories of watching his grandmother work inside the kitchen of Big John's. His grandmother was proud of her Scottish heritage, and it's one of the reasons Fossett's middle name is Scott. He channeled his family's history when naming his first restaurant.
As with any restaurant in its first year of operation, there have been changes since opening its doors. In the last few weeks, Fossett made the switch from baking all of Scottie's bread on the premises to partnering with the city's only artisan baker, Esca Vitae, 1114 Classen Drive, for all of its bread except its gluten-free variety.
Esca Vitae's rye bread on the New York, NY ($11) has an almost sweet crust and robust center. The garlic bread for the APC (roast beef, caramelized onion, jalapeños and American cheese) is crunchy on the outside and soft in the center.
"[The bread is] just night-and-day better," Fossett said. "Something [that's] kind of always bothered me was our sandwich rolls, and getting them from [Esca Vitae] is just amazing."
On my most recent visit, I noticed the bread was of a higher quality than previously trips to Scottie's. The smokiness of the pastrami is the perfect complement to the salty corned beef, and it's just such a different end result than a sandwich made with Boar's Head brand cold cuts.
Jacob Threadgill
The APC is roast beef, caramelized onions, jalapeños and American cheese on garlic bread.
I was worried the APC (regular $11) might be too dry without a condiment on the bread, but the staff dunks freshly cut roast beef slices into au jus for just the right amount of juiciness. The sweetness of the onions and the spiciness of the jalapeños balance for a composed sandwich.
I appreciate the selection of Zapp's chips, which is perhaps my favorite potato chip brand on the market. The potato salad was a disappointment. It was heavy on the mayonnaise and needed more smoked vinegar, which is an interesting ingredient but was only faintly noticeable.
While a meal at Scottie's Deli costs more than a trip to an OKC sandwich shop institution like Someplace Else Deli & Bakery, I'm always willing to pay a premium at a restaurant where I know I can avoid heavily processed items. Scottie's smoked meats are a standout. I also recommend the brisket and the duck pastrami.
"I try to have this place reflect me and my history as much as just trying to bring good food," Fossett said.