Image provided
A scene from Jonathan Shahan's Mono Deux segment, "InnerScape"
Mono Deux premiere
9:30 p.m. Saturday
The Banquet Cinema Pub
800 NW Fourth St.
banquetcinema.com
$10
Mono Deux is only a sequel in the loosest sense of the word. With completely different characters and storyline, a (mostly) different cast and — perhaps most importantly — a different team of filmmakers from its predecessor, the new film only repeats the original Mono's central idea: Five local directors have teamed up to jointly direct a feature-length anthology, and proceeds from the premiere screening go to charity.
The original Mono — directed by Mickey Reece, Jacob Leighton Burns, Laron Chapman, Cait Brasel and John Burton — premiered in January 2018, and proceeds from the screening were donated to NewView Oklahoma, a nonprofit organization offering rehabilitation and employment opportunities to people with impaired vision. Its creative descendent, Mono Deux — directed by Kyle Harris, Cate Jones, Jonathan Shahan, Lloyd Lee Barnett and Rogelio Almeida Jr. screens 6:30 and 9:30 p.m. Saturday at The Banquet Cinema Pub, 800 NW Fourth St. Proceeds from the screening will be donated to End the Backlog, a nonprofit working to reduce the number of untested rape kits through public awareness campaigns and political activism. (A statewide audit of law enforcement agencies ordered by Gov. Mary Fallin uncovered 7,270 untested rape kits in 2018, though 120 agencies failed to respond to the audit.)
Each of the original Mono directors chose a new director for the sequel. Jones, who was selected by Chapman and directed Mono Deux's closing segment "Sheila," described the project as a "film community outreach." By changing the film's directors, the sequel was practically guaranteed to vary significantly from the previous film.
"Mainly, the voices of the new directors are really what's most different just because everybody has such different styles," Jones said.
Reece's nominee Harris, who directed the segment "Prey," said the dramatically different storytelling styles of Mono Deux's directors also ensures that each part of the film is notably distinct from the others.
"I think between the five filmmakers, we have a very diverse group of stories," Harris said. "When you're sitting there in the audience, if you see the same film over and over again five times, you might go, 'Oh, I better go to the bathroom' or 'I'm just going to go get a beer.' With these films, the comedy and drama, the thriller, the dark comedy, sci-fi, it's just eclectic. I'm anxious to see how the audience will perceive it."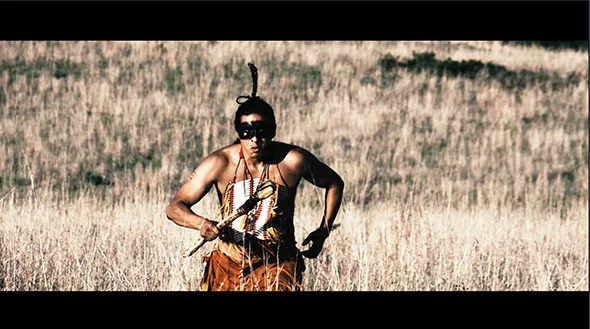 Image provided
Zachary Hokeah in a scene from Kyle Harris' Mono Deux segment, "Prey"
"Prey," shot in the Wichita Mountains on an estimated budget of $1,200, tells the story of a frontiersman on a hunt who slowly realizes he is also being stalked — by an outraged Cheyenne brave (Zachary Hokeah). The film's handcrafted costumes, elaborate makeup and remote location created several challenges for the cast and crew during the shooting. For two days of filming, the location was a 35-minute hike from the road.
"We'd have to carry gear down there, so I tried to keep my crew as small as possible on those days," Harris said. "It was 12 hours of shooting in the sun in May, just walking with all that heavy costuming on. Some of the guys had makeup on, and they would sweat and some of their hair would get stuck in the makeup. … It was tough because there was nothing around. There's no bathrooms. There's no restaurants. There's no cell phone signal. We had to take everything down there with us. A hike back to our vehicle would be a round trip of over an hour just to go up to get a bottle of water, so we had to carry everything down the first trip, which was a pain in the ass."
But Harris — who previously directed I Stand: The Guardians of the Water, a documentary about the Standing Rock Sioux Nation's protests against the Dakota Access Pipeline — said he views hardship as a part of the filmmaking process.
"I like the challenge, though," Harris said. "I typically try not to make films that are easy."
Shahan, who directed the visually stylized sci-fi segment "InnerScape," said his work on commercials and music videos has demystified the technical aspects of filmmaking, but he still finds making narrative film intimidating.
"Anything technical, anything with the camera is pretty easy for me," Shahan said, "but the challenging part for me, really, was slowing down enough to remember what movie-making is about, and that's telling stories."
His partner of eight years, Brasel, nominated Shahan to be one of Mono Deux's directors.
Image provided
A scene from Cate Jones' Mono Deux segment, "Sheila"
"I think she felt sorry for me because I usually only make a narrative when I'm told to," Shahan said. "It's got to be a competition or something to get me to make a movie, so she passed the baton to me. … When I was a kid, I grew up thinking, 'I can't wait to make movies.' I want to make movies, and when I went through film school, that was still my goal. And then I sort of built myself a velvet coffin of commercials and music videos."
After viewing a test screening of the film, Shahan said, he has resolved to make a feature-length film by the end of the year, "even if [he has] to do it handheld with one actor in the room."
Barnett, who directed the segment "A Very Grave Plot," joined the project after another director dropped out. After a casting issue and scheduling conflicts, he managed to shoot the over-the-top horror comedy in a couple days.
"We just stayed up all night and made a movie two nights in a row," said Barnett. "If people laugh, I achieved what I set out to do."
"Sheila" the darkly comic tale of blind-date betrayal and drug abuse, is Jones' first directing effort that wasn't for an acting demo reel or a class project at Savannah College of Art and Design in Georgia, where she is currently attending film school. She also acted in a supporting role in the film, and the experience of directing scenes she acted in was even more difficult than she expected.
"I knew it was gonna be hard, but I don't think I realized how hard it was going to be," Jones said. "I was just constantly thinking about, like, 'I hope that light doesn't fall over. Is that mic in the shot?' ... I just didn't care how my performance turned out because I was thinking of so many other things at the same time. So it's remarkable that it's even usable."
While being nominated for Mono Deux gave Jones a reason to direct a short film, she said the nature of the collaborative project made the experience even more daunting.
"I think it was probably more intimidating because I knew once I was finished, it would get shown with other people's stuff," Jones said. "I couldn't just hide it if I didn't like it."
Tickets are $10. Visit banquetcinema.com.